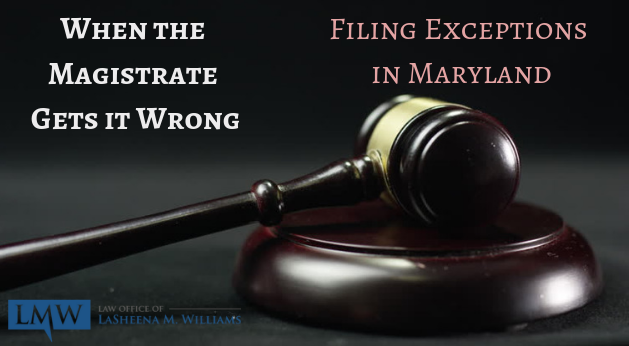 Many individuals who are facing family or domestic disputes are unfamiliar with traditional court proceedings and the availability of the appeals process in instances where they may disagree with a judge's order.
The use of magistrates in Maryland family courts can confuse a litigant as to their options for recourse when the litigant disagreed with a family magistrate's decision: can you still appeal or are you stuck with an unfavorable recommendation?
While receiving a recommendation that rules against your interests can be upsetting, the good news is that Maryland law allows for Maryland magistrate exceptions to be filed so that parties have the opportunity to have their cases re-examined before the judge makes a final decision. With the help of an experienced family law attorney, you can prevent an erroneous magistrate recommendation from harming your family.
What types of cases will a Maryland magistrate handle in Prince George's County, Maryland and Montgomery County, Maryland?
A magistrate or family magistrate (previously known as a "Master" in Maryland) is an appointed officer of the Circuit Court who has the authority to hear specific types of cases, including:
Cases involving use or possession of family-use property
Other family law cases
In Maryland, a Family Magistrate has the power to regulate all proceedings in a family law hearing, rule upon the admissibility of evidence and examine witnesses. Once the hearing is complete, the magistrate will recommend findings of fact and conclusions of law to a judge to make the final decision.
Filing exceptions in Montgomery County, Maryland and Prince George's County, Maryland
Fortunately, when a party disagrees with their Circuit Court Magistrate's recommendations the party has the option of filing Exceptions in Maryland pursuant to Maryland Rule 9-208. Exceptions to a Magistrate's recommendations must be filed quickly—either 10 days from the date the recommendations are placed on the record or 10 days from the date when the recommendations are docketed—or else a Circuit Court judge will sign an order based on the Magistrate's findings and recommendations.
Typically, the Circuit Court judge will not immediately follow the recommendations of the magistrate if Maryland magistrate exceptions are filed timely: the court will re-examine the case and rule on the exceptions first. Maryland law also gives parties the option to request an exceptions hearing.
Contact Our Office If You Are Considering Filing Exceptions in Maryland and You Have Questions About Your Prince George's County, Maryland and Montgomery County, Maryland Matter
We understand that your family is of the utmost importance and that a Magistrate's recommendation should reflect what is in the best interest of your loved ones. If you disagree with a Magistrate's findings and recommendations in your family law case, our experienced team can help you fight for your family by filing exceptions.
Our firm skillfully represents clients throughout Rockville, Bethesda, Gaithersburg, Silver Spring, Takoma Park, Chevy Chase, College Park, Cheverly, Greenbelt, Oxon Hill, Hyattsville, Upper Marlboro, Largo, Bowie, and surrounding communities. Call us today at (301)778-9950, or send us an online request for a consultation.