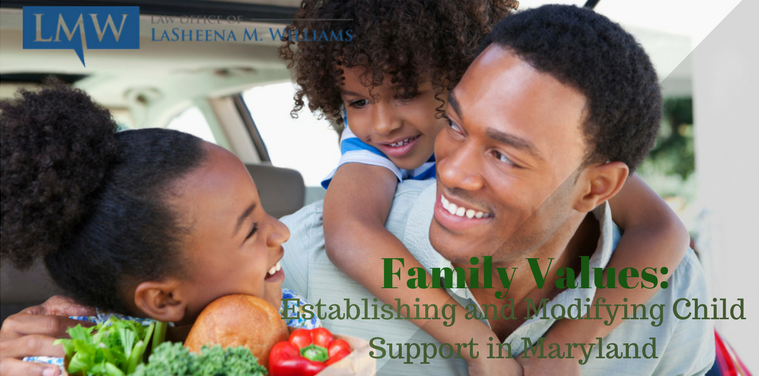 When one parent in a custody or divorce case requests child support and the court agrees to award support payments, the Court will use the Maryland Child Support Guidelines to calculate the payments.
Maryland Family Law Magistrates and Judges consider several factors in establishing the amount of child support payments. These factors include:
The primary caregiver;
The number of children in common ;
Each parent's total income, which will include monthly earnings from all jobs, pensions, various benefits, etc.;
Previously ordered support payments;
Previously ordered alimony payments;
The costs of the children's' basic needs in a given month, including food and education costs;
Health insurance and extraordinary medical care expenses.
Modifying Child Support in Montgomery County, Maryland and Prince George's County, Maryland
Once a court has determined the amount of child support payments and an official court order has been put in place regarding that parent's support obligation, the parent ordered to pay child support will likely have to continue making payments until:
A child reaches the age of 18; or
The child has graduated from high school.
If a child is disabled and has special needs, the court may determine that payments continue beyond the age of majority.
Despite the general terms of child support obligations, parents should be aware that they can petition the courts to modify the amount of child support payments if or when some aspect of one or both parents' financial statuses changes.
For example, if the parent ordered to pay child support ends up losing his job or becomes disabled and unable to work, he can petition the court to modify his support obligation due to his changed financial status.
Because modifications to child support obligations can be just as complicated as the process of calculating and establishing child support, it's important that you contact an experienced child support attorney at the Law Office of LaSheena M. Williams, LLC when:
You need help getting a child support modification; or
You receive notice that a petition to establish child support for you children has been filed with the court.
Speak with an experience Maryland Child Support Attorney for Cases in Prince George's County, Maryland and Montgomery County, Maryland
When you are dealing with any matters related to child support – it helps to speak with an experienced Maryland Child Support Attorney.
To learn more about how the Law Office of LaSheena M. Williams, can help you with your child support case, contact us by calling (301) 778 – 9950. From our offices in Rockville, we serve clients throughout Maryland.