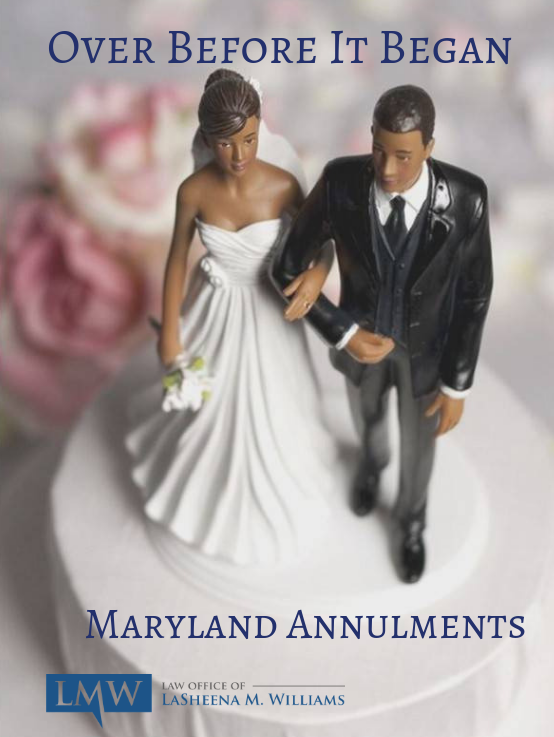 Maryland couples who wish to end their marriage may think that divorce is their only option. However, in some cases a Maryland annulment may be available, saving the parties time and money.
Maryland annulments are different from divorces: a divorce officially ends a valid marriage, while an annulment occurs when the marriage was never valid.
Depending on the circumstances of your case, the court may determine that you and your spouse are eligible for an annulment if the marriage was either void or voidable at the time it occurred. Voidable marriages are those that appear at the time to be valid but are later determined not to be because they fall within one of Maryland's voidable marriage categories. Void marriages, on the other hand, are invalid because the circumstances of the marriage violate an existing Maryland law.
Obtaining a Maryland annulment for a Void Marriage in Prince George's County, Maryland and Montgomery County, Maryland
A Maryland annulment will be given by the court if the marriage falls into any of the following void categories:
Bigamy: If either party is legally married to another person, Maryland law prohibits them from entering into another marriage contract.
Consanguinity: If the parties have a closer familial relation than first cousins, they cannot legally be married.
Mental capacity: If either party is mentally incompetent at the time of the marriage, it is considered void.
Underage spouse: Maryland law prohibits individuals under 18 years of age to marry unless one party is 16 or 17 and has parental consent, or if the underage spouse is 15, and pregnant (or has given birth to a child of the other spouse) and has parental consent to marry.
Although void marriages are invalid, the couple still must obtain a court order to formally end the marriage. Unlike voidable marriages, in the case of a void marriage any person, and not just the victimized spouse, can ask for the marriage at issue to be determined void.
Our Office Can Help You Obtain a Maryland Annulment in Montgomery County, Maryland and Prince George's County, Maryland
The legal team at The Law Office of LaSheena M. Williams, LLC has extensive experience helping individuals who were victims of void marriages obtain a Maryland annulment. Our office can help you move past one of the most difficult times in their life as quickly as possible. We can help guide you through the Maryland annulment process and ensure that your rights are protected. With an experienced Maryland annulments attorney by your side, important issues such as custody, child support, and visitation can be resolved equitably at the same time your annulment is granted.
Our firm passionately represents clients throughout Rockville, Bethesda, Gaithersburg, Silver Spring, Takoma Park, Chevy Chase, College Park, Cheverly, Greenbelt, Oxon Hill, Hyattsville, Upper Marlboro, Largo, Bowie, and surrounding communities. Call us today at (301)778-9950, or send us an online request for a consultation.
While ending a marriage is stressful, the annulment process shouldn't be.