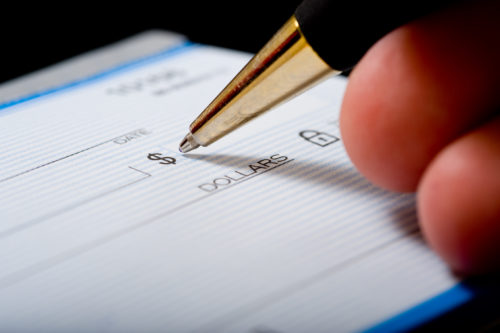 Married couples become accustomed to living a financially-unified lifestyle. After a divorce, it can be difficult to transition to life without the financial assistance of the other spouse.
One of the most contentious and stressful concerns of any Maryland divorce is alimony or spousal support. The purpose of alimony is to provide sufficient support, regardless of income level, so that a former spouse may live a post-divorce lifestyle similar to the spouse's married lifestyle. Maryland alimony may be awarded to help alleviate the financial burden of divorce.
In a Maryland divorce, either party, husband or wife, may have to pay or may be eligible to receive alimony. When starting the Maryland divorce process, clients are often concerned about alimony and the stability of their financial future. At the Law Office of LaSheena M. Williams, we understand the impact an alimony order or alimony award can have you financially. We are prepared to discuss your options and your reasonable expectations as to whether you may have to pay or receive alimony.
Determining Alimony in Maryland
A Maryland Circuit Court judge or Family Law Magistrate will consider a number of factors before ordering alimony in Montgomery County or Prince George's County. The Judge or Magistrate will determine who pays, how much, and the duration of support.
A few of the Maryland Alimony factors that go into an alimony determination include:
The age of the parties
The duration of the marriage
The present and future earning capacity of each party
The standard of living established during the marriage
The supporting party's ability to pay
The parties' respective contributions to the marriage
Each spouse's financial assets
The needs of each party and children
Childrearing decisions that affected careers
The tax consequences to both parties
Types of Maryland Alimony
There are several types of alimony that the Maryland Circuit Court Judge or Family Law Magistrate may award during the divorce process:
Temporary Maryland Alimony.
Temporary alimony is typically awarded when the parties are separated, but not divorced. This type of spousal support is granted for a specific amount and length of time.
Rehabilitative Maryland Alimony.
Rehabilitative alimony is typically awarded to assist the dependent spouse while they receive additional education or training that will allow them to relocate or find employment. Rehabilitative spousal support is typically awarded for a specific time period that will allow the dependent spouse's expected re-entry into the workforce.
 Permanent Maryland Alimony.
Permanent alimony is granted when there is no expectation that the spouse will ever be able to financially support himself or herself. This type of alimony is often awarded for long-term marriages where one spouse exited the workforce to be home taking care of children and/or the home. Permanent spousal support awards are indefinite and continue until death or until the dependent spouse remarries.
Meet with an Experienced Divorce Lawyer in Prince George's County or Montgomery County
Whether you are the spouse that is paying alimony or the spouse that will receive alimony, you need an experienced divorce attorney to protect your interests and well-being. At the Law Office of LaSheena M Williams, LLC we can evaluate all aspects of moving forward with your new life and negotiate a financial future for your happiness and comfort.
Our firm passionately represents clients across Rockville, Bethesda, Gaithersburg, Silver Spring, Takoma Park, Chevy Chase, College Park, Cheverly, Greenbelt, Oxon Hill, Hyattsville, Upper Marlboro, Largo, Bowie and surrounding communities. If you are considering obtaining a divorce in Prince George's County or Montgomery County, and Maryland alimony is a key issue, contact the Law Office of LaSheena M. Williams at (301) 778 – 9950 or send an online request for a consultation.