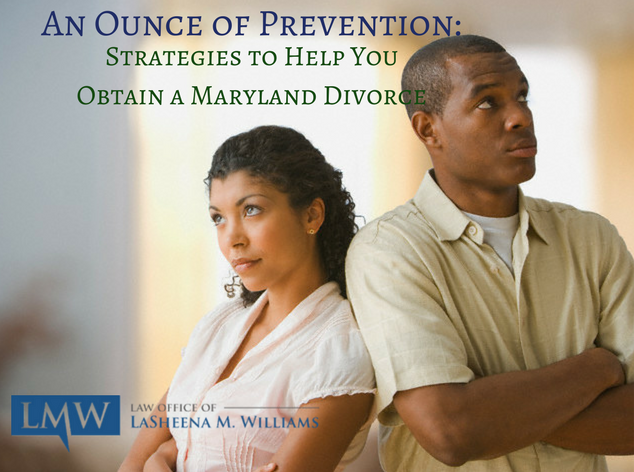 During a divorce, the stakes are often very high. One wrong move, and life as you know it could be changed forever. Speaking with an experienced divorce attorney, can help you understand your rights and can help you develop a solid game plan to navigate your Maryland Limited Divorce or Maryland Absolute Divorce. The right attorney can also help you understand rights and responsibilities under Maryland's divorce, child custody, child support, and alimony laws.
Key Strategies to Help You Efficiently Obtain a Maryland Divorce in Prince George's County, Maryland  and Montgomery County, Maryland
Below are 6 strategies that could help you efficiently obtain a Maryland divorce in Montgomery County, Maryland and Prince George's County, Maryland. As always, it is important to minimize the damage the divorce process can do to your lifestyle, assets, and children's lives.
Avoid Venting About Your Spouse on Facebook, Tumblr, Instagram, or Any Other Social Media Platform.
"Sharing is caring" in today's social media era, but during a divorce it can be a potential litigation nightmare. Although it is common for many people to share intimate and personal details on Instagram, Twitter, Facebook, Tumblr, and Snapchat, if you are going through a contentious divorce, you are better off avoiding most social media platforms. Many lawyers can and will use your posts as evidence in a divorce or child custody case. Even if you block or delelte your spouse, you can't be sure that the content you post will not get back to your spouse or your spouse's attorney. If you must remain on Facebook do not vent or make disparaging comments about your spouse unless you want to risk a judge to potentially seeing your comments during your divorce or custody hearing.
Know and Understand Your Family's Finances.
It is very common for a spouse to know very little about their significant other's salary, retirement, or work-related benefits. Do not go into a divorce or divorce settlement blind. Before you even file for a divorce you should obtain as much financial information regarding your spouse's bank accounts, debt, assets, and other liabilities. You should also make sure to compile records regarding your own assets and liabilities as well.
Avoid Making Any Large Purchases Before and During Divorce Litigation.
Purchases made during the marriage, even after a separation, may be considered marital property.  If you are anticipating or are actually presently going through a divorce avoid making a purchase that may potentially be lost during the divorce process.
You should also avoid significantly depleting marital assets as your use of the assets may be perceived as intentional dissipation of marital assets.
Know and Understand Your Parental Rights and Responsibilities.
As a parent you have a rights and responsibilities regarding your children, regardless of your spouse's decisions and actions. You should know what your parental rights are and how your rights and decisions can impact your divorce. Avoid using your children as pawns in order to hurt your spouse. Many Maryland domestic relations judges focus on and value the interest of the children during a divorce. Custody of your children should be about the benefit to your children, and not about the harm to your spouse. If a judge or magistrate perceives your actions as intentionally malicious, your actions may negatively impact your final custody decision.
Know Your Goals and Create a Plan of Action.
Before you develop a plan of action, you should know exactly what you want and need. You should also know what your spouse likely wants and needs as well. Creating a plan of action is an important step in navigating the divorce process, if you are unsure of what you want or what you want to accomplish during your divorce, you should contact an attorney that can assist you in creating and developing a sound plan of action for navigating the divorce process.
During a divorce setting goals is an important part of the divorce process. Without a comprehensive plan for achieving your goals, your chances of accomplishing your chosen outcome, decreases significantly.
Speak with an Experienced Maryland Divorce Attorney on How to Efficiently Obtain a Maryland Divorce in Montgomery County, Maryland and Prince George's County, Maryland
Ultimately, there is life after divorce. With the proper support from your friends, family, and attorney, you can smoothly obtain a Maryland divorce in Montgomery County, Maryland and Prince George's County, Maryland. If you have specific questions or concerns about obtaining a divorce in Maryland or questions regarding any other divorce, custody, or family law related matter, please contact The Law Office of LaSheena M. Williams, LLC today. If you want to know more about your options, you can reach attorney LaSheena M. Williams at (301) 778-9950 or by leaving an online request for a consultation.
Our firm passionately represents clients across Rockville, Bethesda, Gaithersburg, Silver Spring, Takoma Park, Chevy Chase, College Park, Cheverly, Greenbelt, Oxon Hill, Hyattsville, Upper Marlboro, Largo, Bowie and surrounding communities.