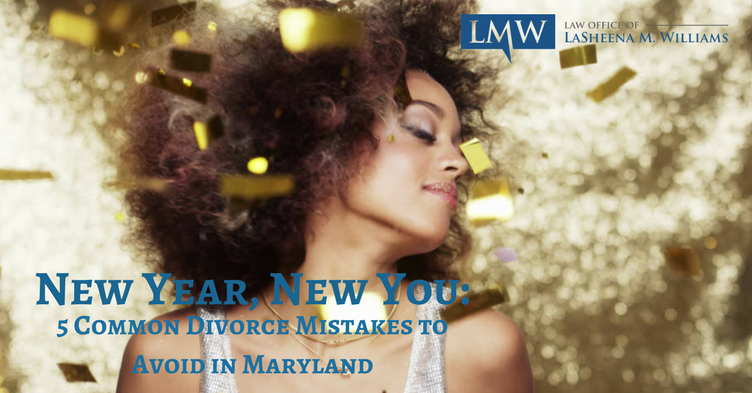 For many people, divorce can be an uncomfortable, confusing, and time-consuming process. Frequently the parties in a divorce can feel angry, guilty, sad, and emotionally drained. These feelings are very common during a divorce, but they can lead to avoidable and problematic mistakes. There are many potential divorce mistakes to avoid in Maryland. Below is a list of common divorce mistakes to avoid in Maryland that may result in devastating consequences long after the divorce is finalized.
Tips on Avoiding Common Divorce Mistakes in Prince George's County, Maryland and Montgomery County, Maryland
 Do not act out of anger, guilt, or revenge.

Stay Calm. During a divorce, it is very common to be bombarded with strong feelings of anger, guilt, spite, and a desire for revenge. While these emotions are understandable, the key is to not allow these emotions to control your actions and decisions during the divorce process. It is important to be rational, and if you feel that you are unable to rationally choose your best course of action consult with an attorney, therapist, or counselor to help you make sound decisions regarding this new life event.

Do not take advice from anyone that is not a divorce or family law attorney.

Although Maryland divorces are common, Maryland divorce law is very nuanced. How Maryland laws applied to your friend or relative's marriage, may not be true for your individual situation. Be wary of advice from friends, family, and co-workers, because following the wrong advice may not always be in your best interest.

Do not use your children as property or pawns.

Your divorce will most likely negatively impact your children. Try to avoid using your children as an intermediary between you and your spouse or using them to fill in the household gap left by your spouse. Unless your spouse is a danger to your children, try to be reasonable when discussing parenting issues, and consider what is in your children's best interest when making access and support decisions. Involving your children in an adult dispute is harmful to the children and may eventually work against you in court, or it may permanently damage your relationship with your child.

Do not agree to a one-sided marital settlement agreement.

Do not accept a one-sided marital settlement agreement, especially if you do not have an attorney. It may be tempting to quickly end the divorce process by signing the first agreement your spouse presents to you, but in Maryland it is almost impossible to undo a voluntary agreement, no matter how unfair it may seem afterwards. Hindsight is 20-20 and you don't want to have the rest of your life impacted by a hastily made decision.

Do not assume your spouse does not have access to legal counsel.

Just because your spouse hasn't mentioned an attorney, it does not mean that your spouse do not have access to legal advice and guidance. Just because you may not know your rights, never assume you and your spouse are working with the same legal knowledge regarding your situation.
Speak with an Experienced Maryland Divorce Attorney to Learn More About Divorce Mistakes to Avoid in Maryland
Start the new year with your best foot forward. If you have specific questions or concerns about divorce mistakes to avoid in Maryland or questions regarding any other divorce, custody, or family law related matter, please contact The Law Office of LaSheena M. Williams, LLC today. If you want to know about divorce mistakes to avoid in Maryland, you can reach attorney LaSheena M. Williams at (301) 778-9950 or by leaving an online request for a consultation.
Our firm passionately represents clients across Rockville, Bethesda, Gaithersburg, Silver Spring, Takoma Park, Chevy Chase, College Park, Cheverly, Greenbelt, Oxon Hill, Hyattsville, Upper Marlboro, Largo, Bowie and surrounding communities.
There are many potential problems in obtaining a Maryland divorce, do your research. Most of these mistakes are easily avoidable. Speak with an attorney to know which divorce mistakes to avoid in Maryland.