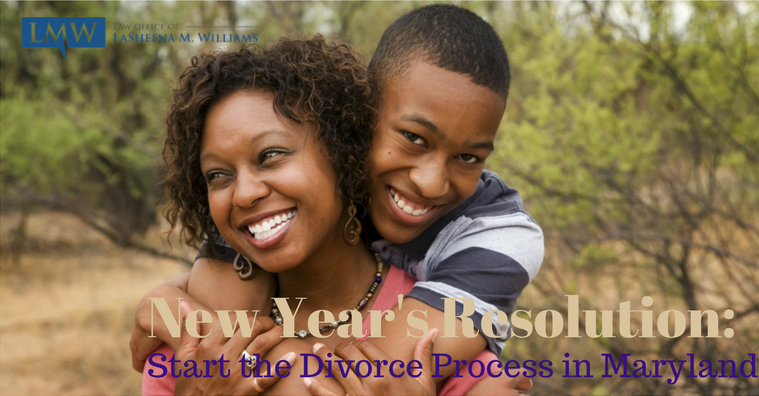 January is the month of rejuvenation. For many people, this is the time of year to close the door on last year's problems and focus on the upcoming year's potential. The start of the New Year is an excellent opportunity to make life improvements, such as starting the divorce process in Maryland.
In the United States, studies have found that calls to divorce attorneys increase 20 to 30 percent in the first weeks of the New Year. If your New Year's resolution is to have a fresh start for yourself and your family, and you want to start the divorce process in Maryland this year begin early. Here are a few tips to get you started:
Know your family's assets and sources of income.

Maryland is an equitable distribution of property state, which means marital assets will be divided during the divorce. Once a divorce begins, your spouse may begin hiding assets and property. You should try to find out as much as possible about your assets before you file divorce.

Find out everything you can about your family's marital debt.

Even if a loan or credit card is not under your name, in Maryland there is no guarantee that you will not be responsible for the debt. Begin gathering your loan, mortgage, and credit card statements as soon as possible. Consider running a credit score report for you and your spouse to find out what debts are in your name and your partner's name.

Plan ahead in case you want to move out of Maryland.

Under Maryland law, you have to be a resident of the State of Maryland for at least six consecutive months prior to filing for divorce.

Consider if Maryland or another state is more favorable to file your divorce.

If you are planning on moving out of Maryland you should consider the potential benefits and disadvantages to filing for divorce in Maryland or filing in your new state. Consult with a Maryland divorce attorney and attorneys in your new state to see which state has more favorable views regarding your custody, support, alimony, and property considerations.

Determine your family's monthly expenses and prepare a budget.

A contested divorce takes time. If you or your spouse moves out of the marital residence, your family's income will have to support two households for months.
If it is finally time to end an unhappy marriage and start the divorce process in Maryland, be prepared. The counsel of an experienced family law attorney can be very helpful. The Law Office of LaSheena M. Williams can represent your interests in filing for a divorce in Maryland. Contact us today at (301) 778 – 9950 for a free case evaluation or to schedule a consultation appointment.