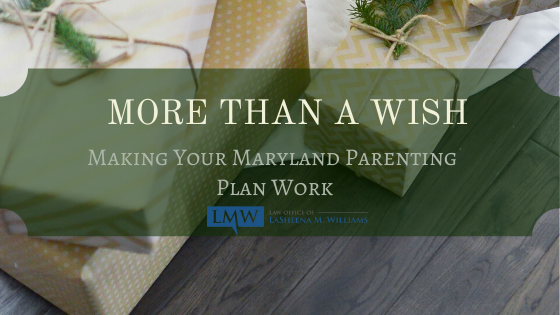 A parenting plan is a child custody plan that is negotiated by co-parents. A well-developed parenting plan can help ensure that your child's needs are met while establishing parental care and responsibilities for different situations. In Maryland, a parenting plan can be included in a marital separation agreement or a judgement of divorce.
If you are currently separated with children, you may be wondering whether you should create a parenting plan for your family. Many families throughout Maryland, develop parenting plans to help define parental responsibilities and eliminate potential conflict between co-parents.
An effective Maryland parenting plan can establish:
Residential custody
A child access schedule
A holiday schedule
Contingency plans for care
Legal custody rights
Child-related expense responsibility
Appropriate methods of communication
Ensure that the child's needs are met (education, extracurricular, transportation, etc.)
Create a compromise of the parents' individual schedules and responsibilities
Methods of dispute resolution
Parenting Plans May Help You Resolve Physical Custody Concerns in Montgomery County, Maryland and Prince George's County, Maryland
Establishing a physical custody and access schedule in your Maryland parenting plan is the first step to developing a viable plan for you family. Often, establishing an access schedule can be difficult for most families. This section of your plan outlines when each parent will have physical custody of your child. For example, your child may reside with one parent during the school week and reside with the other parent during the weekends. Developing a comprehensive parenting plan can define a parenting schedule that will avoid confusion, and establish stability for your child.
In a Maryland parenting plan or custody ag, the parents have the freedom to come up with an arrangement that they feel is fair and in the best interest of their child.
Although certain circumstances—significant travel for work, caring for other children, or military duty—may make scheduling difficult. A well-developed Maryland parenting plan can account for the schedules and needs of each parent, in addition to the schedules and needs of the child. A Maryland parenting plan or custody agreement can help your family eliminate confusion and last-minute stress by establishing a "plan b" ahead of time.
Maryland Parenting Plans Can Define Legal Custody and Parental Rights for your Family in Prince George's County, Maryland and Montgomery County, Maryland
Your Maryland parenting plan should also include a detailed section addressing legal custody and decision-making rights under certain circumstances. The benefit of defining legal custody and responsibilities in a parenting plan is that the plan can clearly establish parental authority to make decisions in routine and emergency situations. For instance, your Maryland parenting plan may require both parents to consent to emergency medical treatment for your child, but your plan may only require the custodial parent's consent when your child is sick at school.
Create the Best Maryland Parenting Plan for Your Family in Montgomery County, Maryland and Prince George's County Maryland
At the Law Office of LaSheena M. Williams, LLC, we understand that having a comprehensive and effective Maryland parenting plan may be the pivotal difference in ensuring your family survives or ensuring your family thrives.
Our firm skillfully represents clients throughout Rockville, Bethesda, Gaithersburg, Silver Spring, Takoma Park, Chevy Chase, College Park, Cheverly, Greenbelt, Oxon Hill, Hyattsville, Upper Marlboro, Largo, Bowie, and surrounding communities.
Call us today at (301)778-9950 or send us an online request for a consultation.