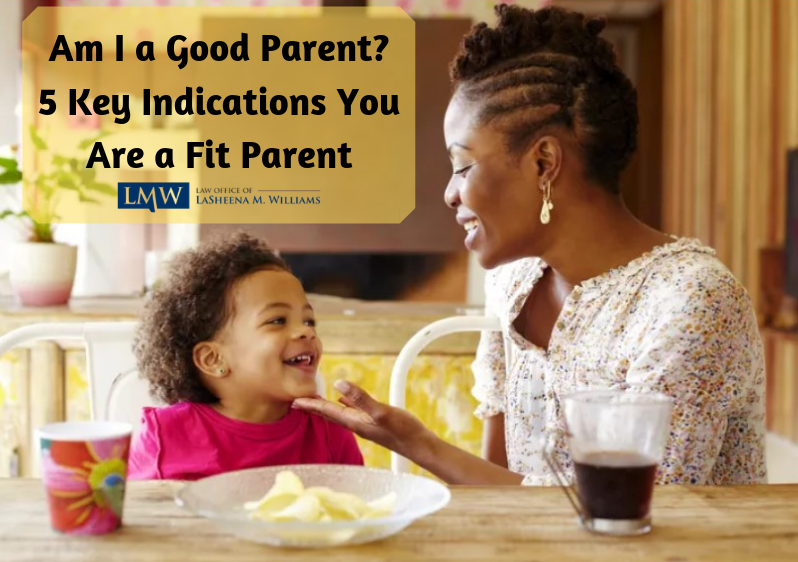 Maryland law does not favor the mother over the father and assumes that both parents are fit custodians of their child. In all family law cases involving minors, the goal of the court is to find a long term arrangement that will be in the best interest of the child.
Unfortunately, in some circumstances while the court make a child custody determination the Magistrate or Judge may find one parent to be unfit. Many different reasons like recent criminal activity, a current drug or alcohol addiction, and evidence of abuse all weigh against the fitness of the parent. Depending on the severity of the issue, the Magistrate or Judge may find one parent more fit over the other.
Just as there are certain factors that indicate you are an unfit parent, there are several things the court looks for to determine whether an individual is likely a fit parent. Below we explore 5 key indications that may indicate that your a fit parent in Maryland:
Maryland Good Parent Factors #1: Providing A Safe Home
Having a safe home for your child to live in is essential. An unsafe home could include exposed electrical wiring, black mold, insect infestation, structural damage, or other hazards that could harm your child. Providing a safe home also includes restricting visitors who may pose a threat to your child's safety in some way.
Maryland Good Parent Factors #2: Promoting Stability
Providing stability for your child can encompass many things. Having a steady job, a permanent residence, and a consistent daily routine may all increase the stability in your child's life.
Maryland Good Parent Factors #3: Local Family Connections
A court likes to see that a child has strong local family connections. Having local family connections can give your child the additional love and support system to help the child flourish and feel safe.
Maryland Good Parent Factors #4: Being Active in Your Child's Education
While most parents are busy with work and other responsibilities, finding time to be active in your child's education is immensely important. Helping with homework, attending parent and teacher conferences, and getting your child extra help in school, if needed, demonstrates to the court that you are dedicated to ensuring that your child receives the best education possible.
Maryland Good Parent Factors #5: Capable of Communicating With Other Parent
Regardless of the reason for your separation or divorce, it's important for the well-being of your child that you can communicate effectively with one another. Keeping your feelings in check and focusing your discussion on productive issues related to your child is important. Effective co-parenting and communication may show the court that you put the needs of your child over your negative feelings for the other parent.
If You Have A Child Custody Matter in Prince George's County, Maryland or Montgomery County, Maryland, Schedule Your Consultation Today
At the Law Office of LaSheena M. Williams, LLC, we understand the importance of a healthy and stable family. If you have concerns about establishing a custody order, modifying a custody order, or enforcing a custody order, we can help.
The Law Office of LaSheena M. Williams, LLC, passionately represents clients throughout Rockville, Bethesda, Gaithersburg, Silver Spring, Takoma Park, Chevy Chase, College Park, Cheverly, Greenbelt, Oxon Hill, Hyattsville, Upper Marlboro, Largo, Bowie, and surrounding communities. Call us today at (301)778-9950 or send us an online request for a consultation.