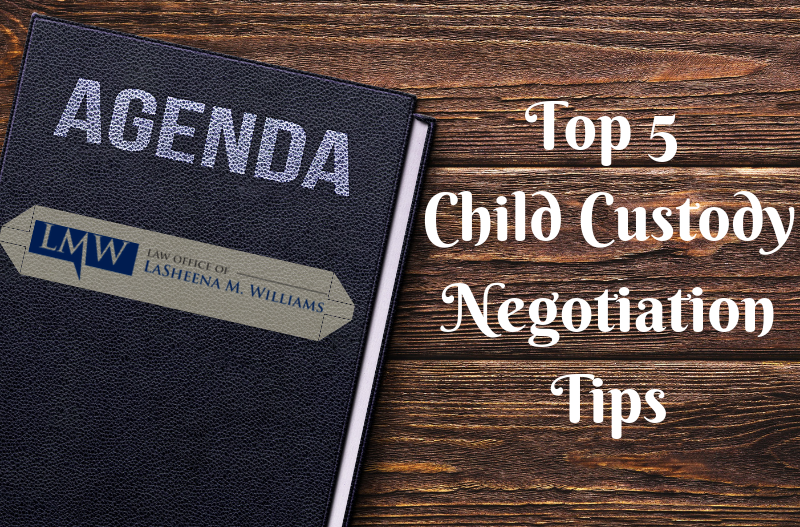 Before you head into negotiation over your current child custody and access arrangement, take a look at our top 5 child custody negotiation tips to help make your negotiation as stress-free and productive as possible.
Maryland Custody Negotiation Tip #1: Focus on the Child, not the Past Relationship Between the Parents
When negotiating a child custody schedule, it is a waste of time and energy to play the blame game and revisit every aspect of the breakdown of your relationship. The point of custody negotiation is to establish an arrangement that is best for your child, not to prove that your past relationship problems are the other parent's fault. If you focus more on your  access schedule and the benefits to your child, you can avoid unnecessary emotional drama.
Maryland Custody Negotiation Tip #2: Remember that Your Child Loves You Both
Your child loves you and your co-parent equally. Creating an arrangement that reflects that will ensure that each parent can maintain a loving  parent relationship. Acknowledging that your co-parent is an important pillar in your child's life may help you both agree on common ground and goals in developing or modifying an access schedule.
Maryland Custody Negotiation Tip #3: Be Open to Compromise
For any custody negotiation to be fair and productive, both parties must be willing to compromise. If one party is insistent on getting their way at all cost, it is much less likely that you will be able to come to an equitable agreement. Both parties have to be willing to consider the other parent's view in order to avoid costly litigation and further damaging your co-parent relationship. It is important to know when to bend and when to stand firm. Depending on the circumstances, a willingness to compromise may be in everyone's best interest.
Maryland Custody Negotiation Tip #4: Create a Custody Schedule that Works for Everyone
Extra-curricular activities may be important for your family and child. When developing a custody schedule that includes extra-curricular activities, it is important to keep in mind your co-parents work schedule and ability to travel to events and activities.  Being willing to communicate  and to develop a plan that accounts for last minute scheduling issues can increase the likelihood of reaching an amicable custody arrangement that works for your family.
Maryland Custody Negotiation Tip #5: Hire an Experienced Child Custody Lawyer
When negotiating a child custody agreement or modification, having an experienced child custody lawyer by your side can be invaluable. In addition to helping you flesh out a deeper understanding of your preferred custodial arrangement, an experienced custody attorney can help draft a comprehensive, enforceable, and workable custody agreement that will help protect your parental rights and parent-child relationship.
The Law Office of LaSheena M. Williams, LLC: Dedicated Child Custody Attorneys
At the Law Office of LaSheena M. Williams, LLC, we understand that negotiating child custody issues can feel like a battleground.
Our firm zealously represents clients throughout Rockville, Bethesda, Gaithersburg, Silver Spring, Takoma Park, Chevy Chase, College Park, Cheverly, Greenbelt, Oxon Hill, Hyattsville, Upper Marlboro, Largo, Bowie, and surrounding communities. Call us today at (301)778-9950 or send us an online request for a consultation.