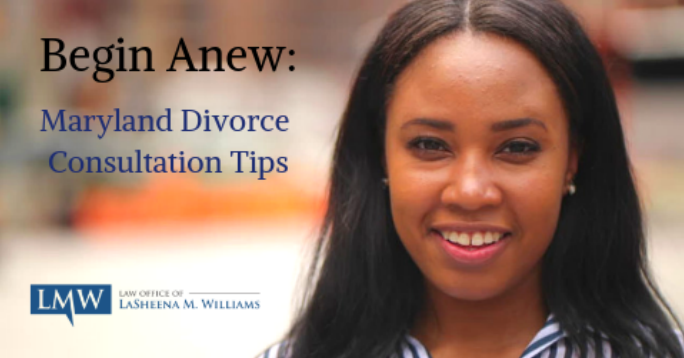 Consulting with a Maryland divorce attorney is the first step in the next phase of your life. Like any important step forward, being prepared for your Maryland divorce consultation is important. By following these simple Maryland Divorce Consultation Tips, you can maximize the effectiveness of your consultation, and ensure that you find the right attorney for your needs.
Maryland Divorce Consultation Tip #1: Send Copies of Relevant Documents Before Your Consultation
During your Maryland Divorce Consultation, your potential attorney should have a clear picture of your case. You should forward any or all of the following documents to the attorney before your consultation to streamline the process and ensure that you have a more productive consultation.
At the Law Office of LaSheena M. Williams, LLC we will review your documents before your Maryland Divorce Consultation, so that we can focus your consultation on arming you with the information and strategies you need to capably handle your matter. You should forward our office any or all of the following documents you have available:
Court filings, including Petitions, Complaints, Motions, and Court Orders
Discovery Requests and Responses
Pay stubs for you and your spouse
Proof of child support payments and requests
Potential evidence, such as emails, pictures, text messages, physical evidence
An inventory of non-titled assets, such as furniture, jewelry, and artwork
Documentation of any titles, mortgages, or loans
An inventory of items belonging to you or your spouse prior to your marriage
Executed or Proposed Settlement Agreements
Executed or Proposed Prenuptial or postnuptial agreement
Magistrate Findings and Recommendations
Child Custody Evaluation Reports or other related expert reports
Maryland Divorce Consultation Tip #2: Go Into Your Maryland Divorce Consultation With An Open Mind
A divorce could potentially include issues regarding property division, child custody, child support, alimony, and use and possession of property. Identifying the relevant issues in your divorce and knowing the special considerations you have surrounding these issues can help your consultation lawyer define goals and develop strategies as early as your Maryland Divorce Consultation. Even if you do not know or understand your potential divorce concerns, you should go into your consultation with an open mind, in order for the consulting attorney to help you identify your divorce concerns and help you to understand how and why these issues matter in your divorce.
Maryland Divorce Consultation Tip #3: Prepare a list of questions for your attorney
You are looking for a divorce attorney that will be able to advise and guide you throughout your divorce. It is important that you pick a divorce attorney you can trust and that fits your needs. During your Maryland Divorce Consultation, consider asking your consultation attorney questions about:
Their familiarity with similar divorce concerns
The attorney's availability and current caseload
The attorney's proposed strategies to reach your goals
Fee and estimated additional costs
Maryland Divorce Consultation Tip #4: Create a List of Potential Problems or Considerations
During your consultation, it is natural to feel nervous or overwhelmed; which is why it may be helpful to create a list of potential problems or unique considerations you have before your consultation. Is there a certain piece of property that you already know is going to cause conflict? Are you and your spouse arguing over who will take the family pet? Are you worried about the impact the divorce may have on your children or how often you will be able to see them after the divorce? Whatever your particular needs and concerns are, write them down before your consultation so you can discuss your concerns during the consultation.
Contact the Law Office of LaSheena M. Williams, to Schedule Your Divorce Consultation Today For Your Montgomery County, Maryland or Prince George's County, Maryland Divorce
Our firm vigorously represents clients throughout Rockville, Bethesda, Gaithersburg, Silver Spring, Takoma Park, Chevy Chase, College Park, Cheverly, Greenbelt, Oxon Hill, Hyattsville, Upper Marlboro, Largo, Bowie, and surrounding communities. Call us today at (301)778-9950 or send us an online request for a consultation.