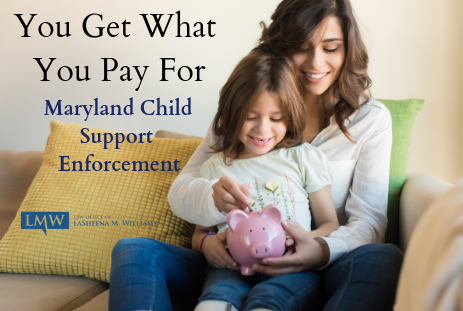 In Maryland, each county, and Baltimore city, has a Child Support Enforcement Office that can assist parents in collecting child support from the other parent for a nominal fee. With such a cost-effective resource readily available to payee parents, you might wonder why anyone would take the time and spend the money to hire a Maryland Child Support Attorney to do the same job as a child support enforcement agency. The simple answer is that, unlike the Maryland Child Support Enforcement Agency, a Maryland Child Support Attorney is dedicated to your case, gives you control over the enforcement strategies, and has the time and resources to make your case a priority.
Why you should hire a Maryland Child Support Attorney for Your Maryland Child Support Case in Prince George's County, Maryland and Montgomery County, Maryland
Hiring an attorney to establish or enforce your Maryland Child Support case has several distinct advantages over relying on a child support enforcement agency for child support enforcement.
First, your Maryland Child Support Attorney will provide personalized advice uniquely tailored to your support situation. Support cases are not all the same; for instance, in your case wage garnishment—a common remedy—may not make sense. Instead of the child support agency's generic one-size-fits-all strategy, your attorney will develop a winning legal approach that's best for your family's unique circumstances.
Second, having your own attorney puts you in control of your Maryland Child Support enforcement case. Unlike when working with an agency, by hiring an attorney you will be in the driver's seat of your financial future with the power to offer your input and determine what courses of actions and strategies your attorney will pursue on your behalf.
Finally, your Maryland child support enforcement attorney will give you and your case the attention they deserve. A private attorney has the time and resources to represent and protect your best interests. Unlike a Maryland child support enforcement agent, that may have hundreds of support cases pending, your attorney will have the time and dedication to meet with you, answer your questions, and listen to your concerns.
Contact Our Dedicated Maryland Child Support Enforcement Attorney for Your Montgomery County, Maryland and Prince George's County, Maryland Support Matter
At the Law Office of LaSheena M. Williams, LLC, our team of experienced and dedicated Maryland child support enforcement staff understands Maryland child support laws, how to effectively navigate a child support matter when the payor disappears, and will work with you to obtain the appropriate financial resources your child. Our team puts your family first and is available to meet with you, answer your questions, and guide you step-by-step through the Maryland child support enforcement process.
Our firm fervently represents clients throughout Rockville, Bethesda, Gaithersburg, Silver Spring, Takoma Park, Chevy Chase, College Park, Cheverly, Greenbelt, Oxon Hill, Hyattsville, Upper Marlboro, Largo, Bowie, and surrounding communities. Call us today at (301)778-9950 or send us an online request for a consultation.