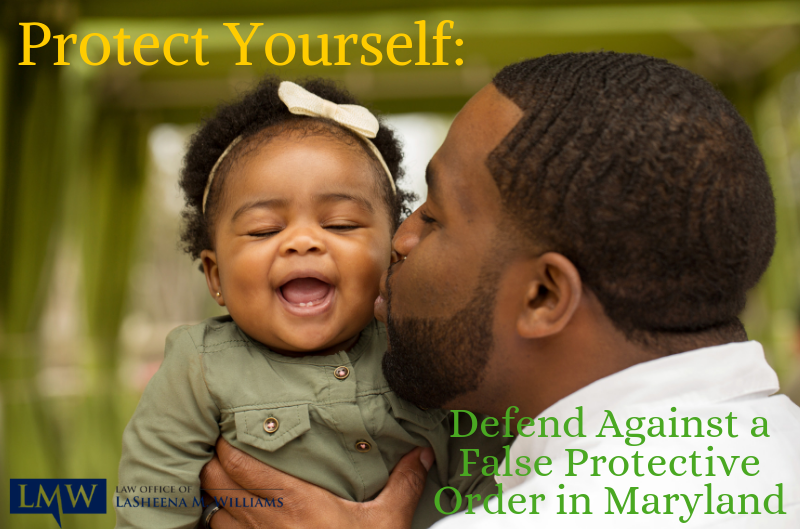 In Maryland, a person may be eligible to obtain a Maryland protective order when the petitioner is abused by a spouse or romantic partner. To protect victims from continued harm, Maryland courts have the power to issue a protective order that can last up to one year to protect the petitioner from the perpetrator.
While a protective order can be a shield for victims, it can also be used as a sword against an innocent party in a divorce, custody, visitation, or other family related case. In some circumstances, a Maryland protective order can be granted with little to no evidence of abuse. If a respondent does not defend against a false accusation in a Maryland protective order, their lives may never be the same. To make matters worse, when you are served with a petition for a protective order, you have less than a week to prepare a defense. The short turn around time makes it difficult to find an experienced family law attorney, like the legal team at LaSheena M. Williams, LLC, to fight for you.
Why You Should Defend Against a False Protective Order in Maryland
Many respondents do not realize that having a protective order, in Montgomery County, Maryland, and Prince George's County, Maryland, filed against them has far-reaching consequences in nearly every aspect their lives. Here are just a few of the many reasons it is imperative that you defend against a false protective order in Maryland:
You may face criminal charges
You will be listed on an online public database as required by Maryland law
You may miss out on employment opportunities based on the false allegations
You may be unable to get bank loans and your credit may be impacted
You may be denied the opportunity to rent an apartment or house
You may lose some or all of your security clearance
You may be unable to carry a firearm
You may be denied custody or visitation with your children
You may jeopardize your immigration status
As you can see from this extensive list of disastrous repercussions, if you have had an unsubstantiated protective order filed against you, it is important to act quickly to defend against the petition for a protective order before your reputation, career, and future are jeopardized.
Defend Against a False Protective Order in Maryland with Our Experienced Legal Team
At the Law Office of LaSheena M. Williams, LLC, we recognize the serious consequences that stem from false allegations and can help you defend against a false protective order in Maryland. Our firm zealously represents clients throughout Rockville, Bethesda, Gaithersburg, Silver Spring, Takoma Park, Chevy Chase, College Park, Cheverly, Greenbelt, Oxon Hill, Hyattsville, Upper Marlboro, Largo, Bowie, and surrounding communities. Call us today at (301)778-9950 or send us an online request for a consultation.