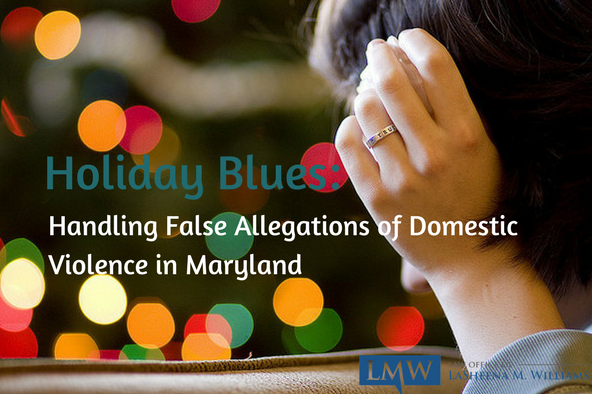 Every holiday season there is a drastic increase in the number of requests for protective orders. While the majority of the petitioners that filed for a Final Protective Order in Maryland have valid claims of intimate partner violence and abuse, some petitioners attempt to game the system in an effort to gain leverage in their divorce or child custody case. If you have concerns that
Throughout Maryland, acts of domestic violence usually occur in private and behind closed doors. Depending on the allegations, a petitioner may possibly obtain a Maryland Final Protective Order with no witnesses, marks, or even visible injuries. Some petitioners may file false allegations of domestic violence in Maryland, and obtain a protective order even though no violence actually occurred. These fraudulently sought orders may result in false criminal charges and mandatory legal requirements that may negatively impact your life, career, and family.
There is no way to know how many Maryland protective order petitions arise out of false accusations.
Tips to Protect Yourself From False Allegations of Domestic Violence in Maryland
This holiday season, if you have concerns that your partner or spouse has or will file false allegations of domestic violence in Maryland,  it is important to consider the following tips for your own protection:
Stay Calm. When being falsely accused of actions or crimes that were not committed or that may be wrongfully misrepresented, the accused party can become desperate and may begin acting irrationally or emotionally. Being overly reactive could potentially make the problem worse. You should stay calm and carefully consider your options before making any decisions.
Avoid Actions that Can Be Used Against You. If your accuser decides to pursue a Petition for a Protective Order or even a criminal case against you, all of your actions will be considered by the judge. Keep your social media clear of demeaning or degrading posts, comments, and videos. Remove jokes or memes that a judge might consider offensive or might portray you as someone attracted to violence. Don't leave threatening voicemails or send angry videos to your accuser. All of these acts could be used against you in court, and may influence a judge into believing your accusers false allegations. Ideally, you should avoid conflict and contact with your accuser at all costs until the matter is resolved in the courts.
Have a Witness.  For many reasons, it may be difficult to leave the family home and avoid all interactions with your accuser. If you can't get away from your accuser, it is important for you to have a witness to as much of your interactions as possible. If you cannot have a witness present, but you must interact with your accuser, try to have the interaction in a public and highly trafficked location. Having a witness or engaging publicly could help you avoid further false allegations of abuse.
File Your Own Protective Order. In many circumstances, abusers often attempt to exploit the Maryland domestic violence system and will seek to file false allegations as a way of maintaining control over their victims. The abuser may contact the House of Ruth, or other domestic violence advocates in your area in an effort to lock you out of being able to seek assistance from those services. If you are the victim of abuse, you have the right to file your own protective order and you should consider filing as soon as possible.
Obtain Legal Advice.  This is the most important step if you are accused of domestic violence. Obtaining legal advice from an experienced Maryland Domestic Violence Defense attorney will ensure that your case is handled properly from the start. An experienced Maryland Domestic Violence Defense lawyer will also understand the unique situation you are in and will put you in the best position to prove your innocence.
Speak with an Experienced Domestic Violence Defense Attorney in Montgomery County, Maryland and Prince George's County, Maryland
Many people facing false allegations of domestic violence in Maryland,  do not realize that these fraudulent accusations can cause a lot of damage to their career, education, and family. It is important to obtain solid legal advice before you speak to law enforcement, or anyone else, about your case.
This holiday season, protect yourself and your family against false allegations of domestic violence in Prince George's County, Maryland or Montgomery County, Maryland. At the Law Office of LaSheena M. Williams, LLC, we can help. If you need assistance, please call our office today at (301) 778 – 9950 or leave an online request for a consultation for more information.
At the Law Office of LaSheena M. Williams, LLC, we are dedicated to serving the interests of our clients and ensuring that false allegations of domestic violence in Maryland do not ruin our client's lives.