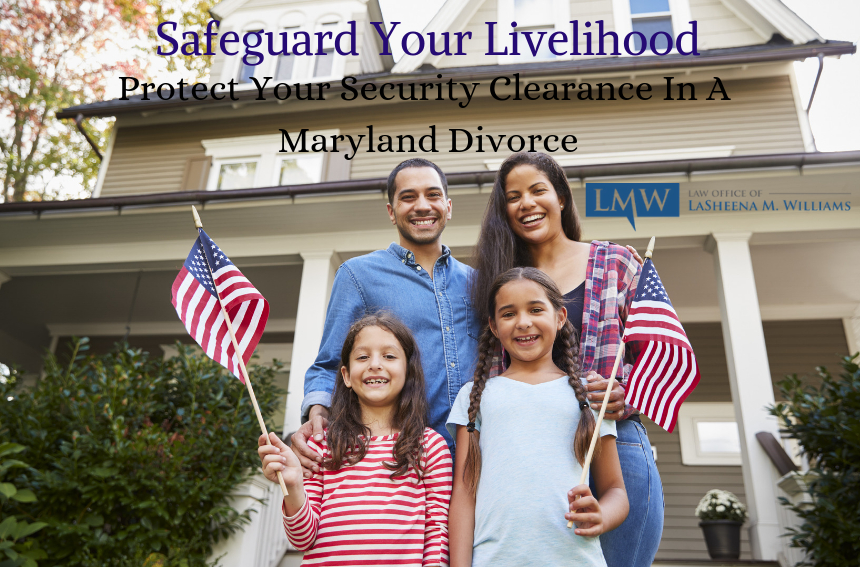 There are many ways to lose your job—whether through your own actions on the job or situations out of your control such as downsizing—but you may also potentially jeopardize your job because of allegations, filings, or actions that occur in a domestic proceeding, such as a divorce or a protective order hearing. If you have a security clearance and you are in the middle of a complicated divorce or a custody battle you may run the risk of losing your security clearance, your job, and your chances of finding similar employment elsewhere in your chosen industry.
In most cases, when someone loses their job, the unemployed individual can find similar work elsewhere with approximately the same salary and benefits. However, in cases where individuals require a security clearance to perform their job duties the loss of a security clearance in a Maryland divorce or child custody case can make finding similar employment with a comparable salary and benefits nearly impossible. Losing a security clearance in a Maryland divorce can destroy your career and financially devastate your future; especially if you may be ordered to pay child support or alimony based on a salary you can no longer maintain.
What Can Impact Your Security Clearance in a Maryland Divorce or Custody Proceeding Filed in Montgomery County, Maryland and Prince George's County, Maryland?
Although there are many reasons that your security clearance could be jeopardized, for many individuals in the DMV area there are several common reasons a security clearance may be suspended or revoked. An employer may potentially discovery new information missed during your background check, or an incident report is filed that triggers an internal investigation.
Examples of ways a security clearance in a Maryland divorce or custody proceeding may be compromised include:
Accusations of criminal activity
Filing a false criminal report
Exposing an affair that was otherwise unknown
Disclosing negative information about your finances or credit
Accusations of theft of marital property
Fortunately, there are actions you can take to help protect yourself and your security clearance in a Maryland divorce:
Maintain bills, you are financially obligated to pay, such as your mortgage, especially if you are the sole person financially liable
Defend yourself against false criminal charges
Defend yourself against domestic violence allegations
Bring a witness to child exchanges and property retrieval
Consult with an experienced Maryland divorce attorney
Protect Your Security Clearance in Your Maryland Divorce of Maryland Child Custody Matter in  Prince George's County, Maryland and Montgomery County, Maryland with the Law Office of LaSheena M. Williams, LLC
At the Law Office of LaSheena M. Williams, LLC, we understand the devastating consequences of losing your security clearance in a Maryland divorce and we will fight hard to protect your career and livelihood. Our dedicated legal team can help guide you through your divorce while helping you to protect your security clearance, family, and reputation from false allegations.
Our firm zealously represents clients throughout Rockville, Bethesda, Gaithersburg, Silver Spring, Takoma Park, Chevy Chase, College Park, Cheverly, Greenbelt, Oxon Hill, Hyattsville, Upper Marlboro, Largo, Bowie, and surrounding communities. Call us today at (301)778-9950 or send us an online request for a consultation.