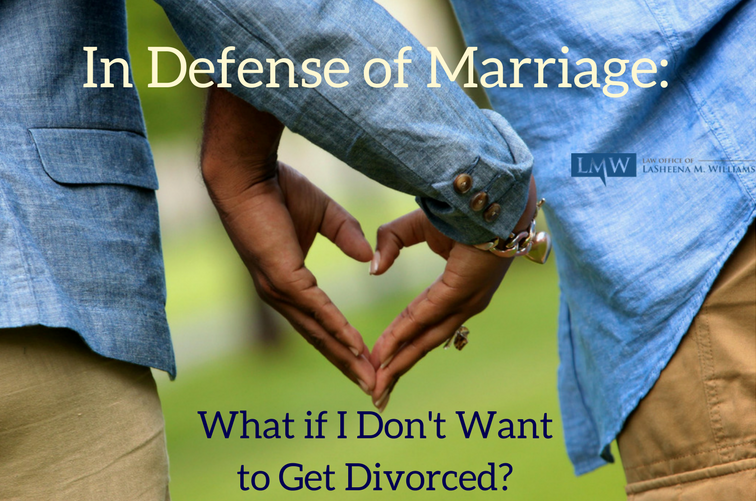 Although not commonly considered, a party responding to a Complaint for Absolute Divorce or a Complaint for Limited Divorce, has the right to defend against the allegations that are alleged as the grounds for divorce. Typically, property, child custody, child support, and alimony are contested issues during a divorce, but a party may defend against the  overall grounds, or legal claim for divorce, for many reasons.
If you are the responding party, and you don't want to get divorced in Maryland, you have options. A respondent may contest the Complaint for Absolute divorce, because the information in the petition may be factually inaccurate or intentionally false. In other cases, the factual allegations may not meet the legal requirements to justify a no-fault or fault-based divorce in Maryland. In some cases, a spouse responding to a divorce may raise a defense based on a variety of reasons in order to gain a strategic advantage in the case.
Defending Against a No-Fault-Based Divorce Petition in Montgomery County, Maryland and Prince George's County, Maryland
A party raising a defense to a no fault-based divorce is not as common as defending against a fault-based divorce, but it is still a possible option to consider if you don't want to get divorce in Maryland. Currently, Maryland has two methods of obtaining a no-fault divorce, on the grounds of mutual consent, or on the grounds of a 12-month period of separation.
To obtain a no-fault divorce on the grounds of a 12-month separation in Maryland, the couple must be separated for a 12-month period regardless of whether the couple agreed to separate or divorce. In this case, a spouse may raise the defense that the couple cohabited or engaged in sexual relations during the 12-month period which would nullify the 12-consecutive month requirement. To defend against the grounds for a 12-month separation, the defending party may want to present credible evidence to show that the continuous 12-month separation period did not occur. By showing that the separation was not continuous for 12-months, the responding party could potentially force the petitioning spouse to voluntarily drop the petition, the court to dismiss the petition, or force the petitioning spouse to amend his or her petition to a  potentially harder to prove fault-based divorce petition.
Defending Against a Fault-Based Divorce Petition in Prince George's County, Maryland and Montgomery County, Maryland
If you don't want to get divorced in Maryland, raising a defense to allegations made in a fault-based divorce petition is more common. For example, a party may present contrary evidence for any of the fault-based grounds for divorce, such as adultery, desertion, cruelty toward the spouse or a minor child, or excessively vicious conduct toward the spouse or a minor child.
For example, a spouse may allege that he or she did not actually or constructively desert his or her partner by presenting evidence that shows the technical requirements of either form of desertion were not met. Further, a party facing an allegation of adultery may raise evidence showing that the alleged adultery was not committed. In any case, involving an allegation that one spouse committed adultery or deserted his or her partner, condonation may be used as a defense in that the other party knew of the behavior and either forgave or was not opposed to the other spouse's conduct.
If You Don't Want to Get Divorced in Maryland and You Want to Explore Your Family's Options with an Experienced Maryland Divorce Attorney
Ultimately, you have options if you want to pursue a divorce or defend against a divorce in Maryland. If you don't want to get divorced in Maryland, with the proper support, you can explore your options so that you can make the appropriate decision for you and your family.
If you have specific questions or concerns about defending against a divorce in Maryland or questions regarding any other divorce, custody, or family law related matter, please contact The Law Office of LaSheena M. Williams, LLC today. If you want to know more about your options, you can reach attorney LaSheena M. Williams at (301) 778-9950 or by leaving an online request for a consultation.
Our firm passionately represents clients across Rockville, Bethesda, Gaithersburg, Silver Spring, Takoma Park, Chevy Chase, College Park, Cheverly, Greenbelt, Oxon Hill, Hyattsville, Upper Marlboro, Largo, Bowie and surrounding communities.