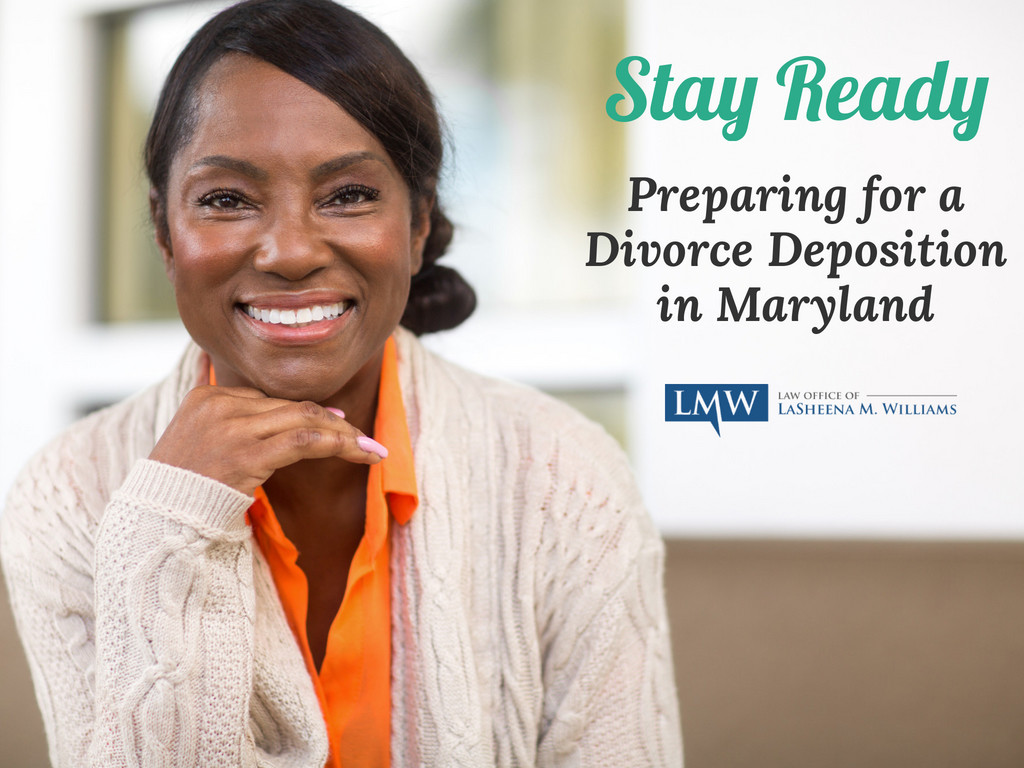 During the divorce process, the opposing party's attorney may send you a notice that they intend to depose you. The opposing attorney should notify you of the date, time, and location of the deposition. They may also provide you with documents or items you should bring to the deposition. 
In Maryland, a deposition is a process where a witness or party will be asked questions by an attorney under oath. Depositions may be used as evidence in divorce court proceedings. The questions asked will surround issues pertaining to your case including reasons for the divorce and possibly other issues such as: alimony, child support, custody, alcohol or drug usage and assets. Here are some tips to prepare for your divorce deposition. 
Practice Tips for a Maryland Divorce Deposition in Montgomery County, Maryland and Prince George's County, Maryland 
Be Honest with your attorney: Your attorney needs all the important background information to properly represent you in the deposition. Any potential safety issues should be brought to your attorney's attention so they can take the correct steps towards safety. 

Pause and Think Before Answering: Listen closely to the question. Wait until you hear the last word of the question before you answer. Pausing before you answer minimizes the chance that you may inadvertently give away information that the opposing attorney didn't think to ask for. 

Prepare for the Environment: Try to be calm. Depositions can be stressful, and the environment can make people nervous. It can be helpful to adjust your mindset and body language accordingly. The environment may be uncomfortable, but you are just answering questions about your case; it's not necessarily a bad thing. 

Don't Volunteer Information: Don't be helpful. For example, if you are asked whether you knew what time it was, the answer should be "yes" or "no". If the answer is yes, allow the attorney asking the questions to ask a follow up such as "what time was it?". For the most part, keep your answers short and to the point- answer only what is being asked. 

Be Familiar with Your Case: One of the best ways to prepare for a divorce deposition is to be as familiar as possible with the issues in your case. For example, if custody and visitation is an issue in your case, it would benefit you to make a calendar of all the dates and times that you've spent with the children over the last few years. This can help you establish your involvement. 
Divorce proceedings can be effectively navigated if you have competent counsel by your side. Don't prepare for your Maryland Divorce Deposition alone, our experienced attorneys are here to guide you. 
Contact Our Experienced Maryland Divorce Attorneys Regarding Depositions in Montgomery County, Maryland and Prince George's County, Maryland
If you have questions or concerns about your divorce case, please contact the Law Office of LaSheena M. Williams, LLC today. You can reach attorney LaSheena M. Williams at (301) 778-9950 or by leaving an online request for a consultation. 
Our firm passionately represents clients across Rockville, Bethesda, Gaithersburg, Silver Spring, Takoma Park, Chevy Chase, College Park, Cheverly, Greenbelt, Oxon Hill, Hyattsville, Upper Marlboro, Largo, Bowie and surrounding communities.