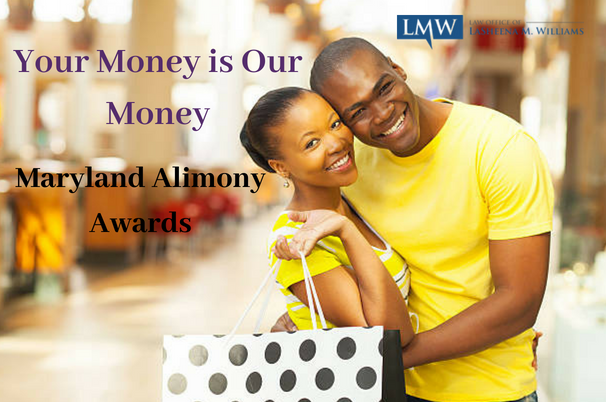 Aside from the emotional strain, undergoing the divorce process can have a devastating toll on the separating couple's finances. In many cases one spouse may have a substantially diminished earning capacity due to passing up educational or career opportunities in order to stay home with the children. The financially diminished spouse may have difficult time financially supporting thier lifestyle with only one household income. In these cases, a Maryland alimony awards can  serve to minimize the undue financial burden for the diminished spouse.
Types of Maryland Alimony Awards
In Maryland there are three types of alimony:
Pendente Lite Alimony: Alimony awarded while a divorce case is pending.
Rehabilitative Alimony: Alimony awarded for a limited period of time with the purpose of helping the recipient increase their earning capacity. Rehabilitative alimony is often used to support the recipient while they return to school or receive other types of career training. The purpose of rehabilitative alimony is to sustain the recipient until the recipient can be financially stable.
Indefinite Alimony: Although not frequently awarded, this is alimony awarded with no specific time limit. The recipient generally must show that due to advanced age, an illness, or a disability, he or she is not able to (1) make reasonable progress toward supporting his or her self or (2) even if you could make reasonable progress; your ex-spouse's standard of living is unconscionably different and unfair from yours.
When May Maryland Alimony Be Awarded in Prince George's County, Maryland and Montgomery County, Maryland?
Maryland Alimony awards are based on a number factors, and the Maryland Circuit Court has discretion to apply all or most of the factors before making an alimony determination. Ultimately a Maryland alimony award must be fair and equitable in light of the factors outlined in Code of Maryland §11–106 (b):
the ability of the party seeking alimony to be wholly or partly self-supporting;
the time necessary for the party seeking alimony to gain sufficient education or training to enable that party to find suitable employment;
the standard of living that the parties established during their marriage;
the duration of the marriage;
the contributions, monetary and non-monetary, of each party to the well-being of the family;
the circumstances that contributed to the estrangement of the parties;
the age of each party;
the physical and mental condition of each party;
the ability of the party from whom alimony is sought to meet that party's needs while meeting the needs of the party seeking alimony;
any agreement between the parties;
the financial needs and financial resources of each party, including considerations of all income and assets, including property that does not produce income; the financial obligations of each party; and the right of each party to receive retirement benefits.
Consult with an Experienced Maryland Divorce Attorney to Learn More About Maryland Alimony Awards in Montgomery County, Maryland and Prince George's County, Maryland
The attorney you hire to assist you through your divorce should help advocate for your interests during your divorce. If you believe you are entitled to alimony, and want assistance making sure you receive what you need in order to support you and your family, speak with an experienced Maryland Divorce Lawyer today.
If you are considering obtaining a divorce in Prince George's County or Montgomery County, and Maryland alimony is a key an contested issue, contact the Law Office of LaSheena M. Williams at (301) 778 – 9950 or send an online request for a consultation.
Our firm passionately represents clients across Rockville, Bethesda, Gaithersburg, Silver Spring, Takoma Park, Chevy Chase, College Park, Cheverly, Greenbelt, Oxon Hill, Hyattsville, Upper Marlboro, Largo, Bowie and surrounding communities.