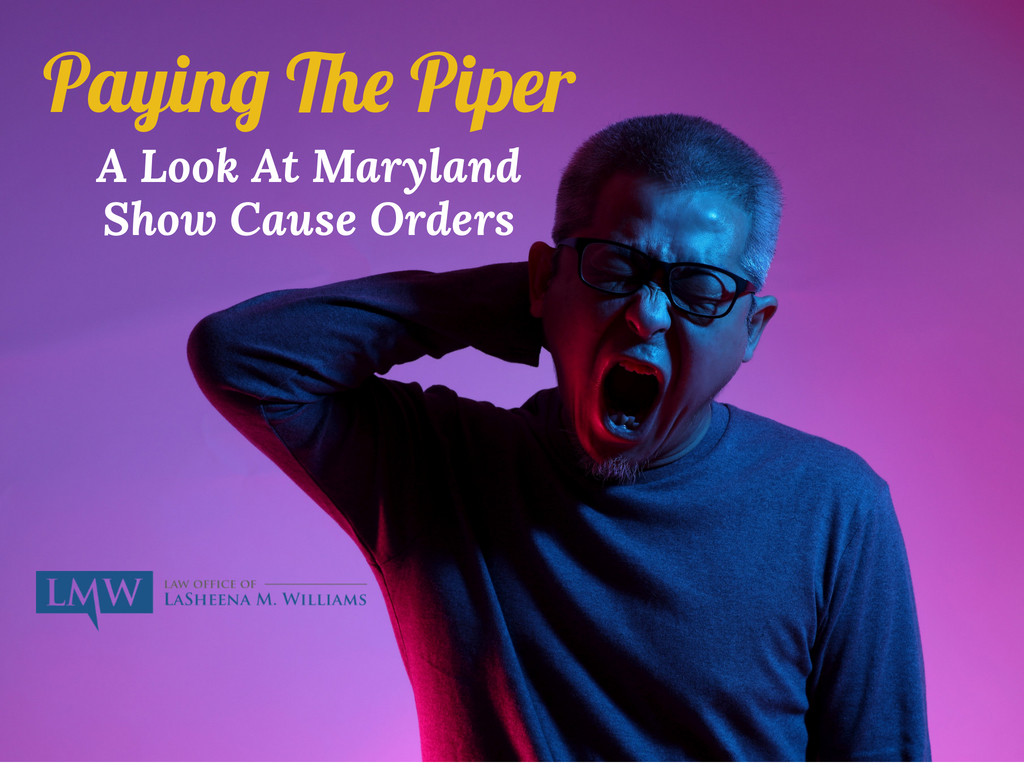 During your Maryland family law case, there may come a time when you request the court to enforce an order. You could be requesting that the court comply with an access schedule, timely make direct child support payments, or take some other ordered action. In order to enforce the terms of a court order, you may have to make a demand for the opposing party to show cause.
What Is A Show Cause Order in Montgomery County, Maryland and Prince George's County, Maryland? 
A show cause order is a mandatory court order that requires the party served to appear in court and explain or justify why the court should not take a proposed action. Typically, the court issues a Maryland Show Cause Order once a party requests specific relief and provides evidence to support their request. For example, if your ex believes that you are using alcohol in front of your child after a court order was issued that stated "alcohol use in front of the children is prohibited", they may file a Show Cause Order. Once filled, you are obligated to appear in court and present evidence showing that you are not in violation of the order. 
Do I Have To Come To Court? 
Yes. A show cause order requires that you appear in court to address any and all concerns. This is your opportunity to dispute the allegations being made and state your side of the story. You can agree or disagree with the request of the order or even provide a statement about how you would like something handled differently and why. If you fail to appear in court and respond to the order, you could be charged with contempt of court and face significant monetary fines or even imprisonment. 
What Is A Maryland Show Cause Order Penalty?
A show cause penalty is an administrative punishment that is given when one party in a case is found to have committed a major violation of an established court order. A party can be held in contempt of court and face a civil penalty in the form of a monetary fine. If the court finds you in contempt, the judge may order restitution, jail time or an award attorney's fees. 
Contact Our Experienced Maryland Family Law Attorneys Regarding Show Cause Orders in Montgomery County, Maryland and Prince George's County, Maryland
If you have questions or concerns about Show Cause Orders, please contact the Law Office of LaSheena M. Williams, LLC today. You can reach attorney LaSheena M. Williams at (301) 778-9950 or by leaving an online request for a consultation. 
Our firm ardently represents clients across Rockville, Bethesda, Gaithersburg, Silver Spring, Takoma Park, Chevy Chase, College Park, Cheverly, Greenbelt, Oxon Hill, Hyattsville, Upper Marlboro, Largo, Bowie and surrounding communities.