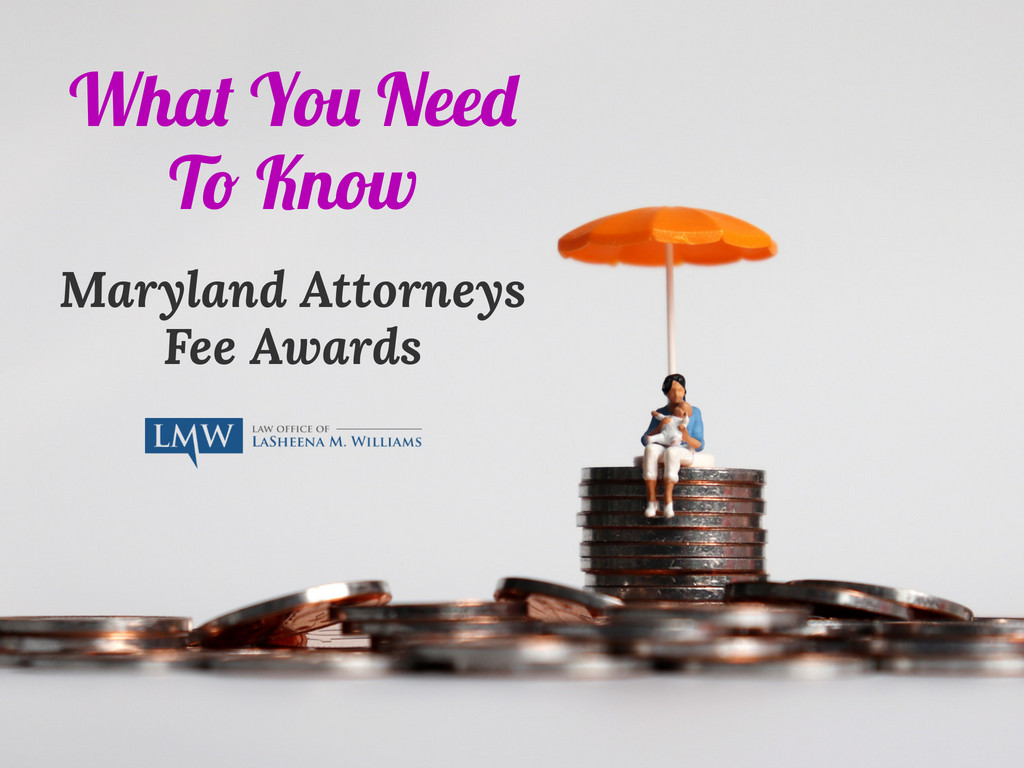 The end of a marriage can hurt you emotionally as well as financially. The divorce process can be costly, especially when it comes  to retaining an experience divorce attorney. But you may not be obligated to pay your own attorney fees.
What Is A Maryland Attorney Fees Award?
Typically, each party in a family case is responsible for paying their own attorney fees. A Maryland Attorney fee award is the court ordered payment of another party's attorneys fees. The award depends on the discretion of the judge presiding over the matter. Attorney fee awards in Maryland are usually granted in a pendente lite hearing, as a result of flagrant discovery violations, or at a merits hearings.
Determining An Attorneys Fee Award in Montgomery County, Maryland and Prince George's County, Maryland?
Typically, in order to obtain a Maryland Attorney Fees Award, when they are not related to sanctions, the party seeking the award must prove both that the fees in question have been incurred and that they are reasonable. Simply asking for the award does not guarantee that you will receive it. To receive the award, you may need to prove that there is no way you can afford your existing attorney fees without suffering serious financial harm, or that there was venomous conduct occurring during the divorce that resulted in higher than normal attorney fees. The court considers various factors in determining qualification such as relative worth, future earning potential of both spouses, any debts either party is taking from the divorce, and any assets given to either party in the division of property.
A Key Component in the Maryland Attorney's Fee Award Process
During the award process, you may need to provide a Long Form Financial Statement. A Maryland Long Form Financial Statement is a document the court relies on to help determine child support and alimony and also whether a party should be awarded attorney's fees. The financial statement is based on monthly income and expenses. You should be as accurate as possible when outlining your monthly expenses and you may have to provide documentation to support your financial assertions. These documents may include mortgage statements, utility bills, bank statements, and credit card statements.
Considering Asking for an Attorney's Fees Award In Your Maryland Divorce? Contact an Experienced Montgomery County, Maryland or Prince George's County, Maryland Divorce Attorney Today
If you want to know more about seeking a Maryland Attorneys Fee Award in your divorce, you should contact the Law Office of LaSheena M. Williams, LLC to discuss your options. If you need the assistance of an experienced Maryland divorce attorney contact the Law Office of LaSheena M. Williams at (301) 778 – 9950 or leave an online request for a consultation.
Our firm ardently represents clients across Rockville, Bethesda, Gaithersburg, Silver Spring, Takoma Park, Chevy Chase, College Park, Cheverly, Greenbelt, Oxon Hill, Hyattsville, Upper Marlboro, Largo, Bowie and surrounding communities.