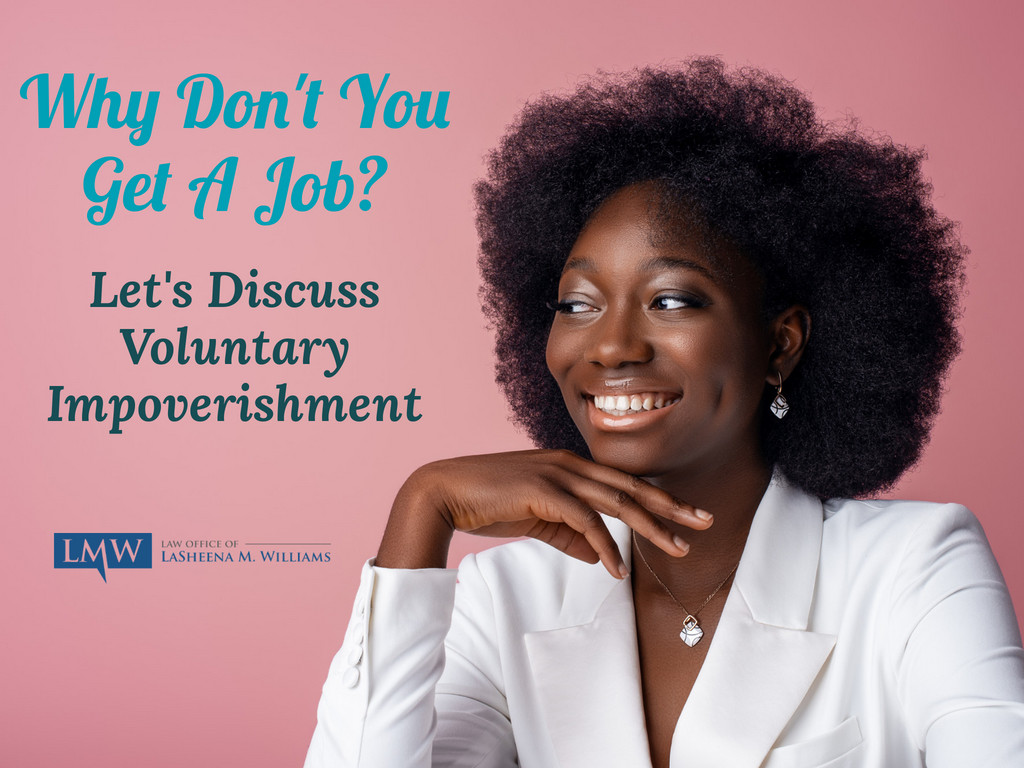 Separating from a co-parent is an emotional process that can result in unruly behavior from a person you once loved. Child support is a prevalent topic during a separation because each party must learn to live independently of one another. In Maryland, if one parent is capable of earning an income and contributing to the support of the children, they are obligated to do so under the law. But what if your co-parent is consciously trying to avoid their financial obligation to your children?
What Is Voluntary Impoverishment in Prince George's County, Maryland and Montgomery County, Maryland
When parents separate or divorce, a parent may also seek child support. In some cases, one party may have been the breadwinner during the marriage and now feels frustrated that they should contribute to expenses such as child support. When this frustration turns into full-blown refusal to maintain employment, it is called voluntary Impoverishment. Voluntary impoverishment is when a parent either ceases employment or works below their capacity to avoid paying child support. The parent deprives themselves of resources in order to manipulate the court system.
Determining Voluntary Impoverishment in Montgomery County, Maryland and Prince George's County, Maryland
In determining if a parent is voluntary impoverished, the court will look at several factors, including but not limited to:
Current physical condition
Level of education
The timing of any change in employment or financial circumstances relative to the divorce proceedings
The relationship of the parties prior to divorce proceedings
Whether the parent has a history of withholding or underpaying child support
Their efforts to find and retain employment.
How To Prove Voluntary Impoverishment in Montgomery County, Maryland and Prince George's County, Maryland
In Maryland, for a court to conclude that a party is voluntarily impoverished, the court must have sufficient evidence of earning capacity to impute an appropriate amount of potential income. The voluntarily impoverished party's potential income or capacity to earn money will be attributed to them in order to determine their obligation to pay child support. The evidence used in the determination may be the parent's earning history and/or expert witness testimony evaluating the party's earning capacity. Then, the judge or magistrate will decide the party's potential income and the potential income will be used to calculate child support or any arrears.
If You Believe Your Co-Parent Is Intentionally Underemployed, Contact an Experienced Montgomery County, Maryland or Prince George's County, Maryland Divorce Attorney Today
If you want to know more about voluntary impoverishment and imputing income to determine child support, you should contact the Law Office of LaSheena M. Williams, LLC to discuss your options. If you need the assistance of an experienced Maryland divorce attorney contact the Law Office of LaSheena M. Williams at (301) 778 – 9950 or leave an online request for a consultation.
Our firm zealously represents clients across Rockville, Bethesda, Gaithersburg, Silver Spring, Takoma Park, Chevy Chase, College Park, Cheverly, Greenbelt, Oxon Hill, Hyattsville, Upper Marlboro, Largo, Bowie and surrounding communities.