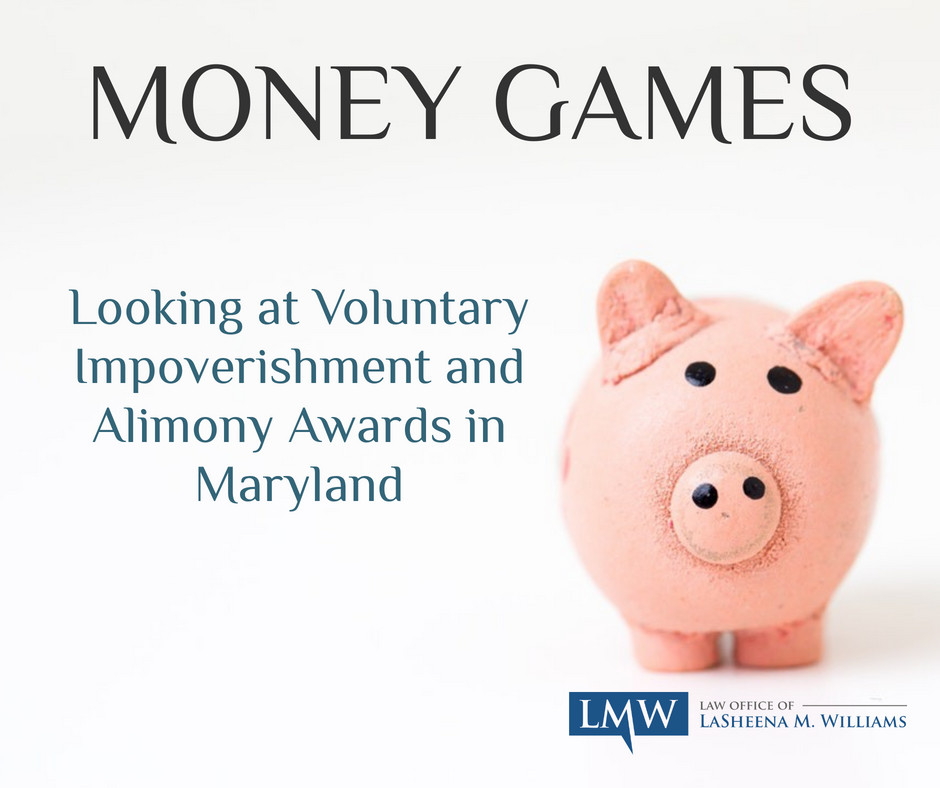 During a divorce proceeding, a lower-earning spouse may be entitled to rehabilitative or indefinite alimony. Generally, the spouse with higher income may be ordered to pay spousal support to the lower-earning spouse. Alimony awards are enforceable by the court, particularly if the alimony award is incorporated in a judgment of divorce and marital settlement agreement. However, some spouses may seek to avoid their financial obligations by seeking and obtaining lower pay employment or maintaining unemployment under the pretext of having fallen on hard times.
What is voluntary impoverishment in Montgomery County, Maryland and Prince George's County, Maryland?
Voluntary impoverishment in Maryland is when a person attempts to reduce their income through underemployment or unemployment in order to deliberately avoid paying court ordered alimony. In order to determine alimony, the Court may calculate the alimony amount from the costs of living for the recipient spouse and the income of the paying spouse. Some alimony awards may be modified if there is a substantial change in the circumstances of either the recipient or the paying spouse. By voluntarily impoverishing themselves, the payor is attempting to trigger an alimony modification in order to reduce or eliminate the payment obligation.
An example of voluntary impoverishment in Maryland is a neurosurgeon spouse ordered to pay five years of rehabilitative alimony to her spouse, a middle school art teacher, and the neurosurgeon quits her job in order to start a business selling crafts on the internet.
What will the court do if you allege your spouse has engaged in voluntary impoverishment in Maryland?
If you think your former spouse has voluntarily impoverished themselves as a way to reduce or eliminate indefinite or rehabilitative alimony payments, you can petition the court to enforce the marital agreement or judgment of divorce. If your former spouse seeks a modification of the support order, you may need to oppose the modification request and provide evidence to the court to show your former spouse's income or voluntary impoverishment. Providing proof may include past earnings, physical ability to work, level of education, known assets, annual income from any source, the job market in the area the payor lives in, current efforts to find employment, and other factors. If the payor does not rebut your proof, the Court may enforce the order or deny the modification request.
How can I ensure that my spouse is held accountable in Montgomery County, Maryland and Prince George's County Maryland?
Working with a qualified Maryland family law attorney, you can alert the court of your ex-spouse's change in circumstances and defend against their  efforts to modify alimony. The Court can then take any appropriate remedy to ensure that you are paid the money you are owed by enforcing the alimony order.
If You Are Considering Alerting the Court In Your Divorce Case of Voluntary Impoverishment, Contact an Experienced Montgomery County, Maryland or Prince George's County, Maryland Divorce Attorney Today
If you want to know more about how to fight your former spouse's attempt at voluntary impoverishment in Maryland, you should contact the Law Office of LaSheena M. Williams, LLC to discuss your options. If you need the assistance of an experienced Maryland divorce and voluntary impoverishment attorney contact the Law Office of LaSheena M. Williams at (301) 778 – 9950 or leave an online request for a consultation.
Our firm passionately represents clients across Rockville, Bethesda, Gaithersburg, Silver Spring, Takoma Park, Chevy Chase, College Park, Cheverly, Greenbelt, Oxon Hill, Hyattsville, Upper Marlboro, Largo, Bowie, and surrounding communities.