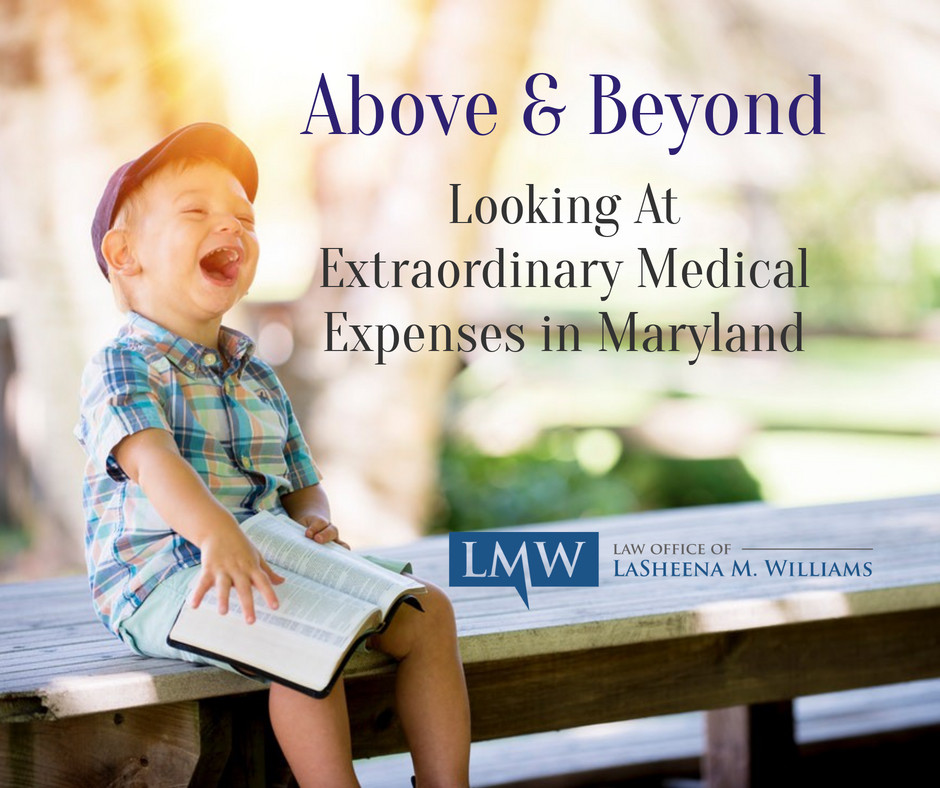 Having a child can come with many expenses for parents. Parents have to frequently pay for daycare, school, living expenses, after school activities, summer camp, etc. Having a child may also come with medical expenses due to routine checkups, injuries, or illnesses. In some instances, for children with specific health needs, the cost of healthcare can far exceed what is paid in health insurance premiums, normal and expected healthcare costs, and preventative care expenses . After many co-parents obtain a divorce, they are still financially responsible for supporting their children. Each parent's financial responsibility can be established during  child support determination proceeding in Circuit Court.
What are extraordinary medical expenses in Montgomery County, Maryland and Prince George's County, Maryland?
Extraordinary medical expenses in Maryland are any out-of-pocket costs required  to maintain the continued health and well-being of the child or children. Extraordinary medical expenses are expenses that occur above and beyond the normal cost of maintaining health insurance coverage. Extraordinary medical expenses in Maryland can include co-pays, deductibles, treatments, counseling, health-related devices, prescriptions, or any other unanticipated health-related costs not covered by insurance.
Who is responsible for paying these extraordinary medical expenses in Maryland?
You and your co-parent are responsible for paying extraordinary medical expenses  for your child in Maryland. After you obtained a divorce, the Court likely made a child support determination based on the Maryland Child Support Guidelines.At that time, the Circuit Court Judge or Family Magistrate made a determination about   which parent should pay child support and how much that parent should pay after considering each parent's finances and expenses and considering the best interest of the child. Some child support orders may require a parent to pay half of the child-related expenses or they may require a parent to pay for everything. Each case is different.
If your child requires extraordinary medical expenses, you may include those expenses in a child support agreement, or a request to establish or modify child support.  To make a child support modification based on extraordinary medical expenses consult with an experienced Maryland child support attorney for further guidance.
What if your co-parent does not pay their required share of extraordinary medical expenses?
You can communicate with your co-parent shortly after incurring the medical costs. If your co-parent disputes the charge or disputes their responsibility for paying for what they consider an unnecessary expense, you can enforce the child support agreement or order through the Maryland Circuit Court. Failure to obey the court order may result in a finding of civil contempt or even jail time. Similar to the process for collecting child support, a court can order payment, garnish wages, or use other judicial tools to ensure that no child-related extraordinary medical expense goes unpaid. You should immediately consult an experienced family law attorney if you are owed unpaid extraordinary medical expenses.
If You Have Concerns Regarding the Unpaid Extraordinary Medical Expenses For Your Child, Contact an Experienced Montgomery County, Maryland or Prince George's County, Maryland Attorney Today
If you want to know more about child support and extraordinary medical expenses, you should contact the Law Office of LaSheena M. Williams, LLC to discuss your options. If you need the assistance of an experienced Maryland Child Support Lawyer, contact the Law Office of LaSheena M. Williams at (301) 778 – 9950 or leave an online request for a consultation.
Our firm zealously represents clients across Rockville, Bethesda, Gaithersburg, Silver Spring, Takoma Park, Chevy Chase, College Park, Cheverly, Greenbelt, Oxon Hill, Hyattsville, Upper Marlboro, Largo, Bowie and surrounding communities.