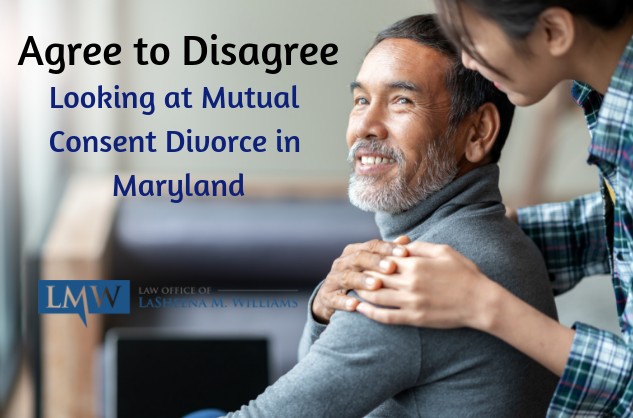 Prior to 2015, Maryland couples who mutually agreed to file for divorce were required to wait one year before filing—even if the parties agreed on all major aspects of the divorce, such as property division and alimony. The archaic requirement of living apart for 365 days prior to filing caused the Maryland divorce process to drag on unnecessarily. The separation requirement also made it significantly harder for the separating couple to transition to the next phase of their lives.
What is a Mutual Consent Divorce in Maryland?
In 2015, the Maryland legislature established new grounds for obtaining a no-fault divorce: mutual consent divorce. A Maryland mutual consent divorce is a no-fault divorce where one spouse files for divorce and the other spouse agrees to the divorce and the terms.
Adding the ability to obtain a divorce in Maryland by mutual consent is groundbreaking. Now, as long as the parties have a written agreement regarding the terms of the marital dissolution, a Maryland mutual consent divorce will provide a faster, easier, and more cost-efficient method of obtaining a divorce for many families throughout Maryland.
Initially the 2015 law did not recognize a Maryland mutual consent divorce with children. This oversight meant that divorcing couples with minor children were still required to wait a year for a no-fault divorce on the grounds of separation, or had to pursue a divorce on alternative  fault-based grounds, such as adultery.
The October 1, 2018 Modification to Allow a Maryland Mutual Consent Divorce with Children in Prince George's County, Maryland and Montgomery County, Maryland
In an important step forward, a new law became effective on October 1, 2018 that recognized Maryland mutual consent divorce with children. Now, as long as certain filing requirements are met, couples with children can bypass the one-year separation requirement, and obtain a Maryland mutual consent divorce.
To be eligible for a Maryland mutual consent divorce with children the parties must submit the appropriate documents  that meet the statutory requirements. The parties may then appear before the court and testify regarding the agreement and the parties intentions.
If the court agrees that the agreement is in the best interest of the minor children involved, a Maryland mutual consent divorce with children will be granted.
File your Maryland mutual consent divorce with children today
Our firm skillfully represents clients throughout Rockville, Bethesda, Gaithersburg, Silver Spring, Takoma Park, Chevy Chase, College Park, Cheverly, Greenbelt, Oxon Hill, Hyattsville, Upper Marlboro, Largo, Bowie, and surrounding communities. Call us today at (301)778-9950 or send us an online request for a consultation.