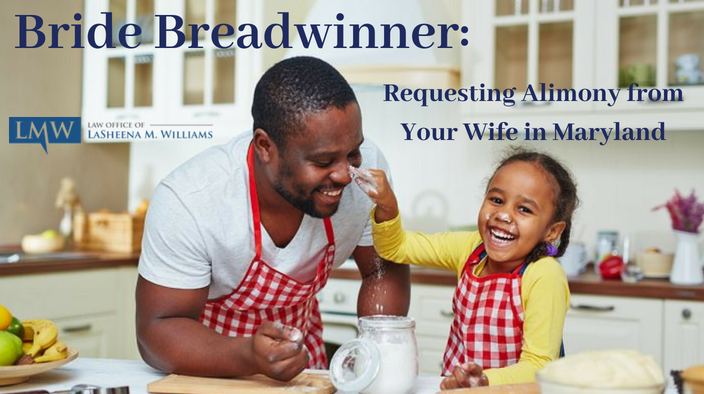 As of the most recent report by the Center for American Progress, 42% of mothers are the sole or primary family breadwinner in America. With the increase in employment growth and opportunities for wives, more husbands are staying home to care for families then ever before. While this reversal in roles is becoming the norm for many marriages throughout the United States, it is also having a significant impact on spousal support requests in Montgomery County, Maryland and Prince George's County, Maryland.
According to the American Academy of Matrimonial Lawyers, over the past three years 45% of matrimonial or family law attorney members have seen an increase in women being responsible for alimony.
If you are a husband and you recently filed or have been served with divorce papers in Maryland, you should consider all the options you have available, and a requesting alimony from your wife in Maryland may be a consideration in your divorce negotiations.
Requesting Alimony from Your Wife in Montgomery County, Maryland and Prince George's County, Maryland
Alimony, or spousal support, in Maryland is the financial support which is paid by one spouse to the other. Generally, when alimony is ordered or agreed upon, the higher earning spouse makes periodic payments to the lower earning spouse. These Maryland alimony payments can occur during the divorce, as temporary or pendente lite  relief, or after the completion of the divorce.
In order to receive an alimony award, the spouse requesting alimony must prove that they need the financial support from their partner and show that their spouse has the ability to pay the requested support.  In Maryland, when determining whether to award alimony and determine the appropriate amount of spousal support, the Maryland Circuit Court Judge or Maryland Family Magistrate consider a number of factors including:
The families standard of living
The length of marriage
The financial resources and earning capacity of each spouse
The age and physical wellbeing of each spouse
The likely length of time it will take the supported spouse to be self-supporting, if unemployed or underemployed
The contribution of each party to the marriage, including, services rendered in homemaking, childcare, education, and career building support of the requesting party of
Such other relevant factors as the court deems equitable and proper
It is Important to Know and Evaluate Your Spouse's Financial Resources in Order to Establish Alimony in Prince George's County, Maryland and Montgomery County, Maryland
Whether you will be at the receiving end, or the one who has to make the alimony payments, you will need the right information in order to negotiate more effectively. This means that complete financial disclosures by both parties should play a crucial role in the divorce process. If you are seeking alimony from your wife in Maryland, it is important to search for and find your spouse's financial resources. An attorney can help you subpoena bank records, employment records, and other records that will help you accurately determine your spouse's assets and liabilities. Knowing the full financial picture will give you a better idea of your spouse's ability to pay the support you need to maintain you and your family's lifestyle.
Consult with an Experienced Maryland Divorce Attorney to Learn More About Maryland Alimony Awards in Montgomery County, Maryland and Prince George's County, Maryland
The attorney you hire to assist you through your divorce should understand your financial needs. Your Maryland divorce attorney should also help advocate for your interests during your divorce. For many husbands it is difficult to even consider alimony as a viable option. Never forget that your role in your marriage is important and added value to your family. It is important for you and your children to comfortably maintain your lifestyle, regardless of your partner's status as the breadwinner.
If you believe you are entitled to alimony, and you want assistance seeking and obtaining alimony from your wife in Maryland in order to support you and your family, speak with an experienced Maryland Divorce Lawyer today.
If you are considering seeking alimony from wife in Prince George's County or Montgomery County, and Maryland alimony  contact the Law Office of LaSheena M. Williams at (301) 778 – 9950 or send an online request for a consultation.
Our firm passionately represents clients across Rockville, Bethesda, Gaithersburg, Silver Spring, Takoma Park, Chevy Chase, College Park, Cheverly, Greenbelt, Oxon Hill, Hyattsville, Upper Marlboro, Largo, Bowie and surrounding communities.