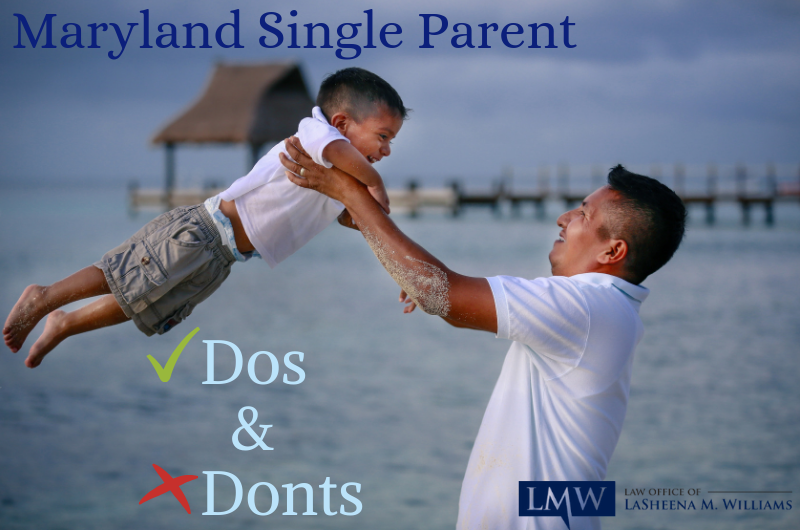 A Maryland single parent faces many concerns and obstacles, but co-parenting with an argumentative or absentee mother or father can be an ongoing strain on both a Maryland single parent and their child. By following simple single parent dos and don'ts, you can improve your relationship with your co-parent, provide a stable environment for your child, and reduce your own stress and anxiety.
Maryland Single Parent Dos in Montgomery County and Prince George's County
Do abide by the terms of your custody and visitation order or agreement
Some do not realize that their custody and visitation agreement is a contract and that the agreement can be enforced by a Maryland Circuit Court. Further, if the parties have a custody order, and the terms of the order are violated, the impacted parent can file for contempt of the order and seek penalties and sanctions. A violation may include the potential loss of custody and visitation rights for the violating parent.
More importantly, following the terms of your custody and visitation agreement or order will help reduce conflict in your relationship with your co-parent and provide continuity and stability in your child's life.
Do apply a team approach to co-parenting
Regardless of the issues between you and your child's mother or father, it is important for the child's overall development to have consistency from one home to the next. Using a unified approach to co-parenting where each person follows similar routines, types of discipline, and behavior expectations can help both parents to feel supported and respected.
Additionally, consistency of expectations and discipline helps your child understand what behaviors are acceptable and potentially prevents a "good parent/mean parent" outlook.
Maryland Single Parent Don'ts in Montgomery County and Prince George's County
Don't let your emotions get the best of you when co-parenting
In any separation or divorce there are often feelings of anger and hurt. However, when it comes to successfully co-parenting your child, it is important to distance negative emotions when communicating about your child's needs. Apportioning blame on each other for issues during the marriage will only foster negative feelings between both parents, creating a disjointed and inconsistent parenting approaches. A negative and disjointed approach to co-parenting may cause unnecessary pain and stress for your child.
Try to be as neutral as possible when co-parenting with your child's mother or father.
Don't use your child as the messenger between you and your co-parent
It's understandable that you may want to limit direct communication with your co-parent directly after the separation or divorce. However, when co-parenting, it is important that you maintain an open and cordial line of communication with your child's parent. Otherwise, the child may feel like they are divided between two people they love.
Whenever possible, communicate with your child's mother or father directly. Consider using text, email, if you cannot speak with your child's other parent in person or by phone.
Trust our compassionate team for your addressing your Maryland single parent concerns throughout Prince George's County and Montgomery County
At The Law Office of LaSheena M. Williams, we make your family's well-being our top priority. Our firm compassionately represents clients throughout Rockville, Bethesda, Gaithersburg, Silver Spring, Takoma Park, Chevy Chase, College Park, Cheverly, Greenbelt, Oxon Hill, Hyattsville, Upper Marlboro, Largo, Bowie, and surrounding communities. Call us today at (301)778-9950 or send us an online request for a consultation.