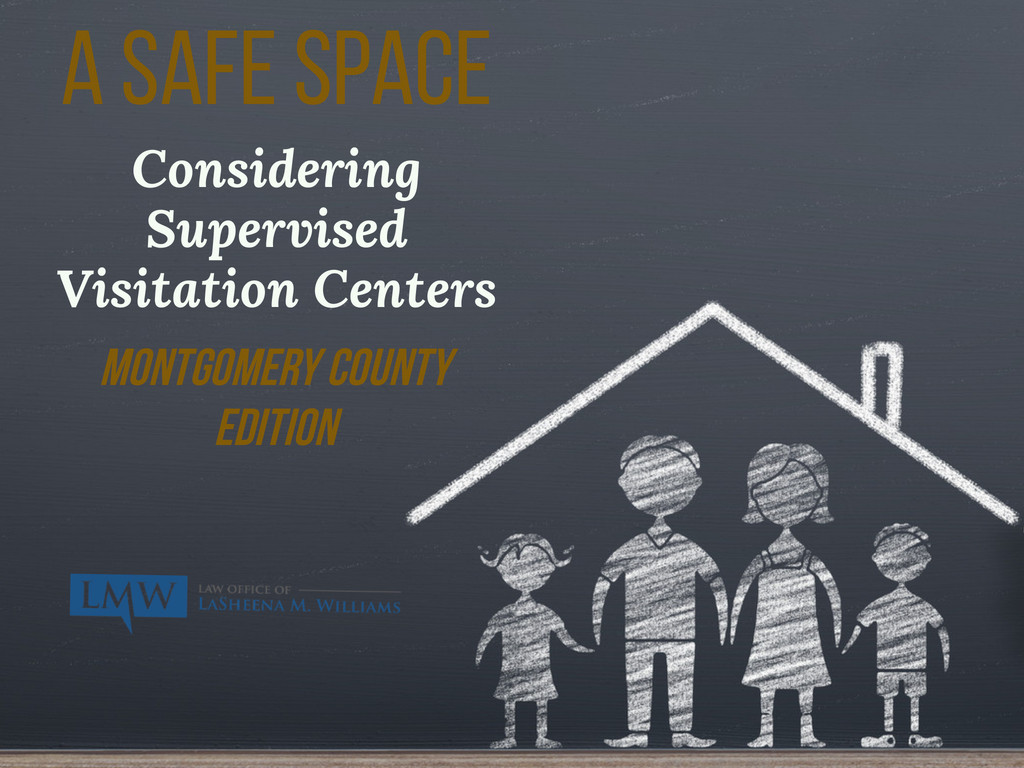 Visitation is a vital part of child custody since it allows a parent who does not maintain the primary residence for their children to spend parenting time with them. The details of visitation or parenting time can vary significantly depending on the family dynamics. Supervised visitation may be a good option if a parent suffers from issues such as: drug abuse, abusive behavior, and/or have been involved in inappropriate sexual behavior with the child.
Supervised visitation allows a  parent to spend parenting time with their child in a safe and neutral environment. Supervised visits are monitored by trained individuals who are equipped to intervene if necessary to ensure appropriate interactions between all parties involved. Supervised visitation may be required by court order.
Security at the Safe Passage Center for Supervised Visitation in Montgomery County, Maryland
The Safe Passage Center (SPC) is a supervised visitation center in Montgomery County, Maryland. They provide supervised visitation in a structured, secured environment. SPC removes external stressors, such as parental interaction and interference, thus allowing the parent to focus on quality time with their child. They have trained staff and security guards on-site to ensure order and neutrality in family encounters and disputes. To promote safe interactions, SPC has separated parking lots, entrances, and waiting areas to limit co-parent contact. They provide staggered drop-off and pick-up times to ensure that one parent has left the premises before the other parent arrives or leaves. Entrances and exits are locked and monitored by security guards, metal detectors, and cameras to secure the premises.
Supervised Visitation Services are Available at The Safe Passage Center in Montgomery County, Maryland
In addition to supervised visitation services, SPC provides monitored exchange services. Monitored exchange is a supervised transfer of custody. At the Safe Passage Center, a staff member supervises the child's transfer from the residential parent to the visiting parent and will then supervise the return of the child to the residential parent. Their services are typically used by families experiencing domestic violence, mental health concerns, substance abuse, extended parental absence, child neglect or abuse, and family conflict.
Important Information to Know Regarding the Safe Passage Center in Montgomery County, Maryland
The Safe Passage Center has services available to young children, children, adolescents, young adults, and adults. Services are free to families who have a Montgomery County court order requiring supervised visitation or monitored exchanges. An intake assessment will be scheduled and conducted to assess the family situation. You will need a government issued identification, a Montgomery County court order, and your car registration.
To receive services, call and set up an appointment. Walk-ins are not welcome.
Contact Our Experienced Maryland Family Law Attorneys Regarding Supervised Visitation in Montgomery County, Maryland and Prince George's County, Maryland
If you have questions or concerns about supervised visitation in Montgomery County, Maryland, please contact the Law Office of LaSheena M. Williams, LLC today. You can reach attorney LaSheena M. Williams at (301) 778-9950 or by leaving an online request for a consultation.
Our firm fervidly represents clients across Rockville, Bethesda, Gaithersburg, Silver Spring, Takoma Park, Chevy Chase, College Park, Cheverly, Greenbelt, Oxon Hill, Hyattsville, Upper Marlboro, Largo, Bowie and surrounding communities.