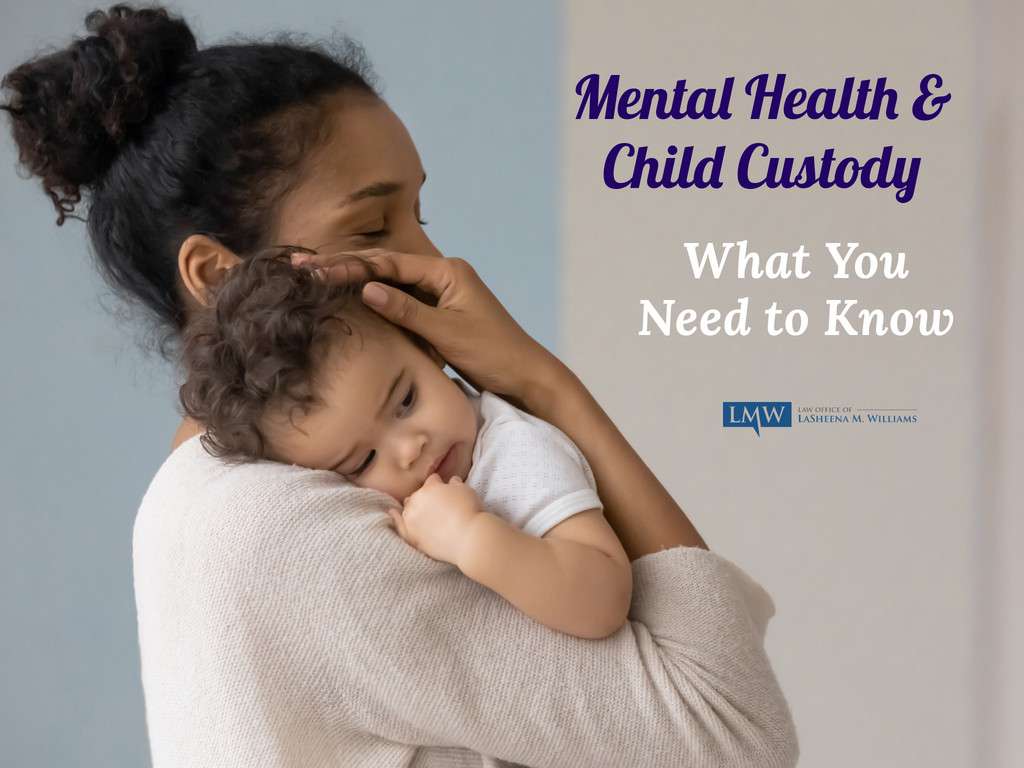 Psychological health conditions can induce changes in emotion, thinking or behavior. It can affect every aspect of a person's life as well as the lives around them. This ripple effect can cause tension within the family and may lead to obstacles regarding child custody.
What Is Considered a Mental Health Condition in a Maryland Child Custody Case
Mental health and child custody are not mutually exclusive, and this phenomenon is more common than people realize. Conditions can be influenced by genetics, environment, and lifestyle. A stressful home-life, job or traumatic life events such as assault or death, can make individuals more susceptible to psychological conditions. Brain structure and chemicals may also have an affect on the likelihood of emergence. Psychological health conditions can be treatable and do not automatically disqualify you as a suitable parent in a custody dispute.
Examples of psychological health conditions include:
Anxiety Disorder
Bipolar Disorder
ADHD (Attention Deficit Hyperactivity Disorder)
Depression
OCD (Obsessive Compulsive Disorder)
How Mental Health and Maryland Child Custody Intertwine in Montgomery County, Maryland and Prince George's County, Maryland
Mental health can be considered an obstacle in the pursuit of establishing custody. Psychological conditions can potentially influence the court's  decision, but it is one of many criteria used in solving custody disputes. In Maryland, the courts must determine custody  by deciding what is in the child's best interest. This means that your psychological  diagnosis can make an impact on issues regarding custody and parenting time. Despite this, there is not an underlying assumption that simply because an individual has psychological challenges, that they are an unfit parent or a danger to their child. Other criteria that may influence the court's decision is the severity of the condition in question, adherence to treatment plans, and the affected individual's willingness to seek help. This list is not exhaustive and there are numerous variables considered when developing a parenting plan for a person who is psychologically ill. Therefore, it is important that you speak with an experienced family law attorney to tailor a custom parenting plan for your unique mental health and child custody situation.
Contact Our Experienced Maryland Family Law Attorneys For Your Mental Health and Child Custody Dispute in Montgomery County, Maryland and Prince George's County, Maryland
Mental health concerns and child custody disputes do not have to end your relationship with your child. With an Experienced Child Custody Attorney, your mental health condition could have a mitigating effect on your custody agreement.
If you have questions or concerns about how to navigate child guardianship disputes, please contact The Law Office of LaSheena Williams, LLC today. You can reach attorney LaSheena M. Williams at (301) 778-9950 or by leaving an online request for a consultation.
Our firm attentively represents clients across Rockville, Bethesda, Gaithersburg, Silver Spring, Takoma Park, Chevy Chase, College Park, Cheverly, Greenbelt, Oxon Hill, Hyattsville, Upper Marlboro, Largo, Bowie and surrounding communities.