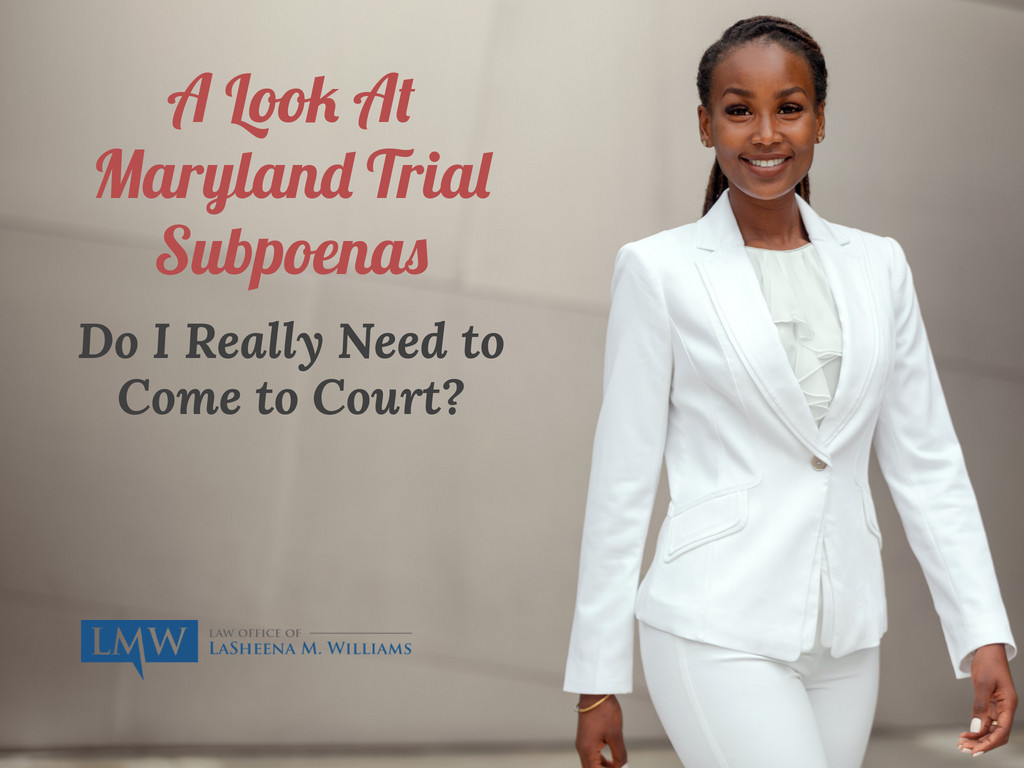 Family law cases involving custody, divorce, and property issues can be complicated. If you know someone that is currently involved in a custody or divorce battle, there may come a day when you are served with a subpoena. If you are served with a Maryland trial subpoena, you probably have many questions regarding your rights and  responsibilities to comply with the subpoena. Can you ignore the subpoena? If not, what are the penalties if you refuse to show up in court and testify? How do you block a subpoena? Read on to learn more below:
What is a Maryland Subpoena in Montgomery County, Maryland and Prince George's County, Maryland
In Maryland, a subpoena is a mandatory writ or court order that may require the receiver to appear and testify as a witness in a court proceeding before a magistrate, auditor, or examiner. A subpoena may also compel a person to produce and permit inspection of documents, electronically stored materials, or other tangible evidence at a court proceeding or deposition.
For example, a subpoena may direct a party in to bring records, such as recent pay statements or proof of child related health insurance coverage to a child support hearing. Or a subpoena may require a parent to produce a child at a custody proceeding.
Do I Really Have to Come to Court If I'm Served with a Subpoena in Montgomery County, Maryland or Prince George's County, Maryland?
That depends. Generally, there are very limited circumstances where you can ignore a subpoena. Typically, if you are properly served with a subpoena and you choose to not comply without justification, you may be held in contempt of court, subject to a body attachment and even fined for failure to obey.
If you are subject to a body attachment, a sheriff or officer may execute the writ of attachment and take you to court if it is currently in session. If court is not currently in session, the peace officer or sheriff may take you to District Court for a determination of release conditions to ensure your appearance at the next court session.
Can I Block a Maryland Trial Subpoena in Prince George's County, MD or Montgomery County, MD?
While there may be ramifications if you ignore a subpoena, you may be able to block or limit the requirements of a Maryland Trial Subpoena. You could file a Motion to Quash the subpoena, wherein you request that a judge cancel the subpoena.
You could also file a Motion for a Protective Order, wherein you request that the court protect some or all of the information requested.
Additionally, certain privileges may prevent you from being compelled to testify or produce certain communication. Privileges may include:
Attorney-Client privilege

, which protects an attorney from being compelled to testify to attorney-client communications.
Doctor-Patient Confidentiality, which prevents a doctor from testifying regarding a patient's private medical information without the patient's consent.
Spousal Privilege, which protects a spouse from being required to testify against their spouse under certain circumstances.
Subpoenas are not something to take lightly, consulting an experienced attorney regarding your rights and responsibilities under a Maryland trial subpoena may potentially save you from a lot of uncertainty and stress.
Contact Our Experienced Maryland Family Law Attorneys Regarding How to Handle Maryland Trial Subpoenas in Montgomery County, Maryland and Prince George's County, Maryland
If you have questions or concerns about Maryland trial subpoenas, please contact the Law Office of LaSheena M. Williams, LLC today. You can reach attorney LaSheena M. Williams at (301) 778-9950 or by leaving an online request for a consultation.
Our firm passionately represents clients across Rockville, Bethesda, Gaithersburg, Silver Spring, Takoma Park, Chevy Chase, College Park, Cheverly, Greenbelt, Oxon Hill, Hyattsville, Upper Marlboro, Largo, Bowie and surrounding communities.