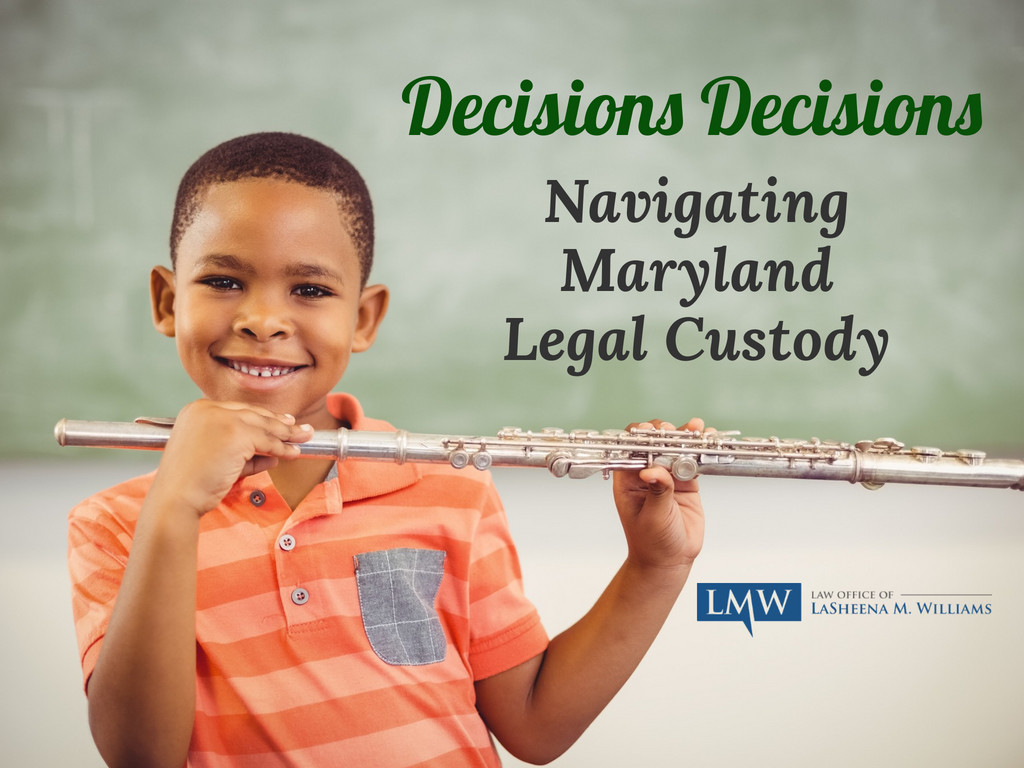 In Maryland custody relates to a parent's rights regarding their children. There are different two different types of custody: legal custody and physical custody.
Maryland Legal custody is a parent's right to make important decisions regarding their child's overall life. Maryland Legal Custody gives the parent the authority to make decisions regarding the child's education, healthcare, religion, and extracurricular activities.
In Maryland, physical custody is different from legal custody. Maryland physical custody is the right to spend time with your child and making decisions about the child's daily needs, including where your child lives.
The Different Types of Custody
There are different types of custody. When a person has legal custody,  they have the right to make any decisions regarding the needs of the child without further consultation. In some situations, the court may grant joint legal custody to ensure that both parents can retain their legal rights to decision-making for their children.

Physical: This is different from legal custody in the sense that physical custody refers to where the child will physically live. It grants the parent the right and obligation to take care of the child's daily needs. Legal and physical guardianship agreements can be different. For example, parents could have joint legal custody, but one parent possesses sole physical custody. This can be the case if the parents live some distance apart.

Joint: Legal and/or physical guardianship is awarded to both parents. This allows both parents to be active in their child's life and contribute to their upbringing. For instance, in the process of deciding whether to send their child to public or private school, both parent's perspectives are equally important and considered. A
joint legal custody
relationship is more likely to succeed when both parents are willing to cooperate, are active in raising their children, and believe and agree that a joint legal custody arrangement is what is in the best interest of the child.

Sole: The court may award legal and physical guardianship to only one parent. The court may do this if the parent does not live close (i.e. out of state), the parent is neglectful or abusive, or the parent is not involved in the child's day-to-day life and does not spend time with the child. This can also occur if the parents do not have a
custody agreement
already in place. In the event of a
sole custody
ruling, one parent is solely responsible for making all the decisions regarding the child's daily life and the non-custodial parent is not awarded any visitation or custody rights. This means that the sole custody parent does not need to take into consideration the other parent's ideas or opinions about raising the child.
How to Navigate Legal Custody Disputes
In Maryland, the court focuses on what is in the best interest of the child in guardianship disputes. The court may also take into account the ability of each parent to meet the child's needs regarding culture, education, religion and psychological and physical health. As well as any history of abuse or any efforts by one parent to alienate or interfere with the child's relationship with the other parent. In attempting to resolve the guardianship dispute, parents should begin by consulting an experienced family law attorney so they can be informed of their custody rights. Once aware, the parents will be in a better position to create their ideal custody goals. When parents are unable to reach an agreement, mediation or litigation may be necessary.

Mediation
is when parents are guided by a neutral third party to reach a custody agreement. This option can save people from the cost and stress of litigation.

Litigation occurs when the court becomes involved. This can be a very costly, anxiety-inducing situation and can produce unfavorable results since the courts will consider several factors in concluding what's best for the child.
Contact Our experienced Maryland Child Custody Attorneys Regarding your Legal Custody Dispute in Montgomery County, Maryland and Prince George's County, Maryland.
If you have any questions or concerns about legal custody, please contact the Law Office of LaSheena Williams, LLC today. You can reach attorney LaSheena M. Williams at (301) 778-9950 or by leaving an online request for a consultation.
Our firm passionately represents clients across Rockville, Bethesda, Gaithersburg, Silver Spring, Takoma Park, Chevy Chase, College Park, Cheverly, Greenbelt, Oxon Hill, Hyattsville, Upper Marlboro, Largo, Bowie and surrounding areas.