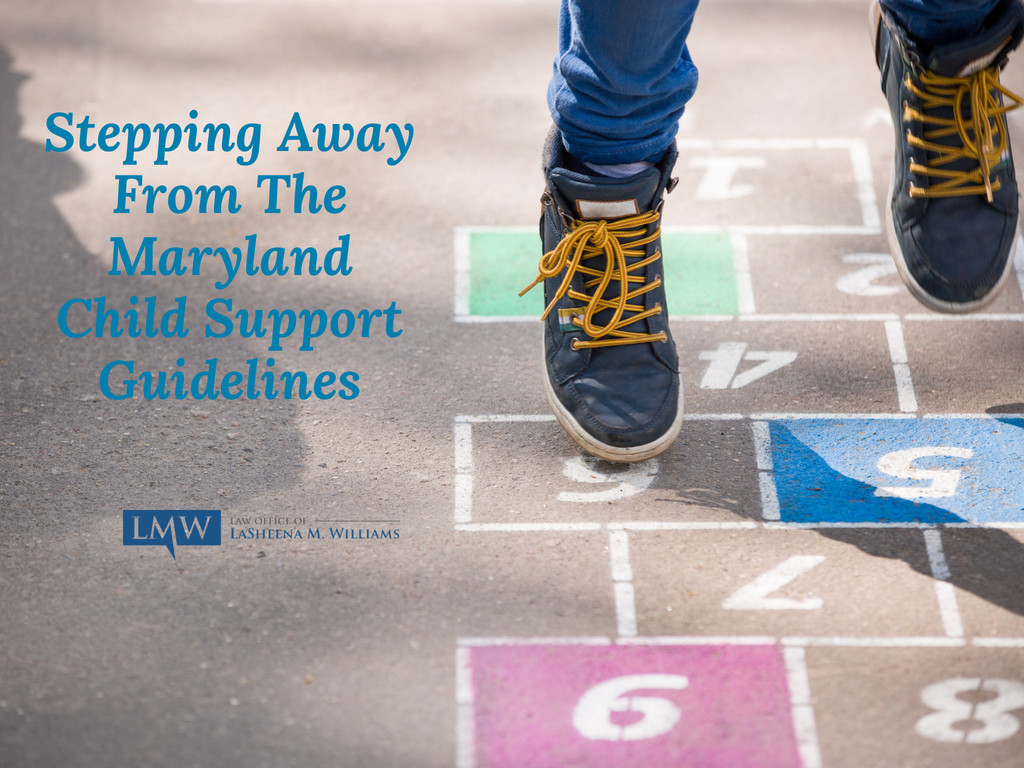 The process of establishing child support varies from state to state. In Maryland, child support is calculated using a formula called the Maryland Child Support Guidelines. Usually, the court will determine child support based on these guidelines unless it can be proven that implementing the guidelines would be unjust and inappropriate. 
Maryland Child Support Guidelines
Maryland child support guidelines allow the Family Magistrate or Circuit Court Judge to calculate the parents' child support obligation by inputting their combined incomes and the number of children they have together. Then, a percentage of the total support obligation is assigned to each parent based on that parent's income percentage. For example, if parent A earns $6,000 monthly and parent B earns $4,000 monthly, parent A may be responsible for 60% of the support amount and parent B may be responsible for 40%. In determining income, the guidelines may consider, but not limited to: salaries, unemployment insurance benefits, workers compensation, pension income, trust income, and/or social security benefits. 
Maryland has implemented a child support model that is based on the parent's income and certain child-related expenses. Child-related expenses that are considered in the Maryland Child Support Guidelines include, but not limited to: health insurance, child care expenses and extraordinary medical expenses. 
Are the Child Support Guidelines Required in Prince George's County, Maryland and Montgomery County, Maryland? 
Typically, yes. Since there is a presumption that use of the child support guidelines are correct and appropriate. But in instances where deviation is possible, Maryland courts may consider evidence that use of the guidelines may result in an inappropriate or unjust outcome. The court may consider including, but not limited to:
Alimony payments, whether received or paid

Agreement or court order detailing use and possession of the family home

Expenses related to the support of other children
Deviating from the Guidelines in Montgomery County, Maryland and Prince George's County, Maryland 
In some cases, there may be flexibility to deviate from the child support amount if it is unjust and inappropriate as long as the criteria takes into consideration the best interests of the children. In such cases, the court will specify in writing its justification for deviating from the guidelines. 
Contact Our Experienced Maryland Family Law Attorneys Regarding Child Support Guidelines in Montgomery County, Maryland and Prince George's County, Maryland
If you have questions or concerns about Maryland's Child Support Guidelines, please contact the Law Office of LaSheena M. Williams, LLC today. You can reach attorney LaSheena M. Williams at (301) 778-9950 or by leaving an online request for a consultation. 
Our firm passionately represents clients across Rockville, Bethesda, Gaithersburg, Silver Spring, Takoma Park, Chevy Chase, College Park, Cheverly, Greenbelt, Oxon Hill, Hyattsville, Upper Marlboro, Largo, Bowie and surrounding communities.