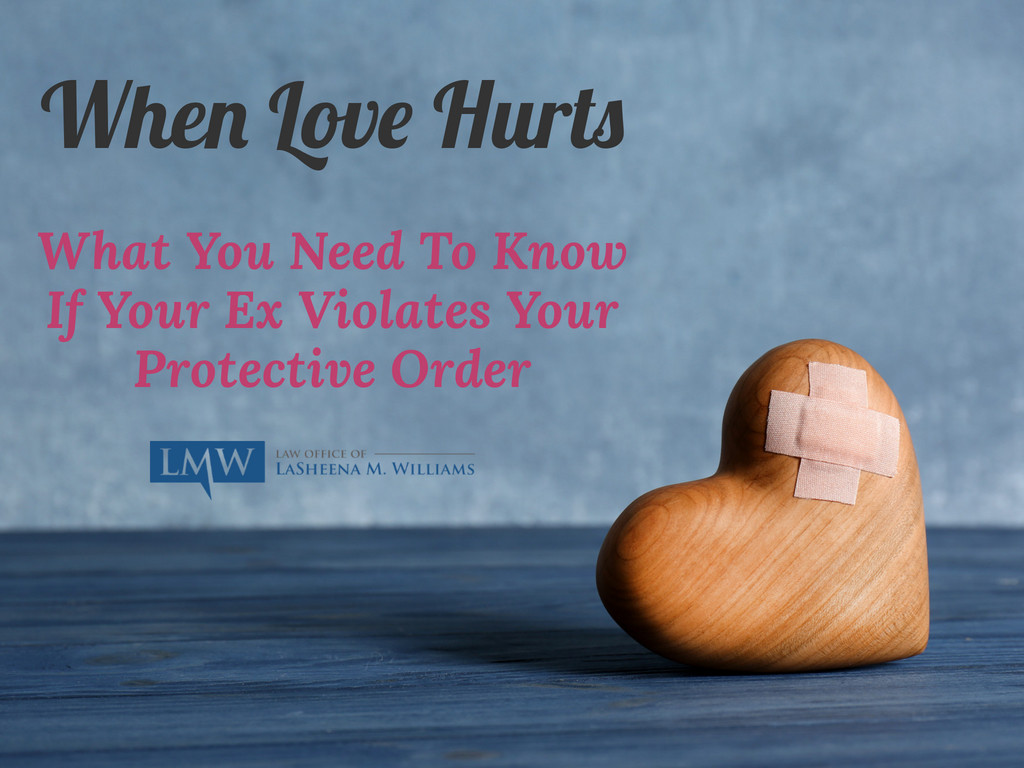 A protective order is typically established in a situation involving domestic violence to protect the petitioner from the respondent. In Maryland, a Protective Order is a court order stating that one person must refrain from committing certain acts against another person or others. A "final" protective order is issued after both the accused and the accuser present evidence to a court to either defend against or justify further legal protection. A final order is given after the establishment of an interim protective order and temporary protective order and can last up to a full year. A Final Protective Order may include additional provisions such as:
Temporary child access or visitation schedule
Counseling for domestic or substance abuse
Potential emergency family maintenance or financial support
Use and possession of a shared vehicle
Use and possession of the home
Violation of a Protection Order in Prince George's County, Maryland and Montgomery County, Maryland
Protection orders include boundaries that the respondent cannot violate without consequences. The respondent could be ordered to cease all abuse, refrain from all contact with the petitioner, surrendering firearms or moving out of a shared residence. In Maryland, the consequences for violating a protective order could be a fine between $1000 to $2,500 and/or up to 200-days imprisonment.
Violations of a protective order could be failure to pay emergency family maintenance, continuing to go to the petitioner's home or place of work, or maintaining unlawful contact with the petitioner. In some cases, the court may order the respondent to financially provide for the petitioner to ensure they can afford a place to live and money for necessities. Contact violations occur when the respondent contacts the petitioner in some way and violent violations contain an abusive act such as assault or any action that places a person in fear of imminent serious bodily harm.
How Can A Maryland Protective Order Violation Impact Your Case?
Violating a protective order can negatively impact the outcome of your divorce and custody case. If a protective order is violated, the petitioner can seek criminal charges. Charges can be of the violation itself or can include incidents that arouse around that violation. Another option is an extension. The judge can impose an extension of the protective order or add new criteria in the event of a violation. These modifications could potentially be used against the perpetrator in future proceedings. If a protection order is violated, the burden of proof is on the petitioner. The petitioner must report the violation to the judge who issued the protective order and provide evidence proving the violation occurred. Attempting to establish a protective order in the midst of a domestic dispute can be emotionally and mentally taxing which is why you should seek an experienced family law attorney to help you protect yourself and your family.
Contact an Experienced Domestic Violence Attorney in Montgomery County, Maryland and Prince George's County, Maryland
If you have questions or concerns about establishing a protective order, please contact The Law Office of LaSheena Williams, LLC today. You can reach attorney LaSheena M. Williams at (301) 778-9950 or by leaving an online request for a consultation.
Our firm zealously represents clients across Rockville, Bethesda, Gaithersburg, Silver Spring, Takoma Park, Chevy Chase, College Park, Cheverly, Greenbelt, Oxon Hill, Hyattsville, Upper Marlboro, Largo, Bowie and surrounding communities.