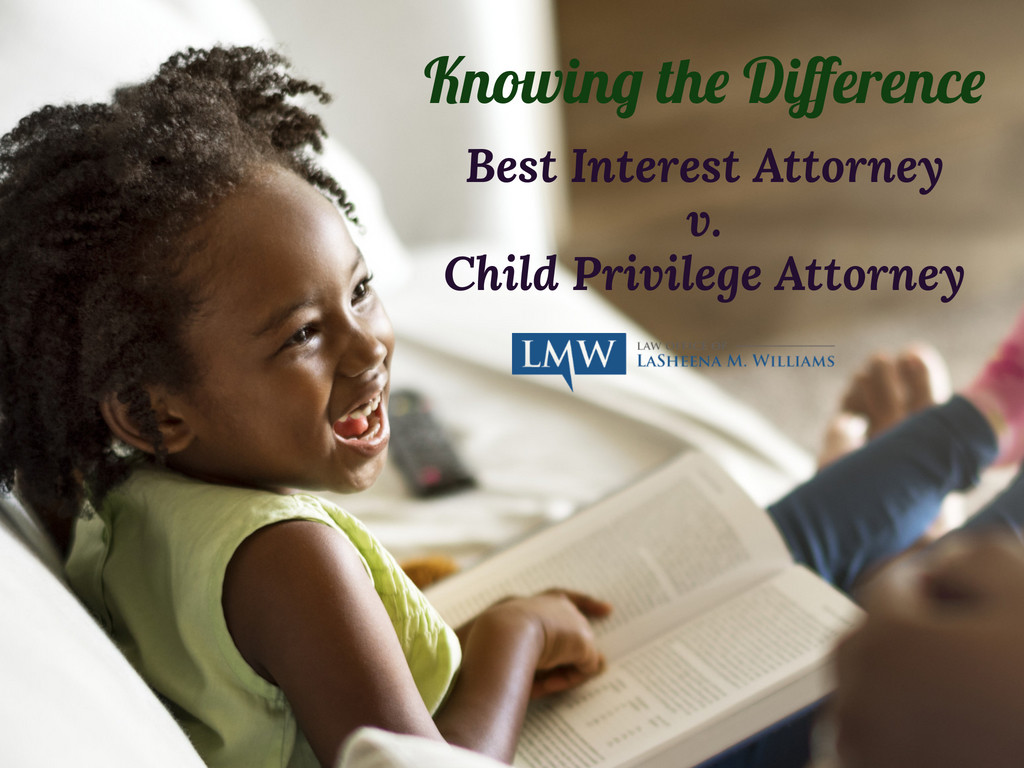 In some contested custody cases, the Maryland court system may appoint an attorney to represent a child. Whether appointed for advocacy or protection, these attorneys keep their minor clients safe and prevent the disclosure of their sensitive information. Often, when parents cannot agree, children suffer, causing distress that affects the child's well-being and mental health.
In Maryland, attorneys are frequently appointed as best interest attorneys and Maryland child privilege attorneys. Knowing the difference between the two types of appointed attorneys can clarify their degree of influence in your case and how they can assist with your custody matter or access privileges.
Maryland Best Interest Attorney in Montgomery County, Maryland and Prince George's County, Maryland
Also known as a BIA, or a Guardian Ad Litem, a best interest attorney's role is to protect the child and represent their interest in complex custody cases.  The court appoints a best interest attorney if it suspects that the child is experiencing emotional manipulation by their parents.
A Best Interest Attorney will perform an independent assessment and will make a decision to advocate for a course of action on behalf of the child. A Best Interest Attorney is not bound to the preference of either parent. Although a Best Interest Attorney takes the child's opinions and desires into account, they also may advocate against the child's wishes if what the minor wants is not in their best interest.
Best interest attorneys represent the child as a neutral third party, ensuring that the minor's rights are secure throughout the court process.
Maryland Child Privilege Attorney in Montgomery County, Maryland and Prince George's County, Maryland
A Maryland child privilege attorney protects a child's privacy rights in a court of law. The court may appoint a Maryland child privilege attorney to "assert or waive" the rights to a child's protected privileges if the minor cannot do so. Just as adults have an expectation of privacy in matters like medical records or information they share with social workers, so do children.
Since privileged information has certain legal protections, a Maryland child privilege attorney will determine if the probative value of the information outweighs the child's privilege. If the probative value, or usefulness, of the information does not outweigh the privilege the Maryland child privilege attorney will prevent the release of the sensitive information.
Even if the court appoints an attorney, some circumstances may arise that could require a change in the appointed attorney's role. Both types of attorneys represent the child until they are 18. If a child reaches the age of majority, while the case is ongoing, they may be required to hire the lawyer if they want to continue working with them.
If You Have a Contested Custody Case with an Appointed Maryland Child Privilege Attorney, Contact Our Office Today 
If you are in a contested custody battle, and the court has appointed a Maryland child privilege attorney or a Maryland Best Interest Attorney, contact the Law Office of LaSheena M. Williams, we can help.
Our firm compassionately represents clients throughout Rockville, Bethesda, Gaithersburg, Silver Spring, Takoma Park, Chevy Chase, College Park, Cheverly, Greenbelt, Oxon Hill, Hyattsville, Upper Marlboro, Largo, Bowie, and surrounding communities. Call us today at (301) 778-9950 or send us an online request for a consultation.