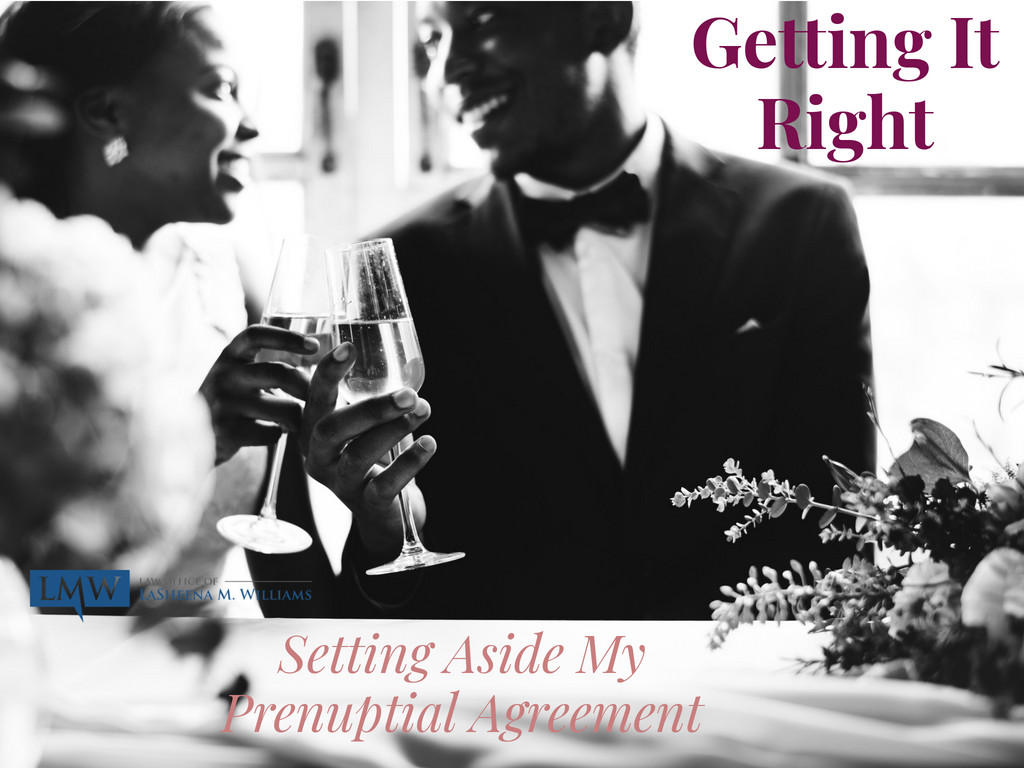 A prenuptial agreement or ante-nuptial agreement ("prenup") is an agreement entered between two people before their marriage where one or both parties relinquish their right to claim an interest in the other's property or assets in the event of a divorce, death, or a mutually agreed-upon event.
Most couples agree to a prenuptial agreement as a practical means of having a plan of action for the future. Many people who enter into a prenuptial agreement have the best intentions and truly believe they will stay married.
While most prenuptial agreements are written with the goal of them being upheld during a divorce proceeding, not all prenuptial agreements are legally enforceable. In these situations, one spouse can ask the court to "set aside" the agreement.
How can I set aside my prenuptial agreement in Maryland?
You must be able to prove that there are terms under which your prenuptial agreement should be set aside and not enforced at the time of a divorce. These unenforceable terms include:
Proof that the agreement lacks full and honest asset disclosure
Terms inside the prenuptial agreement that reference child custody or child support
Terms that the court could deem "unconscionable"
Read on to learn more about each of these to determine whether they are relevant in your case.
Full and Honest Asset Disclosure Omissions
Full disclosure of all property and assets is essential to a fair prenuptial or ante-nuptial agreement. If your spouse did not inform you of all their property and assets, you might be able to set aside your prenuptial agreement in Maryland.
If you waived a claim to your spouse's property and assets, a court may determine that the waiver was coerced or a result of fraud. Either possibility could potentially invalidate the prenuptial agreement.
Child Custody Terms
No prenuptial agreement may include any terms regarding child custody. This is especially true if you signed the agreement before you had any children with the other party. A custody agreement between co-parents should be made in the best interest of your children. It is impossible to know what will be in your children's best interest regarding custody, prior to the child's birth.
A court will likely set aside your prenuptial agreement in Maryland that includes any orders related to  child custody.
Unconscionable Terms
Parties to a prenuptial agreement can agree to terms and their agreement will typically be treated like any other contract in Maryland. However, the terms of the agreement may not be unconscionable. You may potentially set aside your prenuptial agreement in Maryland if the agreement rewards your spouse for divorcing you on or before a specific date. A prenuptial agreement can anticipate the possibility of divorce, but it cannot incentivize a party to seek a divorce.
Since unconscionable terms can be one of the most complex issues surrounding setting aside  a prenuptial agreement, you'll want to have a knowledgeable Maryland family law attorney to help you with each aspect of your case and to determine whether or not you have grounds to challenge the agreement.
How can I get legal help to set aside my prenuptial agreement in Maryland?
If you want to know more about how to set aside your prenuptial agreement in Maryland, you should contact the Law Office of LaSheena M. Williams, LLC to discuss your options. If you need the assistance of an experienced Maryland prenuptial agreement attorney contact the Law Office of LaSheena M. Williams at (301) 778 – 9950 or leave an online request for a consultation.
Our firm compassionately represents clients across Rockville, Bethesda, Gaithersburg, Silver Spring, Takoma Park, Chevy Chase, College Park, Cheverly, Greenbelt, Oxon Hill, Hyattsville, Upper Marlboro, Largo, Bowie and surrounding communities.