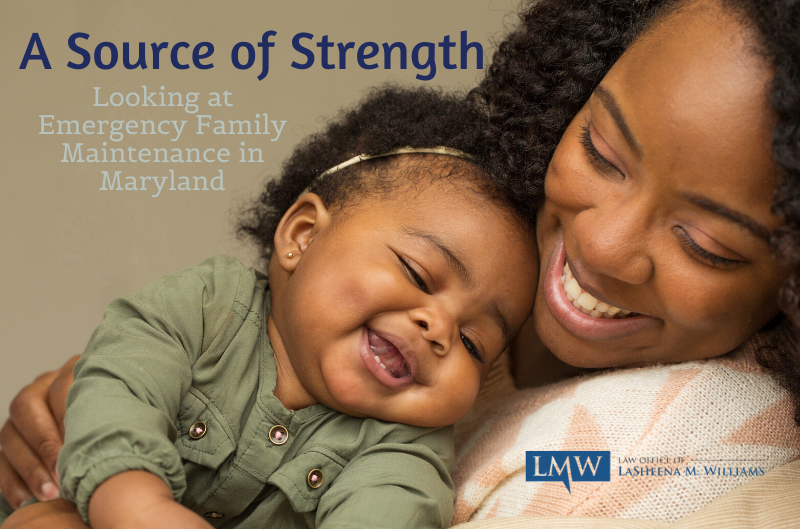 No one should have to experience domestic violence or its ricocheting ramifications. No person should have to choose between their safety and their ability to secure food and shelter. One of the last things any victim of intimate partner violence should be worried about is how to financially support themselves and their family because of financial dependence on an abusive partner. Typically, in these types of situations, financially dependent partners have options available to them that will help them maintain their financial well-being. According to Maryland Family Law § 4-506, Emergency Family Maintenance is a resource available to provide financial relief to "any person whom the respondent has a duty of support" when a final protective order is granted.
What is Emergency Family Maintenance in Montgomery County, Maryland or Prince George's County, Maryland?
In Maryland, emergency family maintenance is a type of support award, similar to alimony and child support. Emergency family maintenance is intended to provide financial relief for the petitioner and their children. Maryland emergency family maintenance awards help ensure that protective order petitioners can afford a place to live and have money for necessities. The financial relief ensures that a person who is eligible does not have to depend on the abuser for voluntary financial support after the entry of a protective order.Because the award is granted pursuant to a court order, the order is enforceable by the Court. Failure to pay the financial obligation could result in sanctions, an award of attorneys fees, and even imprisonment.
How Does the Court Determine an Emergency Family Maintenance Award in Montgomery County, Maryland or Prince George's County, Maryland?
In order to obtain a Maryland emergency family maintenance award, you will need to show the court your financial need and the financial resources available to the Respondent. An experienced domestic violence attorney can help you establish financial resources and financial obligations. By determining your financial need and the financial resources available to the Respondent, the Court may award you emergency family maintenance in your final protective order.
If You Are Considering Seeking Emergency Family Maintenance in your Petition for a Protective Order, Contact an Experienced Maryland Domestic Violence Attorney Today
If you want to learn more about emergency family maintenance and other forms of relief available in a Maryland final protective order, you should contact the Law Office of LaSheena M. Williams, LLC to discuss your options.  Contact the Law Office of LaSheena M. Williams today at (301) 778 – 9950 or leave an online request for a consultation.
Our firm earnestly represents clients across Rockville, Bethesda, Gaithersburg, Silver Spring, Takoma Park, Chevy Chase, College Park, Cheverly, Greenbelt, Oxon Hill, Hyattsville, Upper Marlboro, Largo, Bowie and surrounding communities.
An experienced attorney will advise you on the best course of action for your specific situation to ensure you are protected and have economic resources to support yourself and any children.