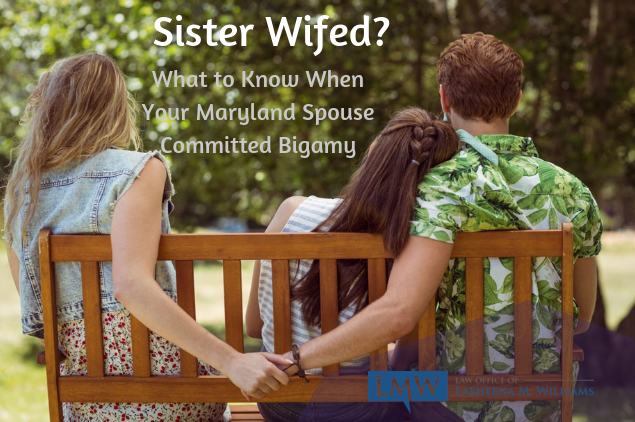 Bigamy occurs when one spouse is still legally married at the time they enter into a subsequent marriage with another individual. Whether done intentionally or accidentally, bigamy cases can result in serious consequences for your marriage and may even result in a felony conviction and significant jail time.
If your Maryland spouse committed bigamy, it is likely that you feel a great deal of stress about what their actions mean for your marriage. Questions such as "is my marriage valid" and "do I have to get a divorce" are common among individuals whose Maryland spouse committed bigamy. At the Law Office of LaSheena M. Williams, LLC, we understand the shock and urgency our clients face in these situations and are dedicated to protecting their rights.
Bigamy in Montgomery County, Maryland and Prince George's County, Maryland
Maryland law only allows marriage between two unmarried individuals. Marriage between more than two individuals violate Maryland law: if your Maryland spouse committed bigamy, your marriage is void.
Although your marriage was invalid at the time it occurred, Maryland law still requires you to obtain a court order granting an annulment. Any party—not just the victimized spouse—can petition the court to grant an annulment in bigamy cases.
Additionally, if your Maryland spouse committed bigamy they have committed a felony under Maryland Code Criminal Law Section 10-502. A felony bigamy conviction can cause long-term damage to the individual's ability to obtain employment, housing, and public benefits as well as result in up to a 9-year jail sentence.
However, there are two exceptions in which bigamy may not apply:
When an individual's previous lawful spouse has been absent for 7 years continuously; or
The individual is unaware of their spouse's location at the time of the subsequent marriage ceremony
If you are concerned that you or your Maryland spouse committed bigamy, it's important to consult an experienced family law attorney to find out whether your marriage is valid under Maryland law and to best understand your options and rights.
Annulments for Maryland Bigamy Cases in Prince George's County, Maryland and Montgomery County, Maryland
Our experienced family law team at The Law Office of LaSheena M. Williams LLC, understands Maryland bigamy cases. We can and will use our unique knowledge of Maryland marital law to ensure that your annulment is granted as quickly as possible, so that you can start rebuilding your life. We offer compassionate and competent representation in bigamy cases and protect our clients from the serious potential consequences of being convicted of bigamy in Maryland.
Our firm earnestly represents clients throughout Rockville, Bethesda, Gaithersburg, Silver Spring, Takoma Park, Chevy Chase, College Park, Cheverly, Greenbelt, Oxon Hill, Hyattsville, Upper Marlboro, Largo, Bowie, and surrounding communities. Call us today at (301)778-9950 or send us an online request for a consultation.