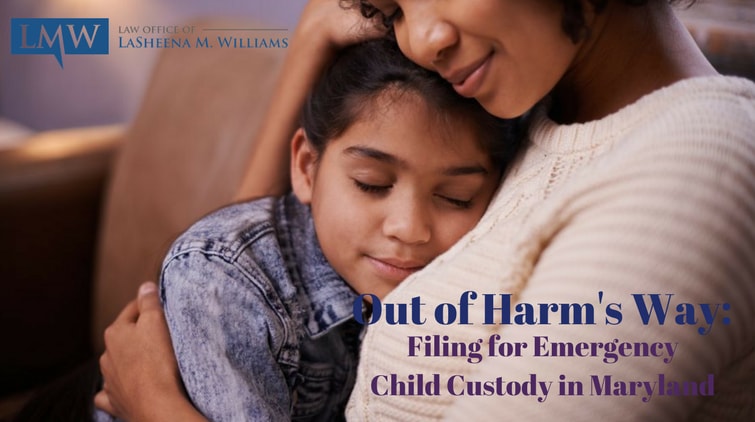 If you have concerns that a child's health or safety is at risk in their current environment, you do not have to be a helpless bystander, you can file an Emergency Petition for Child Custody in Maryland.
What is a Maryland Emergency Custody Hearing?
A Maryland emergency custody hearing is unlike regular child custody proceedings, in that emergency hearings often happen within days or even hours of the initial filing. A Maryland emergency custody hearing can happen very quickly because of an impending custody or child-safety emergency.
An ex-parte order issued following an emergency hearing is meant to provisionally remove the child from an imminently harmful or dangerous environment and prevent further child abuse. An order issued as a result of filing for emergency child custody in Maryland is temporary, and a Complaint for Child Custody should still be filed in order to obtain a permanent Child Custody Order.
Who Can File an Emergency Petition for Child Custody in Maryland?
Any person with a significant relationship with the child can be eligible to petition the court for emergency custody. That includes non-custodial parents, step-parents, grandparents and other extended family members.
Does the Child Have to Be a Maryland Resident for a Court to Grant Emergency Custody?
An Emergency Petition for Child Custody in Maryland does not have to meet the same jurisdiction requirements as a typical custody or visitation case. As long as the minor is in Maryland at the time the petition is filed, the Maryland petition for emergency child custody can be heard by a Maryland Circuit Court Judge. Although the Uniform Child Custody Jurisdiction Enforcement Act requires states to defer to any decisions made by the child's home state family court, the minor child does not have to be a resident of Maryland in order the for a Maryland Circuit Court to address the emergency proceeding.
Criteria for Obtaining Emergency Child Custody in Montgomery County, Maryland and Prince George's County, Maryland
Any substantial change in a child's domestic situation that negatively impacts the child's interests may be grounds for an to obtain emergency child custody in Maryland.
Depending on your child's unique situation any of these circumstances may be enough to obtain emergency child custody in Maryland:
These circumstances include, but are not limited to, the following:
A lack of proper home accommodations to allow the child to sleep, eat, study, and attend school regularly
An adverse change in the livability of the home, including utility termination, significant flood or storm damage, or home eviction
The child is physically, sexually, or mentally abused by the parent, parent's significant other, or any other person living in the home, including stepchildren
The custodial parent is a convicted child molester, even if no abuse or neglect has occurred
The child is a victim or at risk of being a victim of neglect or abandoned by the child's current caregiver
A parent takes or makes plans to take the child to another state without permission
The parent is a chronic alcohol, prescription drug, or illicit substance abuser
When you file for emergency child custody in Maryland, the Circuit Court judge will make decisions on a case-by-case basis to determine whether an emergency or immediate risk to the child exists.
If You Are Considering Filing for Emergency Child Custody in Maryland, Contact a Maryland Child Custody Attorney Today
If you feel your child is at risk of abuse or neglect by their custodial parent, and you want to know if your case likely meets the criteria for a Maryland Emergency Child Custody order, you should contact the Law Office of LaSheena M. Williams, LLC to discuss your options. If you need the assistance of an experienced child custody attorney contact the Law Office of LaSheena M. Williams at (301) 778 – 9950 or leave an online request for a consultation.
Our firm passionately represents clients across Rockville, Bethesda, Gaithersburg, Silver Spring, Takoma Park, Chevy Chase, College Park, Cheverly, Greenbelt, Oxon Hill, Hyattsville, Upper Marlboro, Largo, Bowie and surrounding communities.