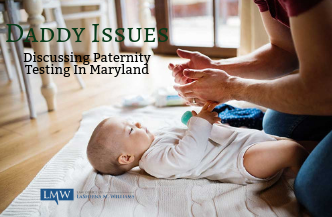 For some fathers paternity testing in Maryland maybe an important topic they may have to address with their significant other.
Paternity is the legal or biological relationship between a father and his child.
When a married woman gives birth to a child in Maryland, the law assumes that the woman's husband is also the father of the child. In some circumstances, however, a spouse may raise objections or ask for DNA testing. When a child is born out of wedlock, paternity must be established either through DNA testing or by having the father sign an Affidavit of Parentage or Acknowledgement of Paternity.
In Maryland, Being the biological father of a child carries the potential for a meaningful and long-lasting parent-child relationship. It can also carry significant and long-term financial implications. However, this parental relationship is not guaranteed − a biological father can sometimes be denied custody or visitation.If you have reason to suspect you may not be your child's father, you should consider paternity testing in Maryland.
Contesting Paternity in Prince George's County, Maryland and Montgomery County, Maryland
Generally, society prefers that a child has contact with both parents. In some cases, if you act as a child's father for a certain length of time and the child believes you are the father, you be prevented from contesting paternity. Even if a genetic test later disproves any biological relation to the child, you will be considered the child's father.
No matter what type of paternity test issue you may have, The Law Office of LaSheena M. Williams can help you find the legal answer. We assist our clients in dealing with a wide variety of paternity cases including:
Unmarried men who are prevented from having visitation with their children
Mothers who wish to establish paternity in order to secure child support
Men who are alleged to be the father but who deny paternity
Understanding Your Rights Through Paternity Testing in Maryland
Establishing paternity or disestablishing paternity through Paternity Testing in Maryland is important.  An accurate paternity test will impact the lives of the children and both parents for years to come. At the Law Office of LaSheena M. Williams, we work hard to ensure that an accurate determination is made and that our clients' rights are protected. To arrange a consultation with an experienced Maryland Paternity Attorney, call (301) 778 – 9950.
If you have reason to suspect you may not be your child's biological father, you should consider paternity testing in Maryland.