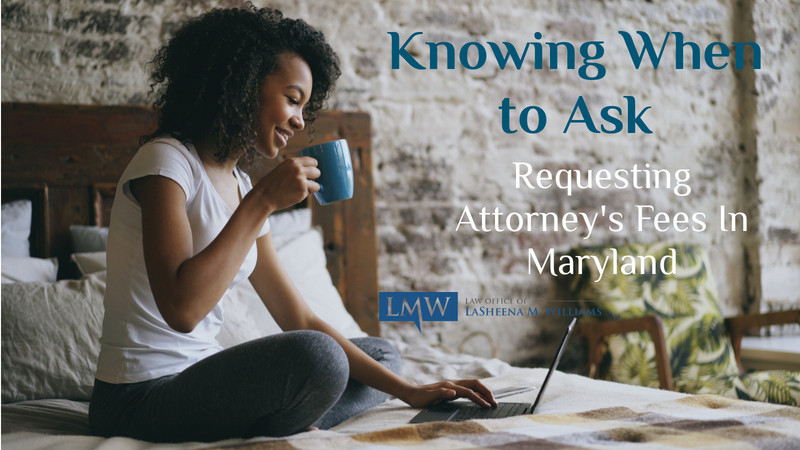 Having an attorney's guidance to help you through the process of filing for divorce is key for keeping your case organized and so that you know what to expect. Working with an attorney can lead to significant legal fees. In some situations, you could be eligible  for an award of attorney's fees. In other situations, you need to be prepared to cover your attorney's fees by yourself. In this article, you'll learn more about requesting an attorney's fees award in Maryland.
Do I have to pay my own attorney's fees?
Without another plan in place, the responsibility to pay your lawyer's fees falls to you. You might get help in the form of a loan from a friend or support from your parents to pay your attorney's fees, but ultimately, you are creating a financial obligation to pay your lawyer when you hire them.
You may be able to request that court order your spouse to pay your attorneys fees when those fees are directly associated with the divorce proceedings. As your Maryland divorce lawyer will tell you, you may be able to seek an attorneys fee award at a pendente lite hearing or merits hearing. Read on to learn more about both options:
What is a Pendente Lite Request for Attorney's Fees in Montgomery County, Maryland and Prince George's County, Maryland?
A pendente lite request is a petition for a temporary order by the judge in order to resolve a pressing matter that cannot await a final divorce decree. In the case of attorney's fees, a financially disadvantaged spouse may need ongoing payments to their attorney by the spouse who makes the majority or all of the income for the household. For example, one spouse who is a receptionist at a non-profit may need to file a pendente lite pleading so his neurosurgeon spouse can pay attorney's fees on an ongoing basis during the divorce proceedings.  A pendente lite request for attorney's fees can be filed any time after a divorce is initiated.
What are attorney's fees awarded on the merits?
If the issue of attorney's fees is not appropriate to be addressed in the midst of the divorce, it can also come up at the conclusion of the divorce in the final order. The court looks at multiple factors in determining whether one spouse should pay for the other party's attorney's fees, including relative worth and future earning potential of both spouses, any debts either party is taking from the divorce, and any assets given to either party in the division of property.
In order to be successful in making a case for your spouse to pay your attorney's fees, you will need to show one of two things: that there is no reasonable way you can afford your existing attorney's fees without suffering serious financial harm or that there was such malicious conduct carried out during the divorce that this led to much higher attorney's fees.
Does filing a pendente lite pleading or asking for an attorney's fees award in Maryland guarantee it?
Having the right lawyer to guide you through your divorce, including any hearings or requests for an attorney's fees award in Maryland, is essential. Asking for an attorney's fees award does not guarantee that you will receive it, but an experienced lawyer can help you strategize about your request.
If You Are Considering Asking for an Attorney's Fees Award In Your Maryland Divorce, Contact an Experienced Montgomery County, Maryland or Prince George's County, Maryland Divorce Attorney Today
If you want to know more about the award of attorney's fees in your divorce, you should contact the Law Office of LaSheena M. Williams, LLC to discuss your options. If you need the assistance of an experienced Maryland divorce attorney contact the Law Office of LaSheena M. Williams at (301) 778 – 9950 or leave an online request for a consultation.
Our firm passionately represents clients across Rockville, Bethesda, Gaithersburg, Silver Spring, Takoma Park, Chevy Chase, College Park, Cheverly, Greenbelt, Oxon Hill, Hyattsville, Upper Marlboro, Largo, Bowie and surrounding communities.