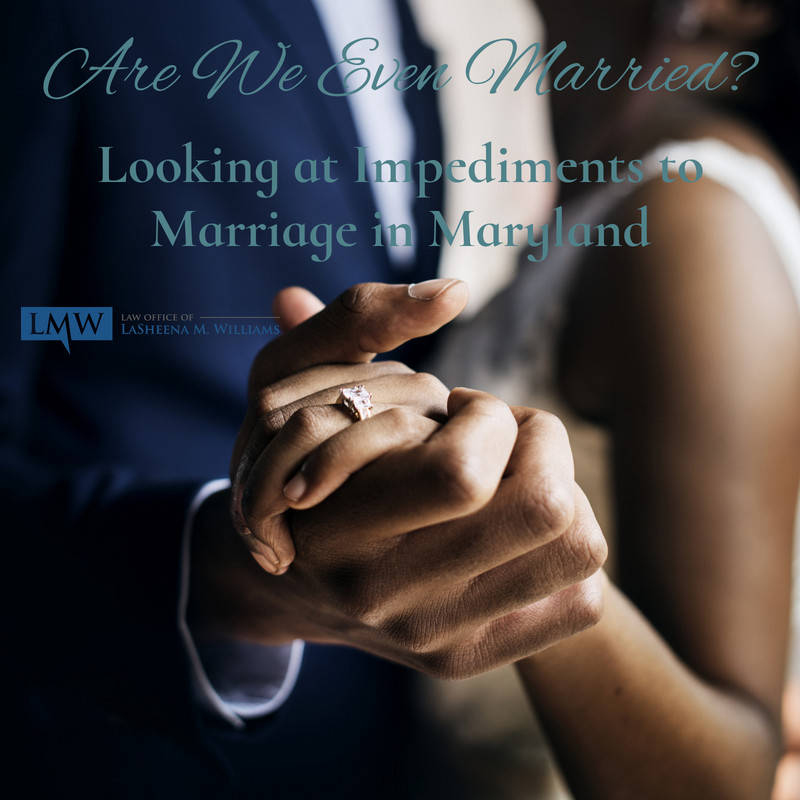 The old trope of two people waking up without remembering the previous night's events and finding out that they are married may be sitcom gold but can be a real-life nightmare. In Maryland, if you have gotten married without being in your right state of mind, it may be anything but a laughing matter and have severe legal consequences. If you feel your marriage occurred without your consent, there are several impediments to marriage grounds that may allow a court to grant you an annulment, so you don't have to live with a marriage you never wanted.
Understanding Impediments to Marriage in Prince George's County, Maryland and Montgomery County, Maryland


Intoxication
If one or both spouses were intoxicated through the use of drugs, alcohol, or another mind-altering substance that impaired cognitive abilities and capacity for reasoned judgment and that intoxication can be shown then you may have sufficient grounds for an annulment in Maryland. For example, if either spouse can prove that they were too drunk to realize what they were doing, they have a strong case for seeking an annulment.


Mental Deficiency
Typically, anyone over the age of 18 is eligible to be married in Maryland. However, if a person is legally declared insane or lacks the mental capability to give consent, then asserting mental deficiency will likely invalidate the marriage in a Maryland Circuit Court. This is a particularly important grounds for annulment, when a person is being preyed on by another with malevolent intent.


No Intent to Marry
Even if two people go through the legal motions of getting married but there is no intent for the marriage to bind both or either party, then the marriage can be annulled because there was no intention to act in accordance with the normal requirements of marriage. One example would be two people who get married but still keep separate accounts, separate residents, and do not act as if they are married.


Fraud
When getting married, a spouse should be able to trust that their spouse will act truthfully and disclose relevant information before they walk down the aisle. However, when it is discovered that one spouse concealed or misrepresented important information, and as a result of the concealment the other spouse entered into the marriage, then there are grounds for an annulment based on fraud. For example, hiding the fact that a spouse had a child with another person, false claims of financial means and support, or lying about your legal or immigration status are likely grounds for fraud in the marriage.


Duress
If one spouse can prove that they were compelled to marry their spouse due to threats of a serious nature, they may be entitled to an annulment. The threats of violence may come from their spouse or even a third party. However, that spouse will have to prove the threat of violence and seriousness of the threat in order to prove duress in agreeing to the marriage.
If You Are Considering Filing for an Annulment in Montgomery County,  Maryland, or Prince George's County, Maryland, Contact an Experienced Maryland Family Law Attorney Today
If you feel your marriage qualifies for an annulment,  you should contact the Law Office of LaSheena M. Williams, LLC to discuss your options. If you need the assistance of an experienced family law attorney specializing in annulments, contact the Law Office of LaSheena M. Williams at (301) 778 – 9950 or leave an online request for a consultation.
Our firm passionately represents clients across Rockville, Bethesda, Gaithersburg, Silver Spring, Takoma Park, Chevy Chase, College Park, Cheverly, Greenbelt, Oxon Hill, Hyattsville, Upper Marlboro, Largo, Bowie and surrounding communities.