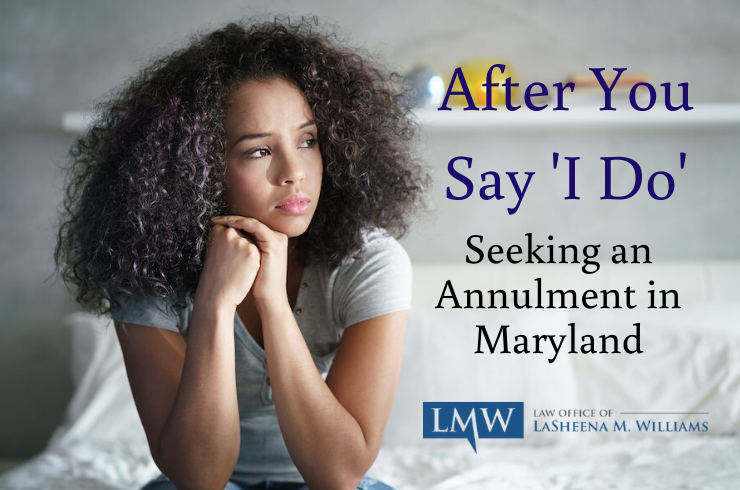 Everyone knows the old trope of two people waking up without remembering the previous night's events and finding out that that they are married. For many people, an "accidental marriage," may be considered television sitcom gold. However, if you somehow find yourself
married, but you lacked the capacity to give informed consent, you may consider your situation anything but a laughing matter.
In Maryland, if you are incapable of giving knowing and informed consent, a Maryland Circuit Court judge or magistrate may find that you lacked the appropriate state of mind for your marriage to be valid. If properly pled, presented, and proven, you may have sufficient grounds to receive an annulment. Read on to learn more about grounds for obtaining an annulment in Maryland:


Maryland Marriage Annulment Ground: Intoxication

If you or your spouse was under the influence of drugs or alcohol at the time of the marriage, or if you can show that as a result of intoxication during the marriage ceremony either spouse had impaired cognitive abilities and an incapacity for reasoned judgement, you may have sufficient grounds to obtain an annulment in marriage.


Maryland Marriage Annulment Ground: Mental Deficiency

Typically, anyone over the age of 18 is eligible to be married in Maryland. However, if a spouse is found to be legally insane or found to lack the mental capacity to give consent, then asserting mental deficiency will likely invalidate the marriage in Maryland Circuit Court.


Maryland Marriage Annulment Ground: Intent to Marry

Even if two people go through the legal motions of getting married but there is no intent for the marriage to bind both or either party, then the marriage can be annulled. The court may find that because there was no intention to act in accordance with the normal requirements of marriage, the marriage is invalid.


Maryland Marriage Annulment Ground: Fraud

Typically, spouses enter into marriage with the understanding that they will both be truthful, and they both have disclosed important information prior to the marriage. However, if a spouse has made an important misrepresentation intending to persuade or influence the other spouse into marrying, a judge can annul the marriage.


Maryland Marriage Annulment Ground: Duress

If one spouse can prove that they were compelled to marry their spouse due to threats of serious bodily harm, the wronged spouse may be entitled to an annulment. The threats of violence may come from their spouse or even a third party. However, the spouse seeking an annulment will have to prove the threat of violence and seriousness of the threat in order to prove duress in agreeing to the marriage.

If You Are Considering Filing for a Marriage Annulment in Montgomery County, Maryland, or Prince George's County, Maryland, Contact an Experience Maryland Family Law Attorney Today

If you feel your marriage qualifies for an annulment, you should contact the Law Office of LaSheena M. Williams, LLC. We can help you to consider your options, and determine an appropriate course of action. If you need the assistance of an experienced family law attorney, contact the Law Office of LaSheena M. Williams at (301) 778 – 9950 or leave an online request for a consultation.

Our firm passionately represents clients across Rockville, Bethesda, Gaithersburg, Silver Spring, Takoma Park, Chevy Chase, College Park, Cheverly, Greenbelt, Oxon Hill, Hyattsville, Upper Marlboro, Largo, Bowie and surrounding communities.