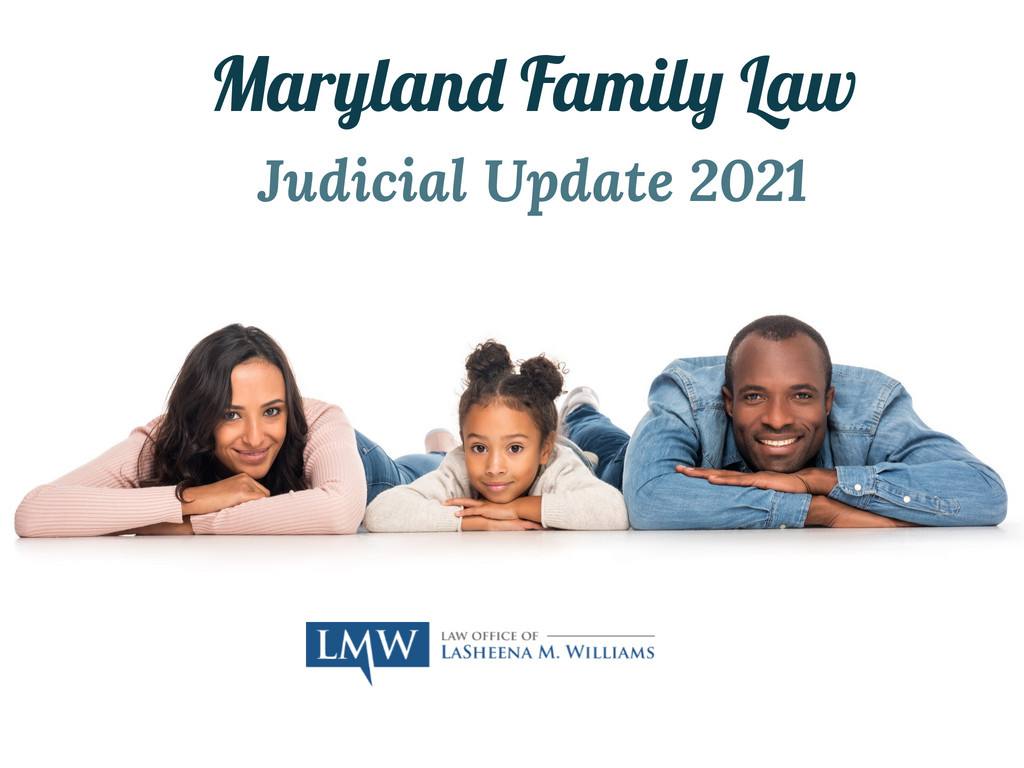 Every year, Maryland's judiciary makes precedential decisions that shape the lives of many families throughout Maryland. These Court of Special Appeals and Court of Appeals decisions will have a lasting impact on Maryland family law and will impact many families throughout the state.
Below, check out some of the important Maryland case law decisions from 2020 and 2021:
Maryland Courts Can Dissolve Out-Of-State Same-Sex Civil Unions.
Sherman v. Rouse, 244 Md. App. 694 (2020).
In 2003, Mr. Sherman and Mr. Rouse entered into a civil union in Vermont. They have remained in a civil union and never married. In 2018, Mr. Sherman filed for a divorce in Montgomery County, Maryland. He sought a divorce, alimony, equitable distribution of property, and a monetary award. Mr. Rouse filed a motion to dismiss based on a failure to state a claim.
The Maryland Court of Special Appeals held that "under the common law doctrine of comity, a valid civil union between two persons of the same sex, entered into in Vermont, and legal in Vermont, will be recognized in Maryland for purposes of application of Maryland's domestic divorce laws and adjudicating a complaint for divorce in Maryland."
Seeking An Absolute Divorce on the Grounds of Cruelty May Be Established By Some Incidents of Cruelty Throughout the Marriage, And Those Incidents Do Not Have to Be Recent.
Frazelle-Foster v. Foster (2021).
The parties were married in 1982 and divorced in 1988. Several years later they remarried, and had a son. In 2017, wife filed for a divorce based on cruelty of treatment and desertion. During an evidentiary hearing, the wife testified extensively regarding the cruel conduct she endured throughout her marriage to Mr. Foster. The trial court held that the conduct although concerning did not establish a pattern of conduct throughout the marriage and therefore did not amount to cruelty.
The Court of Special Appeals disagreed, and held that to establish grounds for cruelty the complaining party is not required to establish "more than some inciden[t]s [of cruelty] that are spread out throughout the marriage," or that the incidents of cruelty must be recent."
The Court Shall Not Impose Discovery Sanctions That Preclude The Court From Receiving Evidence Without First Considering Whether the Evidence is Relevant in Determining a Custody Arrangement In The Best Interest of the Children.
A.A. v. AB.D., 246 Md. App. 418 (2020).
Father and Mother are the parents of 2 children. In 2011, Mother filed a complaint for custody and was awarded sole legal and physical custody of the children, with Father to have supervised visitation of the children. On October 23, 2015, Father filed a Motion to Modify Visitation. In 2016, the Court modified father's visitation to unsupervised access. ON July 27, 2018, Father filed another Motion to Modify Visitation. During the proceeding Father served Mother with discovery requests. Mother's attorney objected to the requests, and untimely responded. Father filed 2 motions to compel. During the trial, Father's counsel moved to exclude testimony of witness for whom Mother had failed contact information and evidence Mother had declined to produce during discovery. The Court granted the motion, and Mother was not able to call any witness to testify on her behalf and was limited to the evidence she could represent. The Court granted Father's request to modify custody granting joint legal custody with Father having tie-breaker authority and shared 50-50 physical custody.
Under this precedential determination, it appears that if the withholding party can successfully argue that the withheld information is necessary to the best interests of the child, then the court will likely permit its introduction.
MAHRS Entered into After Parties Were Married Civilly Did Not Lack Consideration And Are Not Void As Against Public Policy.
Nouri v. Dadgar, 245 Md. App. 324 (2020).
This matter consolidates 2 cases with similar facts for review. The consolidated cases involve 2 sets of Muslim couple who were both married in a civil and a religious ceremony. In conjunction with their religious ceremony, they entered into Islamic Marriage Contracts with specific mahr provisions. The Court enforced both contracts and required the husbands to pay the amounts agreed in the mahr provisions. Both husbands subsequently appealed.
The Court of Special Appeals found that "provisions in religious marriage contracts may be enforced by a Maryland court if, but only if, their secular terms are enforceable under neutral principles of contract law." "For the provisions in Islamic marriage contracts known as mahrs, the correct neutral principles to apply are those governing the enforcement of contracts entered into by parties in a confidential relationship (such as premarital agreements)." Practically, this means that when considering the enforceability of the terms of an Islamic marriage contract, Maryland law presumes a confidential relationship, and shifts the burden of proof to whether the agreement at issue is unfair or inequitable under Maryland contract law.
At the Law Office of LaSheena M. Williams, LLC we take pride in knowing the relevant court decisions that will impact your family law case, including divorce, child custody, domestic violence, adoption, and other decisions. If you have a family law case, the advice of a skilled family law attorney can be very supportive. The Law Office of LaSheena M. Williams strives to represent your interests with the most up to date information available. Contact us today at (301) 778 – 9950 for a free case evaluation or to schedule a consultation appointment today.
Our firm passionately represents clients across Rockville, Bethesda, Gaithersburg, Silver Spring, Takoma Park, Chevy Chase, College Park, Cheverly, Greenbelt, Oxon Hill, Hyattsville, Upper Marlboro, Largo, Bowie and surrounding communities.