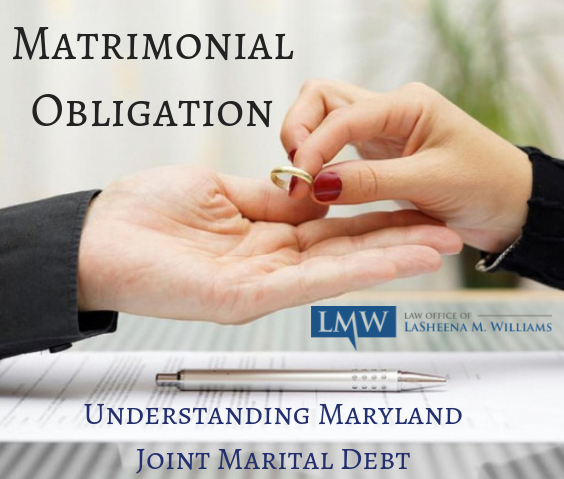 Divorcing couples often have some idea of how their assets will be divided after the divorce is complete—who gets the house, the cars, and financial assets are often the first issues parties want resolved.
When it comes to dividing debt however, most individuals are unsure what financial obligations they or their spouse are responsible for and how certain factors, such as when the debt was incurred, can impact their responsibility for debt repayment.
Parties seeking a divorce have the option of determining their own plan for asset division, including debts. If the couple can't decide on their own, the court will make the determination for them. Maryland is an equitable distribution state, which means that a Maryland Circuit Court Judge or Magistrate will decide on a division of the debt in a way that is fair, but not necessarily an even 50/50 split.
To better understand the way in which you and your spouse's financial obligation will be divided, it is important to know the difference between Maryland joint marital debt and non-marital debt.
Comparing Maryland Joint Marital Debt and Maryland Non-Marital Debt
Maryland differentiates between two types of debt when determining debt division during a divorce: marital debt and non-marital debt. Only debt that qualifies as Maryland joint marital debt can be divided during a divorce.
Maryland joint marital debt is any debt that is incurred during the marriage to acquire marital property.
Types of marital property can include:
Real property
Personal property
Bank accounts
Retirement accounts
Non-marital debt, on the other hand, is a financial obligation that was incurred before the marriage to acquire non-marital property. Generally, types of non-marital property include:
Property obtained prior to the marriage
Property gained through inheritance or a third-party gift
Property excluded by valid agreement (such as a prenuptial agreement)
All property directly traceable to any of these sources
However, the distinction between marital and non-marital debt might not always be clear. For instance, in some cases non-marital debt can become Maryland joint marital debt through the actions of the parties once they are married. An experienced Maryland Divorce Attorney will be able to review your financial information and give you specific advice tailored to your unique situation.
Contact Our experienced Maryland Divorce Attorneys Regarding Maryland Joint Marital Debt For Your Divorce in Montgomery County, Maryland and Prince George's County, Maryland
When you are seeking a divorce, it's important to know your rights and protect your interests. Being unfairly burdened with an ex-spouse's non-marital debt can have devastating financial consequences on you and your family's future. At The Law Office of LaSheena M. Williams, LLC, we understand that an equitable distribution of debt is essential to our client's long-term financial stability and we work tirelessly to ensure that a couple's debt division is fair and reasonable.
Our firm ardently represents clients throughout Rockville, Bethesda, Gaithersburg, Silver Spring, Takoma Park, Chevy Chase, College Park, Cheverly, Greenbelt, Oxon Hill, Hyattsville, Upper Marlboro, Largo, Bowie, and surrounding communities. Call us today at (301)778-9950 or send us an online request for a consultation.