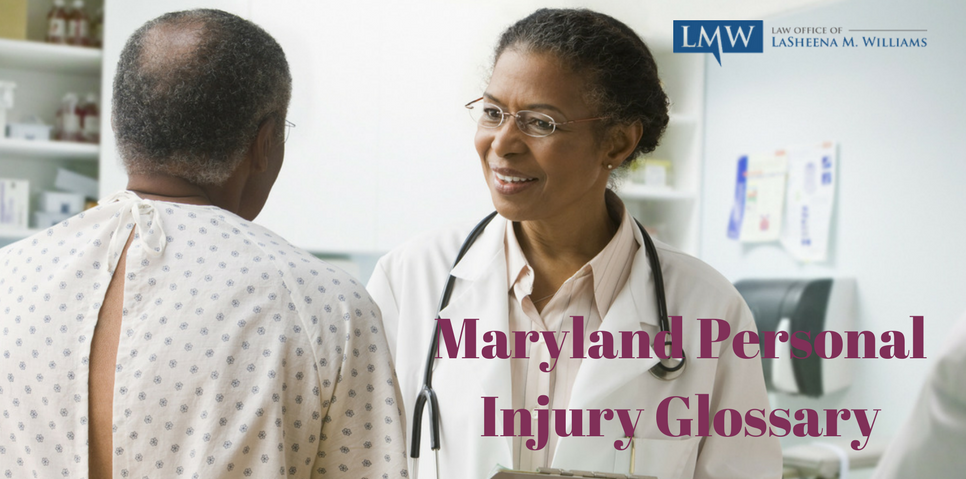 At the Law Office of LaSheena M. Williams, LLC, we understand that every client should understand the basics of their personal injury claim and how their claim will be handled. By understanding the basics of Maryland Personal Injury claims, we hope to help our clients make informed decisions regarding their rights in their personal injury case.
One of the most common requests we get during our free personal injury consultations at the Law Office of LaSheena M. Williams, LLC is to define what we mean by a word or phrase. We hope that the following glossary of Maryland Personal Injury terms will help you to better understand your Maryland Personal Injury Claim.
Maryland Personal Injury Glossary for Cases in Montgomery County, Maryland and Prince George's County, Maryland
An unexpected and typically sudden event that occurs without intent or volition although sometimes through carelessness, unawareness, ignorance, or a combination of causes and that produces an unfortunate result, such as an injury, for which the affected party may be entitled to relief under the law or to compensation under an insurance policy.
Appeal
The process for requesting a higher court to review and formally make a change to a legal decision. The appellate court is a higher court that reviews the lower court's decision. In Maryland, depending on where your case is initiated, the appellate court may be a Maryland Circuit Court, the Maryland Court of Appeals, or the Maryland Court of Special Appeals.
When a person voluntarily acts with the knowledge that said actions risk obvious and known danger.  In this situation, the individual assumed the risk of his or her actions and will therefore not be able to seek monetary damages for injuries that result.
Claim
A civil action relating to the physical or mental harm suffered by the injured victim.
A suit filed by a group of people with the same or similar injuries caused by the same product or action. Class-action lawsuits are most often filed to hold a business or entity accountable for the liability of its products or actions.
Contributory Negligence
A doctrine of common law that holds if a person is injured, and the injured person is at least partially responsible for their injuries, the injured party is not entitled to collect any damages from another party who may have caused the accident. Under this doctrine, a badly injured person who was only slightly negligent could not win against a very negligent defendant.
Compensation
Something that makes up for a loss. In a Maryland workers' compensation cases, it refers to payment to an injured worker or their dependents.
Payment, usually monetary, recovered in a civil court case for an injury or loss caused by another person's negligence. Damages may be either compensatory or punitive.
Compensatory Damages
 Is an award meant to return the injured party in a civil suit to his financial position prior to the act. Compensatory damages are meant to make the injured party "whole" again.
Punitive Damages
Is an award meant to punish the defendant. Punitive damages are typically awarded where the defendant's behavior was particularly egregious and resulted in serious injuries or death.
Defendant
The person or entity being sued in a civil lawsuit.
Duty
An obligation to provide a certain standard of care. Failure to meet this obligation is considered negligence, and a legal action can be filed by the victim of the negligent actions.
Excessive Force
Describes the use of physical force, assault, as well as threats and other verbal force used by police and other law enforcement officers in subduing an alleged criminal.
A person who is allowed to testify at a trial because of special knowledge or proficiency in a particular field that is relevant to the case.
Fraud
A false or deceptive statement of fact intended to persuade another person to give up something valuable or an entitled legal right. The Maryland Consumer Protection Act defines what constitutes as consumer fraud.
Gross Negligence
An intentional act that recklessly disregards another person's health, rights, or property; and with complete indifference to the consequences of the act.
Hazardous Exposure
Physical contact with poisonous substances or proximity to toxic agents that are potentially harmful to health. In Maryland, several parties may be liable for injuries that result from hazardous exposure, including the manufacturer, the installation company, as well as the owner of the building that contains toxic agents.
Lawsuit
A court action brought by one person against another for the purpose of obtaining compensation for an injury or for punishment for a wrong.
Liability
A legal obligation to perform; typically involves the payment of monetary damages.
Litigation
The process of taking legal action or filing a lawsuit.
Damages awarded to the spouse of a deceased person for loss of companionship.
Any act or failure to act by a medical professional during treatment of a patient that deviates from accepted norms of practice in the medical community and causes an injury to the patient.
The legal limit on the amount of compensation a victim of medical malpractice can be awarded.
Factors that lessen the severity or culpability but that do not constitute a justification or total pardon for an offense.
Negligence
Carelessness or conduct that falls below the standard of care of Maryland laws established to protect others against unreasonable risks of harm.
Occupational Disease
An illness caused by long-term employment in a particular line of work.
Partial Disability
In a Maryland workers' compensation case, this refers to any disability that is less than complete or total disability. Benefits are typically measured by the injured employee's earning capacity in light of their disability.
Personal Injury
The area of law which covers all physical, financial, and emotional injuries caused by another person or party's failure to use reasonable care.
Plaintiff
The Complainant who initiate a lawsuit.
Premises Liability
The legal responsibility of a property owner or occupier of a property to provide compensation for persons injured while on their premises.
The level of evidence a Plaintiff needs to win a civil case. A preponderance of evidence requires that the evidence for your case must be more convincing when compared to the evidence offered by the opposing side.
Products Liability
The area of law where manufacturers, distributors, suppliers, retailers, and other parties who make a defective product available to the public responsible for injuries that the faulty product causes.
Proximate Cause
The primary reason an injury occurred and without this intervening reason, the accident would not have happened.
Settlement
An agreement between both parties in a lawsuit.
Specific Loss
In a Maryland workers' compensation case, this is the compensation for a permanent and total loss of a worker. This may include loss of hearing in one or both ears, loss of vision in one or both eyes, total or partial disability, amputation, or disfigurement.
Standard of Care
For cases of negligence, the degree of care a reasonable person would have applied under the same or similar circumstances.
The legal deadline for a plaintiff to initiate a lawsuit. Maryland's statutes of limitations vary from 1 year to 12 years depending on the type of suit.
Strict Liability
A legal doctrine that holds a defendant liable for harm caused by their actions regardless of their intentions or level of care.
A case where another party is brought into a case by a defendant.
Tort
A wrong or injury committed against a person or property, resulting in legal liability.
Total Disability
In a workers' compensation case, damages awarded to an employee when they are totally impaired due to a work-related injury.
Verdict
A judge or jury's decision on a case.
Vicarious Liability
Where an employer or principal can be held liable for the wrongs or actions of its employees or agents.
Mandatory insurance that almost all Maryland employers are required to hold in order to cover their employees for economic losses due to a job-related injury or illness.
A lawsuit filed against an individual or company for the death of a person due to negligent or wrongful behavior. Wrongful death cases are generally filed by a surviving family member (typically spouse), who can recover damages for mental and physical suffering, lost wages, funeral and medical expenses for the deceased, loss of income and earning capacity, loss of consortium, and more.
Speak with a Maryland Personal Injury Lawyer  for Your Case in Prince George's County, Maryland and Montgomery County, Maryland
We hope our glossary of Maryland Personal Injury terms can help you better understand some of the common terms you'll encounter when working with your personal injury attorney at the Law Office of LaSheena M. Williams, LLC.
To learn more about how to receive compensation for your Maryland Personal Injury Claim, contact the Law Office of LaSheena M. Williams. We can help you understand your rights and protect your interests in a Maryland Personal Injury Case.
Contact us today by calling (301) 778 – 9950 or by completing an online request for a free personal injury consultation.
Our firm passionately represents clients across Rockville, Bethesda, Gaithersburg, Silver Spring, Takoma Park, Chevy Chase, College Park, Cheverly, Greenbelt, Oxon Hill, Hyattsville, Upper Marlboro, Largo, Bowie and surrounding Maryland communities.