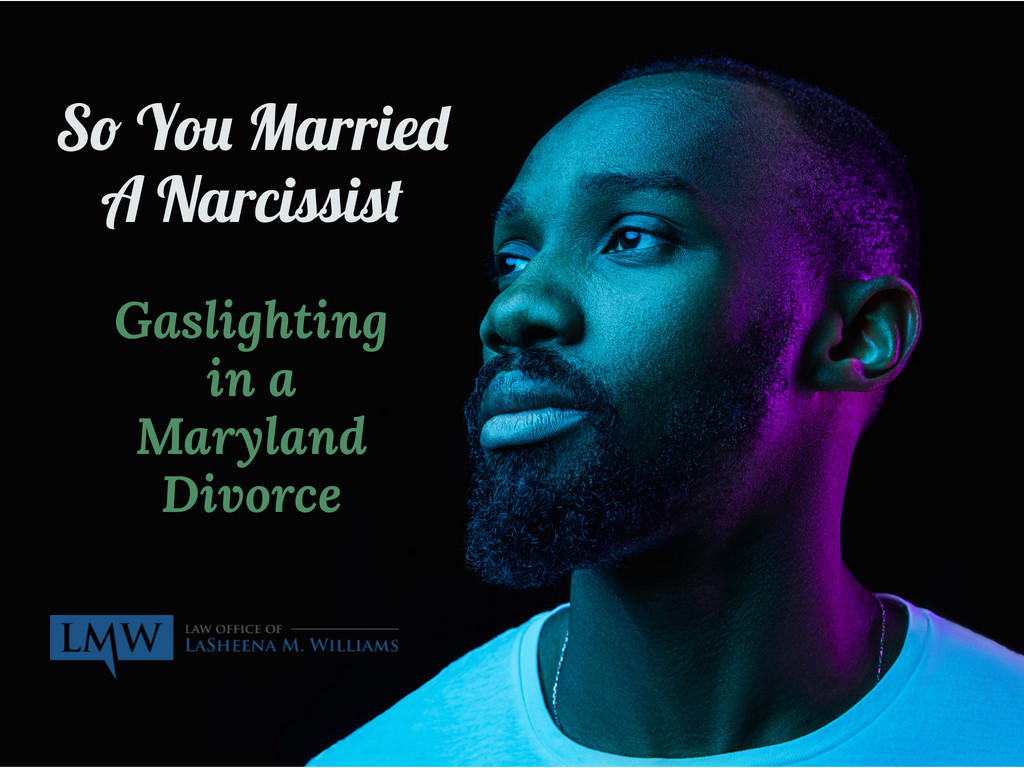 Typically, if you are divorcing a narcissist, it is likely that your spouse will not go away without a fight. Narcissists are self-centered, require excessive attention and admiration, and lack empathy for others. These traits makes your soon-to-be ex more likely to seek revenge, whether through the courts or somewhere else.
What Is "Gaslighting"?
The National Domestic Violence Hotline defines gaslighting as a form of emotional abuse that leaves the target feeling as if they are crazy and are the ones to blame for the unhappiness in the marriage. Gaslighting is essentially the psychological manipulation of someone in order to destabilize the person to the point where they questions their own mental stability. Once accomplished, the gaslighter can convince others that their partner is unable to make sound decisions and can then also make the case that the other person is unreliable, can't be trusted, and is even incapable of co-parenting or making sound financial decisions.
Gaslighting is among the most subtle yet damaging forms of emotional abuse, and it is a strategy often deployed by those who seek to control the behavior of others or obscure their own behavior. During a divorce, gaslighting may be used to make false and malicious statements with an intent to to create a damaging impression of the targeted spouse in order to gain an unfair advantage in the divorce case. Commonly, this form of gaslighting starts with the narcissistic spouse contacting family, friends, neighbors, and co-workers by telephone, text, and/or email and then denigrating the targeted spouse with false information in order to turn others against them in the divorce.
Tips to Consider When Handling Gaslighting in a Maryland Divorce
If you are considering leaving your spouse, and you believe that your spouse has a history of gaslighting you in your relationship, check out the following tips on handling Gaslighting in a Maryland Divorce:
Gaslighting in a Maryland Divorce Tip No. 1 | Avoid Giving Your Partner Ammunition.
Avoid stooping to your spouse's level and giving them ammunition in their fight against you. Avoid getting into heated emotional text, email, and social media battles. In the cold light of a courtroom morning your contentious argument is not likely to look good to your trier of fact.
Instead, remember to take the high road if you end up in a disagreement with your spouse. Refuse to get sucked into their threats and insults. Stay focused on your goals, and remember any and all arguments may wind up as evidence.
Gaslighting in a Maryland Divorce Tip No.2 | Avoid Direct Communication With Your Spouse, Only Communicate Through Your Attorneys.
If all communication regarding your divorce goes through your attorneys, you can avoid most of your spouse's attempts to hurt and control you. Be sure to keep direct communication centered on the kids only.
Don't forget: Narcissists can be charming, and that charm doesn't stop just because you are going through the divorce process. In fact, when a narcissist feels hurt, betrayed, or cornered, your spouse may be more likely to turn on the charisma, whether it is directed toward you or the courts.
If you find that you and your spouse need to continue to communicate directly, consider using a app like Our Family Wizard or Appclose to manage and document what's said. The service permits both spouses and their attorneys to monitor the communications, and provides some transparency that encourages better behavior and cooperation between the parties.
Gaslighting in a Maryland Divorce Tip No. 3 | Document Everything You Can As Accurately As You Can.
Keep a record of all attempts to confuse or belittle you.  Setting forth facts and recalling specific incidents is very important, and this information will be helpful later if you need to convince the Court that your partner has been emotionally abusing you.
Gaslighting in a Maryland Divorce Tip No.4 | Unload Your Feelings On Someone You Trust.
No one's perfect. No one has it all together. You are likely a bundle of nerves and emotions that seem confusing and contradictory. Confide in friends and family, ask them to keep you accountable with your thinking and actions, and just vent, if you need to.
Or seek out a therapist or divorce coach if you think you could benefit from more professional help and guidance. Whatever you do, don't bury your emotions or ignore them. They could come barreling out at the wrong place and time, causing unexpected consequences.
Gaslighting in a Maryland Divorce Tip No.5 | Hire a Strong Advocate With The Experience Handle A Narcissist.
Enlist a strong advocate as your attorney and, if possible, a therapeutic professional before you tell your partner of any plans to separate or divorce. Try to find an attorney who has experience working with adversarial spouses who suffer from or are affected with personality disorders. Narcissists, for example, do not compromise easily, and you need to choose an attorney who will go the distance with you, and ideally, has experience working with someone who is controlling and in many cases, simply irrational.
Contact an Experienced Divorce Attorney to Advocate For You in Montgomery County, Maryland and Prince George's County, Maryland.
Most of all, it is critical to remember to protect your emotional well-being and the emotional health of your children. The gaslighter's goal is to confuse you so that you are more easily controlled.
In a divorce that involves a gaslight spouse, it is important to understand how to protect your emotional well-being and the emotional health of your children. The gaslighter's goal is to confuse you so that you are more easily controlled.. At the Law Office of LaSheena M. Williams, we are here to assist you with not only protecting your your interests but also protecting your reputation. Call us to schedule a consultation at (301) 778 – 9950 or leave an online consultation request.
Our firm ardently represents clients throughout Rockville, Bethesda, Gaithersburg, Silver Spring, Takoma Park, Chevy Chase, College Park, Cheverly, Greenbelt, Oxon Hill, Hyattsville, Upper Marlboro, Largo, Bowie, and surrounding communities. Call us today at (301) 778-9950, or send us an online request for a consultation.