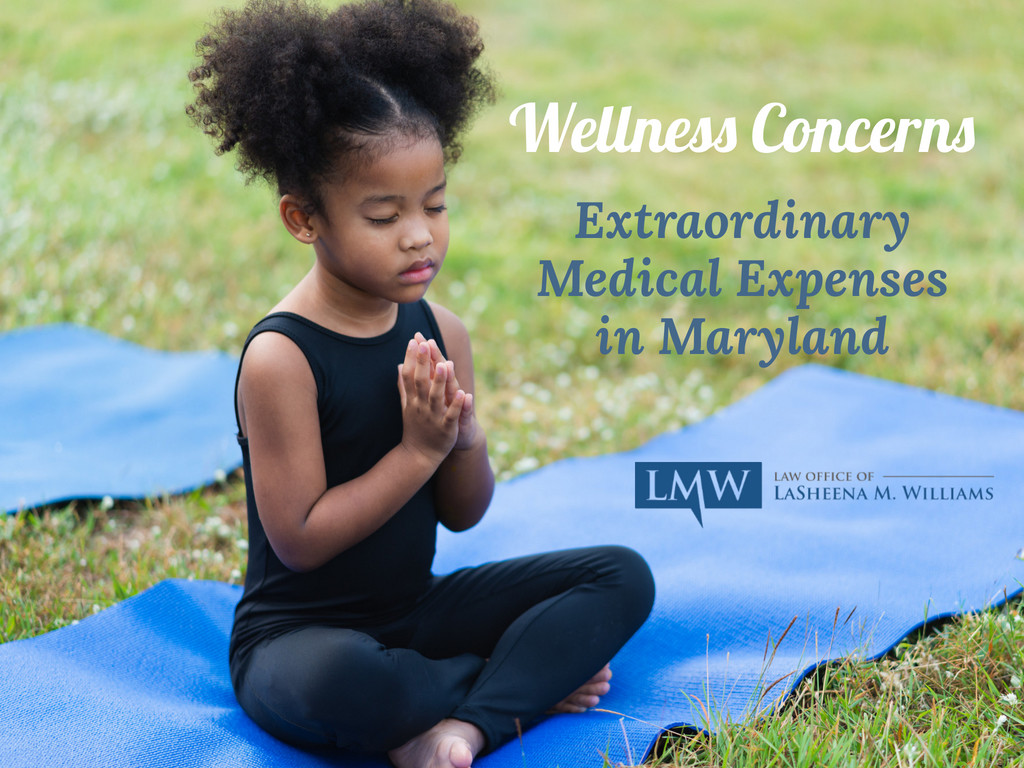 In Maryland, extraordinary medical expenses are unreimbursed expenses that exceed the cost of basic health care included under by a parent's health insurance plans. These costs include uninsured expenses that go beyond the normal cost of maintaining health coverage, but are reasonable, uninsured, and necessary for the wellbeing of the child. In 2019, Maryland redefined extraordinary medical expenses to include uninsured costs for medical treatment in excess of $250 in any calendar year.
Maryland extraordinary medical expenses must be reasonable, uninsured, and necessary to be extraordinary. In, Maryland extraordinary medical expenses include: co-pays, deductibles, prescription drug costs, orthodontia, asthma treatment, physical therapy, professional counseling, psychiatric counseling, treatment for any chronic health problem, and any other medical, dental, and vision cost incurred as a result of medically necessary treatments or procedures.
What Are Extraordinary Medical Expenses in Prince George's County, Maryland and Montgomery County, Maryland?
Typically, a child support order should include the amount of uncovered medical expenses each parent is required to pay. The child support order should clearly state the percentage of uninsured and unreimbursed medical expenses that each parent is responsible for paying. If the child support order does not include language regarding uninsured medical expenses, the child support order may need to be modified to account for unpaid medical care costs. If you have a child support order, and your order fails to provide for extra-ordinary medical expenses, you want to speak with an attorney regarding whether you should seek a child support modification.
Tracking Extraordinary Medical Expenses in Montgomery County, Maryland Prince George's County, Maryland
If a parent is attempting to collect extraordinary medical costs from a co-parent, the parent should consider following some or all of the tips listed below:
Save all bills and receipts securely in several locations, (for example you may store receipts on a sever, hard drive, and file cabinet)
Provide consistent notice to your co-parent
Track notice to your co-parent, and any confirmation of notice received
Track informal efforts to resolve paying extraordinary expenses with your co-parent
Follow all child support procedures outlined in your current child support order and child support agreement
Contact an Experienced Maryland Child Support Attorney Today!
Out-of-pocket medical expenses are generally considered separate from those traditionally covered by child support. While you may have an arrangement with your co-parent regarding your health insurance coverage and premium amounts, other expenses such as co-pays and deductibles are not always east to address. If you have concerns regarding extraordinary medical expenses, we can help you weigh your options.
Our firm zealously represents clients throughout Rockville, Bethesda, Gaithersburg, Silver Spring, Takoma Park, Chevy Chase, College Park, Cheverly, Greenbelt, Oxon Hill, Hyattsville, Upper Marlboro, Largo, Bowie, and surrounding communities. Call us today at (301) 778-9950, or send us an online request for a consultation.