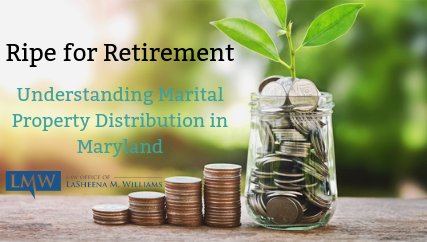 If you have questions about marital property distribution in Maryland, consulting with an experienced Maryland divorce attorney can help you understand Maryland law and help protect your retirement interests.
Understanding Marital Property and and Non-Marital Property in Prince George's County, Maryland and Montgomery County, Maryland
During a divorce,  marital property distribution Maryland law separates property into two categories: non-marital property and marital property. The distinction between non-marital and marital property is critical. Typically, marital property is divided during a divorce, while non-marital property remains the sole property of the owner.
Generally, marital property is defined as any assets, income, or property that was earned during the couple's marriage. Deposits that are made into retirement accounts such as 401(k)s during the marriage are considered property of the marriage and are therefore subject to division, as long as all or some of the contributions were made with joint funds.
Because Maryland is an equitable distribution state, the Maryland Circuit Court will assess and divide the property of the marriage, including retirement assets, in a way that is just and fair, but not necessarily equally. During a Maryland divorce retirement assets acquired during the marriage may be apportioned with consideration of other income, assets, and property that are also being divided.
Retirement Interests Accrued During the Marriage May Be Subject to Marital Property Distribution in Maryland
During a divorce with property division, it is important to understand that retirement interests may be marital property. When looking at retirement accounts that may be marital property, a deciding factor will be when your spouse began accruing retirement and whether the retirement account accumulated funds during the marriage. Without knowing key information regarding your spouse's retirement accounts it may be difficult to prove a distinction between personal and joint property when the court is considering the division of retirement assets.
As a general rule, if one of the spouses entered the marriage with money already in a retirement account those funds are the sole property of the owner. However, the party asserting a sole interest would have to prove their sole ownership of the funds by tracing their origin.
Protect Your Retirement Interests with the Law Offices of LaSheena M. Williams, LLC
If you have concerns regarding marital property distribution in Maryland, an experienced divorce attorney can help you safeguard your future by protecting your retirement interests.
Our firm skillfully represents clients throughout Rockville, Bethesda, Gaithersburg, Silver Spring, Takoma Park, Chevy Chase, College Park, Cheverly, Greenbelt, Oxon Hill, Hyattsville, Upper Marlboro, Largo, Bowie, and surrounding communities. Call us today at (301)778-9950 or send us an online request for a consultation.