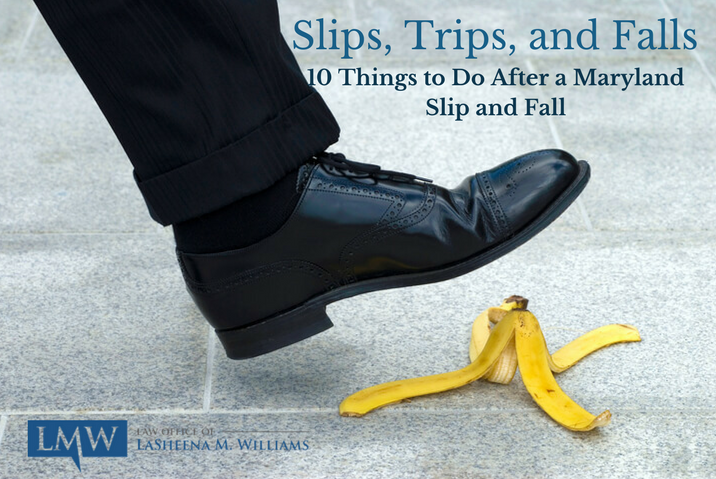 After a person is injured in a Maryland slip and fall, there is often confusion regarding what should happen. Although Maryland law does not provide specific directions as to what an injured party should do immediately after a Maryland slip and fall accident, experience shows that there are certain steps a person should take after being injured in a slip and fall accident in order to place themselves in the best possible position to receive compensation for their injuries. The following list provides suggestions for ten things to do after a slip and fall injury.
10 Things to Do After a Maryland Slip and Fall Injury
Make sure you are safe. After a Maryland trip and fall accident, it is always important to make sure you and others around you are safe. Therefore, always seek medical attention if you need it or request help for others.
Seek help. Many times, when a slip and fall accident occurs there are other people nearby. However, if there is not anyone nearby try to summon someone to alert them of the problem that caused the slip and fall.
Alert the property owner. After a Md slip and fall accident, it is important to make sure the property owner is aware of your slip and fall accident and that they are aware of the potential hazard.
File an accident report. In Maryland, when a slip and fall accident occurs, always make sure an accident report is filed with the property owner and a record is made of the incident.
Collect information from witnesses. If other people were nearby that saw the condition that caused the accident or saw your accident make sure you collect their names and contact information.
Find out the property owner's insurance carrier information. Property owners, as a general rule, should carry liability insurance. You should obtain the property owner's insurance carrier's contact information so that the carrier can be notified of the accident.
If possible take photos of the scene of the accident. Although this may be difficult if you suffered an injury, try to take a photo of the scene of the accident.
Create a written description of events about the accident. As soon as possible after the incident, it is important to document everything about the event so that you can recall important details later. A written description is also helpful to present to your attorney.
Document all medical treatment. It is important to track all dates of medical treatment and the names of medical providers that treated you as a result of your Md slip and fall injuries.
Follow all medical advice and orders. Follow the advice and directions of your medical providers regarding your recovery and treatment for your Maryland premise liability injuries. If you do not adhere to the advice and instructions of your medical providers, the severity of your injuries maybe contested further down the road in an injury claim.
Speak with an Experienced Maryland Slip and Fall Attorney in Montgomery County, Maryland and Prince George's County, Maryland
If you find yourself injured as a result of a Maryland slip and fall accident, you should speak with an attorney familiar with your injuries as soon as possible. At the Law Office of LaSheena M. Williams, LLC, our firm diligently represents injured clients across Rockville, Bethesda, Gaithersburg, Silver Spring, Takoma Park, Chevy Chase, College Park, Cheverly, Greenbelt, Oxon Hill, Hyattsville, Upper Marlboro, Largo, Bowie and surrounding communities.
To schedule an initial consultation to discuss your Maryland slip and fall injury, call the Law Office of LaSheena M. Williams directly at (301) 778 – 9950 or leave an online request for a consultation.