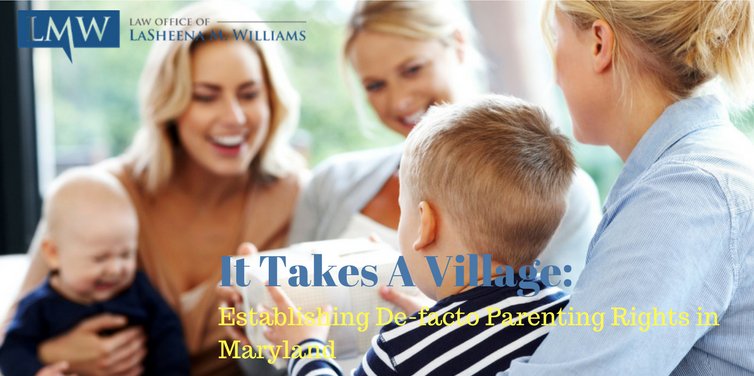 For many parents ending a relationship can be difficult. For same-sex parents, ending a relationship with the biological parent of their child once meant that they forfeited all rights to visit and spend time with the child once the relationship terminated. Since the Maryland Court of Special Appeals ruling in Conover v. Conover, non-biological parents, may not have to lose their relationship with their child.
Prior to the Conover decision, Maryland rejected the concept of de-facto parenting rights and most claims for third-party child custody rights. Maryland's rejection of de-facto parenthood was not limited to gay and lesbian non-biological parents, but extended to most third-party custody claims from non-adoptive or non-biological parents like step-parents, grandparents, and domestic partners.
Non-Biological Parent Custody and Visitation Rights in Montgomery County and Prince George's County
Before Conover, any party seeking custody or visitation of a minor child had to prove that the biological parent was not fit. It did not matter to the courts that the petitioner made substantial financial, emotional, spiritual, or educational contributions for the child's care. If the petitioner was not a biological parent, the petitioner had to first show that the biological parent was unfit to care and make decisions for the child. This was an insurmountable hurdle for many Maryland non-biological parents seeking child custody and child visitation rights, and many claims resulted in dismissals.
Fortunately, the Conover vs. Conover ruling has opened the door for same-sex couples, and other third-party custody seekers, throughout Maryland. Now, a Maryland non-biological parent may have a viable petition for visitation and custody, as long as they can prove the requirements for establishing de-facto parentage of the child.
Now, a Maryland non-biological parent can seek custody if:

the child's parent agreed to and developed a parent-like relationship with the child
the non-biological parent lived in the same household
the non-biological parent assumed parental responsibilities for the child's care and development without expectation of compensation
the child developed a parent-child bond with the non-biological parent
Consult with a De-Facto Parenting Rights Custody Lawyer in Prince George's County and Montgomery County
If you are anticipating ending a same-sex relationship and children are involved, contact our office to find out more about your custodial and visitation rights. You do not have to be forced to leave your children when your romantic relationship ends.
From our office in Rockville, we can help you maintain your relationship with your children. Contact the Law Office of LaSheena M. Williams, by calling (301) 778 – 9950 or by requesting a consultation.
We serve clients throughout Montgomery County and Prince George's County.
Don't get locked out of your child's life.