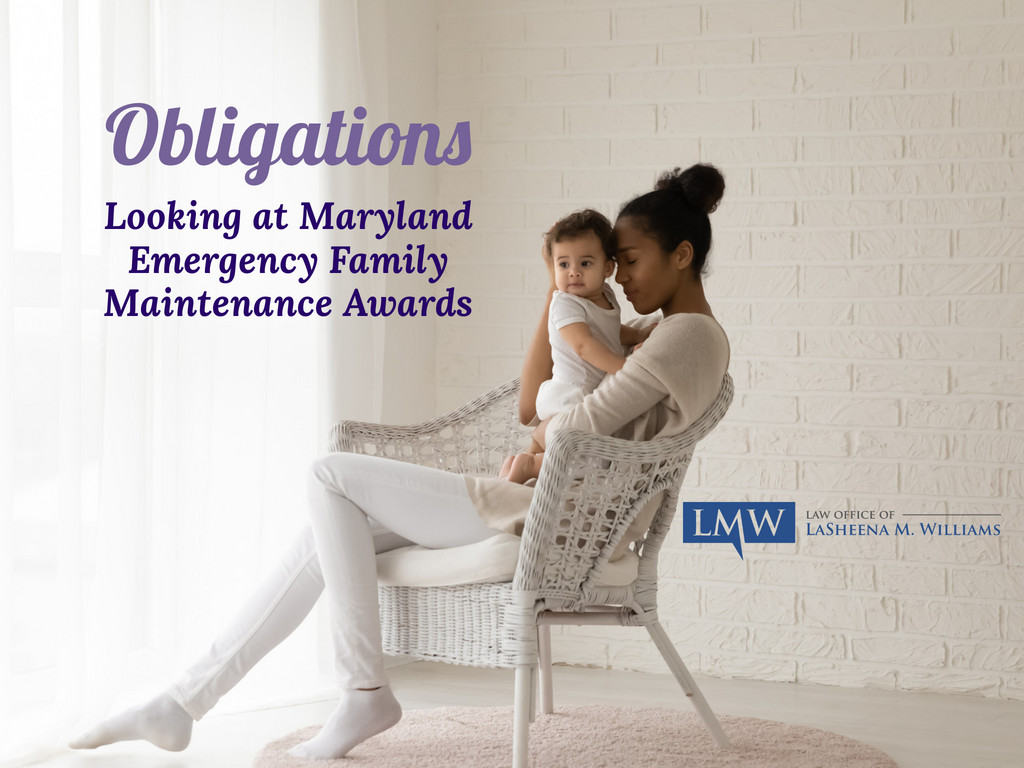 Regrettably, domestic violence is a harsh reality for many people on a daily basis. However, the good news is that there are several resources available for those who are seeking relief from this issue, given the complexities of domestic violence cases. Court-ordered stay-away orders, such as Interim Protective Orders, Temporary Protective Orders, and Final Protective Orders, provide legal protection and require one party to refrain from contacting or committing certain acts against the other party. In Maryland, while seeking a protective order, Emergency Family Maintenance may also be obtained to assist with immediate financial needs.
What Is Emergency Family Maintenance in Maryland?
Maryland emergency family maintenance typically refers to the provision of immediate financial support to a family involved in a domestic violence proceeding. A party eligible for emergency family maintenance can receive a court order requiring that the respondent in domestic violence matter provide financial assistance for basic needs such as food, housing, and other support. The purpose of emergency family maintenance in domestic violence matters, is to ensure that families have the support they need to manage during a crisis and to prevent the situation from deteriorating further.
How Is Maryland Emergency Family Maintenance Determined?
Emergency Family Maintenance in Maryland is determined on a case-by-case basis by the court. To qualify for Emergency Family Maintenance, a petitioner must show that they are in immediate need of financial assistance and that their need is related to the domestic violence case. The court will consider several factors when making a determination, such as the petitioner's income and expenses, the number of dependents, and any other relevant circumstances.
In Maryland, Emergency Family Maintenance can potentially be awarded for the duration of the protective order, and the amount awarded is generally based on the petitioner's demonstrated need. The court may also consider the respondent's ability to pay and any financial hardship that may result from an award of Emergency Family Maintenance.
It's important to note that Emergency Family Maintenance is designed to provide temporary assistance and is not intended to be a long-term solution. Once the Emergency Family Maintenance period has ended, the petitioner may need to seek other sources of financial support, such as child support, alimony, or public assistance programs, depending on their circumstances.
What If The Respondent Refuses To Pay Emergency Family Maintenance In Prince George's County, Maryland and Montgomery County, Maryland?
If the respondent in a domestic violence case refuses to pay Emergency Family Maintenance in Prince George's County, Maryland and Montgomery County, Maryland, the petitioner can take legal action to enforce the court order.
The petitioner can file a motion with the court requesting enforcement of the Emergency Family Maintenance order. The court may then schedule a hearing to determine whether the respondent is in violation of the order and, if so, what penalties or remedies should be imposed.
If the court finds that the respondent is in violation of the Emergency Family Maintenance order, they may be held in contempt of court and face penalties such as fines, imprisonment, or community service. The court may also order the respondent to pay the petitioner's legal fees and other costs associated with enforcing the order.
In addition to seeking enforcement through the court, the petitioner may also be able to seek assistance from law enforcement agencies or other community resources to help collect the funds owed.
If You Are Considering Seeking Maryland Emergency Family Maintenance, Contact Our Experienced Domestic Violence Attorneys Today
If you want to learn more about Maryland Emergency Family Maintenance awards and other forms of relief available in a Maryland final protective order, contact the Law Office of LaSheena M. Williams, LLC to discuss your options. Contact the Law Office of LaSheena M. Williams today at (301) 778 – 9950 or leave an online request for a consultation.
Our firm earnestly represents clients across Rockville, Bethesda, Gaithersburg, Silver Spring, Takoma Park, Chevy Chase, College Park, Cheverly, Greenbelt, Oxon Hill, Hyattsville, Upper Marlboro, Largo, Bowie and surrounding communities.